Today, HJ is pleased to share with you

Roni Loren's

new release: 

For You & No One Else

New York Times and USA Today bestseller Roni Loren brings the heat in this compelling story of:
A woman struggling to find her place in the world
A man with a secret inner life
An unexpected friendship with sizzling benefits
And an emotional turning point that changes everything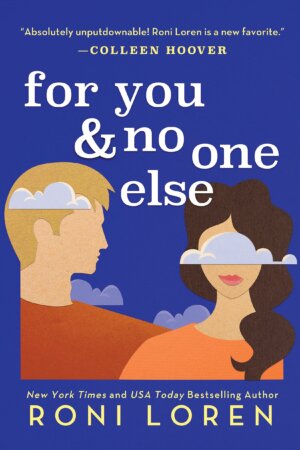 Eliza Catalano has the perfect life. So what if it actually looks nothing like the story she tells online? As a therapist, it's part of her job to look like she has all the answers, right? But when Eliza ends up as a viral "Worst Date Ever" meme, everything in her Instagram-filtered world begins to crumble.
Enter the most obnoxiously attractive man she's ever met, and a bet she can't resist: if she swears off social media for six months, Beck Carter'll teach her the wonders of surviving the "real world." No technology, no dating apps, no pretty filters, no BS.
It seems like the perfect deal—she can lay low until her sudden infamy passes, meet some interesting new people, and maybe even curate this experience into a how I quit the online dating racket book along the way. But something about Beck's raw honesty speaks to Eliza in ways she never expected. She knows he's supposed to be completely hands-off…but as complex feelings grow and walls come tumbling down, rough-around-the-edges Beck may be exactly what Eliza needs to finally, truly face herself—and decide who she really wants to be.
Enjoy an exclusive excerpt from For You & No One Else 
A startled look crossed his face before he smoothed his expression, a slight frown touching his lips. She lifted a hand in silent greeting.
He pulled off his headphones, looping them around his neck. "Uh, hey."
"Hey," she said, leaning against the doorjamb, trying to look like she'd just casually happened by instead of having stood there for long enough to qualify as creepy. "Sorry to interrupt. I just wanted to let you know I was next door. With the building empty and all, I didn't want you to think there was an intruder out here or something."
"Oh, right," he said, rubbing a hand along his darker stubble, still frowning. "Thanks. I didn't expect anyone else to be here today."
"No problem." She cleared her throat and made an awkward gesture with her thumb. "Well, I better—"
"People have therapy appointments on Christmas Day?" he asked, brows knitting. "Don't you get to set your own hours?"
His question surprised her. Was Mr. Tech Bro actually going to make small talk? She shrugged. "In theory, I could have emergency appointments, but that's not why I'm here. I have other stuff to work on. Notes. My YouTube stuff."
He cocked his head, a barely there move. "YouTube stuff?"
"I have a mental health wellness channel," she explained. "I cover different topics, host thirty-day challenges, give tips and tricks for relationships, that kind of thing. It's a way for people to get to know me before choosing me as their therapist—or just to learn things if they're not looking for therapy."
His mouth flattened into a line. "Got it. The influencer thing. We seem to have a lot of those here."
Her lips pursed, her hackles rising and her original suspicions about Beckham having a cooler-than-thou attitude returning. "Well, I don't know if I'd necessarily call myself an influencer at this point. But wow, clearly you have opinions about that job. Some influencer take your favorite spot at the coffee bar or something?"
She expected him to snipe back, but instead he scrubbed a hand through his hair, his blue-green eyes looking tired all of a sudden, and let out a breath. "Sorry. To be honest, I don't not have opinions about that job, but you're not here for my op-ed on influencer culture. I didn't mean it personally. I know you're a therapist. I think I've been staring at my screen too long and need more coffee. I'm not fit for other humans yet."
"Don't have Christmas plans?" She asked, regretting it as soon as she let the question slip past her lips. If she asked him that, it'd be fair game for him to ask her the same question. And she didn't want to answer.
He turned his chair fully toward her, the gears squeaking, and hooked an ankle over his knee. Only then did she see that his T-shirt was a vintage-looking Grinch Stole Christmas graphic. "My parents went on a cruise, but I didn't want to use up my vacation time."
Right. Of course. He had family but had chosen not to go. Lucky him, to have that choice. "Oh."
"You?" He asked, glancing downward and taking in her outfit.
She'd thrown on a pair of black skinny jeans and a cranberry red sweater. Conceivably, she looked like she could be going somewhere festive. She opened her mouth to say, I have plans later. But something else came out instead.
"Nope. Parents died in a car crash two years ago and my brother is out of state, avoiding seeing me because I remind him of aforementioned dead parents."
His jaw slackened.
Oh, God. She pressed her fingers to her lips, shocked by what had come out.
A wince of regret crossed his face. "Shit, Eliza, I didn't mean to—"
She shook her head. "No, you don't have to—I don't know where that came from." She laughed awkwardly. "Wow. TMI. Sorry about that. I think my lack of sleep has turned off my what's-appropriate-for-casual-conversation filter."
His gaze searched hers, frown deep. All traces of that smug attitude he wore so often were gone, replaced by something quiet and…sad. "I'm sorry about your parents."
The simple words and the way he was looking at her were like a one-two punch right to the stomach, busting through the cheery attitude she'd wrapped herself in this morning and stealing her air for a moment. She was half a second away from the dam bursting, all the feelings from the lonely holiday season swelling up like an overfull balloon. She. Would. Not. Cry. Not in front of a near stranger. Not like this.
This is only a Tuesday, dammit!
"Thanks," she said forcing a tight smile. "I'm okay. Holidays just…"
"Suck," he said flatly.
She rolled her lips together and nodded. "Sometimes, yeah."
"And I lied," he said. "My uncle and his husband, who I'd normally spend Christmas with, are on a cruise. My parents aren't. Well, I guess they could be. I'd never know. We don't talk anymore."
She straightened, surprised by his candor. "Oh."
When she was about to ask a follow-up question, he lifted his hand, cutting her off. "And no, I don't want to talk about it. I can see that therapist look in your eye." He gave her a disarming smile, taking some of the sting out of the words. "But you were honest with me, so I figured I'd join you on the TMI train. We can be on Team Christmas Sucks together."
"Right." She stared at him a long moment, recognizing in him the same look she'd seen in her mirror this morning, one that said she wasn't the only one dealing with pain today. He may be playing it off as not a big deal, but whatever the story was with his parents carried a heavy weight. A weird urge came over her. Before she could stop it, she blurted, "Do you want to get a puppy with me?"
Beckham blinked like she'd snapped a camera flash in his face. "What?"
What. The. Hell? Her mouth was in full scale rebellion. A puppy? Hey, stranger who usually ignores me, do you want to get a puppy with me? What was wrong with her? "I-I meant…"
A slow smirk rose at the corner of his mouth as she tripped over her words. "We barely know each other, Eliza. Maybe we should start with a plant, possibly a fish—but even those take some work. Who would get it on the weekends? Would we bring it to the office? Who gets to name it?"
She pinched the bridge of her nose, counted to three in her head, and then lowered her arm to her side. The bemused look he was giving her made her cheeks burn. "I meant," she said in her calm, I'm-a-therapist-and-totally-have-my-shit-together voice. "I've decided I might like to adopt a dog. I was considering going to the shelter today. Since we have established that Christmas sucks this year and working doesn't sound like much fun either, I thought maybe you would like to come along and look at cute animals with me."
He leaned back in his chair, his eyes narrowed like he was trying to figure her out. "You want me to help you pick out a dog?"
She huffed out a breath. "Sorry, never mind. It's stupid. I just thought maybe since you—"
He rocked forward, bracing his arms on this thighs, his Doc Martens landing heavy against the floor. "You know what? Screw it. I'm in."
Excerpt. ©Roni Loren. Posted by arrangement with the publisher. All rights reserved.


Giveaway:

1 Paperback copy of For You & No One Else — US only
To enter Giveaway: Please complete the Rafflecopter form and post a comment to this Q:

What did you think of the excerpt spotlighted here? Leave a comment with your thoughts on the book…
Meet the Author:
Roni Loren wrote her first romance novel at age fifteen when she discovered writing about boys was way easier than actually talking to them. Since then, her flirting skills haven't improved, but she likes to think her storytelling ability has. She holds a master's degree in social work and spent years as a mental health counselor, but now she writes full time from her cozy office in Dallas, Texas where she puts her characters on the therapy couch instead. She is a two-time RITA Award winner and a New York Times and USA Today bestselling author. Visit her online at roniloren.com.
Amazon: https://amzn.to/37qEWiN
B&N: https://bit.ly/3JfDH3C
Indiebound: https://bit.ly/3Cwn94W
Bookshop: https://bit.ly/3t0qia0
Books-a-Million: https://bit.ly/35IIqN5
Books2Read: https://books2read.com/u/3Ly11e