On Opposite Sides (Texas Cattleman's Club: Ranchers and Rivals #3) by Cat Schield brings us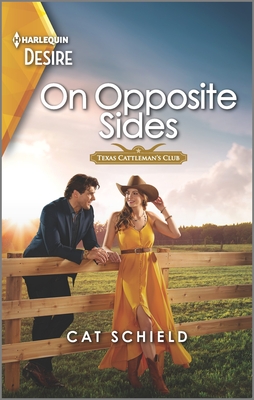 an exciting enemies to lovers romance. The Thurston family is fighting against the Lattimores and the Grandins to get the oil rights of their properties. That means the latter should stay away from the Thurstons. Chelsea Grandin and Nolan Thurston know that, but their chemistry is so intense they couldn't deny it…and they both planned to use it for their benefits, so they could get useful information for their respective causes. What they didn't expected was that chemistry turning into a deep romance. Would their loyalties towards their families be more important than what's going on between them?
This story get things exactly where the second book of this series had left them. Chelsea and Nolan meet at the TCC's Fourth of July festivities and started flirting with each other. Soon they're dating and telling the other their biggest secrets and fears. Chelsea, the oldest of the four Grandin siblings, seeks for validation. Born in a family with a strong patriarch system, she wants her father to see her as an equal and that she's the best option to make the family ranch more successful than it is. Her goal becomes an obsession that damages her personal life. Although she looks tough and fierce on the outside, she's a very sensible woman, with lots of insecurities; her past relationships ghosted her.
Nolan left Royal when he was eighteen. He wanted to see world, feeling trapped in his hometown. His decision to leave fractured his bond with his twin brother. Feeling guilty for being apart for fifteen years, when his twin—now the only family he has—asks him to come back to Royal to support him on the claim, Nolan goes home.
They may look different from the surface, but Nolan and Chelsea are more alike than they—we—think. They focused their lives in their jobs to find happiness. Their loyalties towards their families are very strong. And, most importantly, they both have big hearts and care for the ones they love. The way they met halfway to make their relationship work without betraying their lived ones speaks volumes of their commitment and caring.
Since this is book three of the Texas Cattleman's Club: Ranchers and Rivals series, we find a variety of secondary characters that will gives us hints of what's to come in future books (Chelsea's best friend Natalie and the Lattimores firstborn, Jonathan? Hmmm…). I don't know if Chelsea's brother Vic will have his story in this series, but I disliked SO MUCH this character that I need a story for him with a woman who really turn his world upside-down and makes him suffer a lot!!
I'm a big fan of the Texas Cattleman's Club franchise, and I'm really enjoying the Ranchers and Rivals series. What Ms. Schield did with this book—and her contribution of the series—is magnificent, exceeding my expectations with her smart writing. With a solid argument and fantastic settings, Nolan and Chelsea's story captured my interest from page one. Who am I kidding? I was all in with Chelsea and Nolan since book two's ending!! And this author didn't disappointed me. She knows how to make an alluring story filled with drama without being corny. I'm looking forward for the next books of this series because I want to know how this series ends.
Book Info:

Publication: June 28, 2022 | Harlequin Desire | Texas Cattleman's Club: Ranchers and Rivals #3
They crossed the line from enemies to lovers and now all bets are off in this Texas Cattleman's Club: Ranchers and Rivals novel by Cat Schield.
Their families may be feuding
so they're keeping their enemy very, very close…
From the moment he sees her, Nolan Thurston wants to know Chelsea Grandin. He tells himself it's just to gain valuable intel in his family's battle for oil rights. But he knows there's more, and soon his obsession with her threatens to derail his plans…
To save her family's ranch, Chelsea is tempted to snare Nolan in a seduction scheme of her own. But when attraction takes over, will her family loyalties fall by the wayside?
From Harlequin Desire: A luxurious world of bold encounters and sizzling chemistry.
You'll be swept away by this bold, sizzling romance, part of the Texas Cattleman's Club: Ranchers and Rivals series:
Book 1: Staking a Claim by Janice Maynard
Book 2: Boyfriend Lessons by Sophia Singh Sasson
Book 3: On Opposite Sides by Cat Schield
Book 4: Rivalry at Play by Nadine Gonzalez
Book 5: Vacation Crush by Yahrah St. John