Today it is my pleasure to Welcome author
Andrea Laurence
to HJ!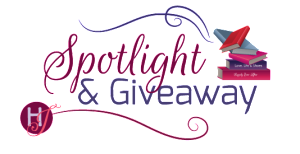 Hi Andrea welcome to HJ! We're so excited to chat with you about your new release, From Riches to Redemption!

Hey, Sara. Thanks for having me back today.

Tell us about the book with this fun little challenge using the title of the book:
Wow, this book title is really long… how about I just do Redemption? We'll be here all day!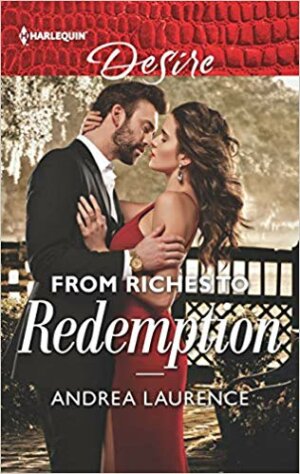 R is for Reunion Story
E is for Earning Trust
D is for Desire
E is for Everything She Ever Wanted
M is for Marriage (secret marriage, that is)
P is for Pregnancy
T is for Temptation
I is for Interference
O is for Old Flames
N is for No More Secrets
Please share the opening lines of this book:
"Morgan? There's someone I'd like you to meet."

Turning at the sound of her brother Sawyer's voice, Morgan Steele found herself suddenly frozen on the spot. Her eyes were wide and unblinking, her lips trembling but soundless as she stared at the man standing at her brother's side.
Please tell us a little about the characters in your book.
Morgan grew up a rich princess (figuratively) who got anything and everything she ever wanted. She was the only girl, the baby, and despite not looking like anyone in her family, she was the apple of her father's eye. When she can't have the one thing she wants more than anything – River – it's quite a blow. She turns away from love and throws herself into running the charity work for the family's tool empire.
River grew up with nothing, but it didn't matter until he fell for a rich girl. He knew he wasn't good enough for her, but when her father basically said as much, he set out to prove everyone wrong. Now he's a wealthy real estate developer back to show the Steele family they were wrong about him.
Please share a few Fun facts about this book…
As part of my research for the Switched! books, I took a DNA test. I found out that while I'm mostly Scandinavian, English and German, I'm also from Sub-Saharan Africa and Southeast Asia, too!
This book includes the POV of the villain and kidnapper from book one. I really enjoyed writing his scenes. Is that weird? Maybe I have some suspense books in me I don't know about.
Morgan is one of four children, all who are named after Mark Twain characters. Tom and Sawyer (from Tom Sawyer, obviously), Finn (from Huckleberry Finn because I just couldn't make Huckleberry work for a hero's name) and Morgan (Hank Morgan from a Connecticut Yankee in King Arthur's Court).
What first attracts your Hero to the Heroine and vice versa?
It's been years since they had a whirlwind romance in college. Seeing each other again under unavoidable circumstances makes things complicated. There's old feelings there, good and bad, but they're both intrigued and attracted to the adults they've grown into. Morgan – a full figured seductress, and River, a hard bodied millionaire.
The First Kiss…
They keep going back and forth between fighting and being attracted to each other. So when Morgan realizes that maybe River isn't the jerk she remembers, she can't help herself.

Before he could say anything, she leaned in, gripped the lapels of his suitcoat in her hands and pressed a sweet, soft kiss to his lips.

River hadn't been expecting that. And yet, the moment her lips touched his, he knew it was everything he'd been waiting for over the last decade they'd spent apart. Suddenly, all his worries and cares didn't seem to matter anymore. There was just this moment.

He was finally able to get his stunned body to respond to his brain and brought his hands to rest at her waist. He wanted to do more than that, but he held back. Nothing Morgan had said or done up to this point had indicated she wanted more than a working relationship. This kiss could mean anything. He'd learned long ago not to presume when it came to the female brain and how it worked.

And then, as suddenly as it happened, she pulled away, leaving him confused, aroused and confused. It bared repeating.

He stood looking down at her in stunned silence as she finally released her hold on his jacket and took a step back out of his personal space. Her eyes were glassy and unfocused as she looked at him, even a bit shaky on her feet with those tall heels.

He reached out a hand to catch her elbow and steady her and she smiled. "Thanks."

"What was all that for?" he asked.

Morgan took a deep breath and wrapped her arms across her chest, hugging her sweater tighter to her curves. "When you were talking before, I was just thinking that maybe you're a pretty good guy after all."

"Uh, thanks?" River wasn't quite sure what to say to that. He'd always thought he was a good guy, but apparently Morgan felt otherwise. It was probably the money thing. With her, it always came back to the money thing.
If your book was optioned for a movie, what scene would you use for the audition of the main characters and why?
I think the first scene where they see each other for the first time in years is pretty critical. They'd have to nail all the emotions and everything they're feeling under the surface.
With just the two of them standing on the fringe of the crowd together, Morgan wasn't quite sure what to do. It was more awkward than a junior high dance. What was she supposed to say to the boy—man—who had turned his back on her all those years ago? Long time, no see?

"You're looking well, Morgan," River said. He was clutching a glass tumbler of scotch in his hand as his dark eyes raked over her from top to bottom. "That emerald dress suits you. It brings out the green in your eyes."

It seemed they were going for polite, but intimate. "Thank you. I like the beard. It makes you look distinguished." It was silly, but she wasn't sure what else to say to him.

River chuckled at her choice of words. "Distinguished. If by that you mean rich and important, then yes, that's exactly the look I was going for." He glanced down at her hand as she held her glass. "Not married yet?" he asked.

Morgan couldn't prevent one dark eyebrow from arching up in surprise and confusion at his question. "Yet? Don't you mean married again, River?"

He just shrugged off her challenge with a roll of his eyes. "As far as the state of Tennessee and your family is concerned, you've never been married, Morgan, and neither have I. That's what getting an annulment means. It never happened. That's why you mailed the ring back, remember?"

"Shhh!" Morgan's eyes widened as she looked around at the people nearby to see if anyone was listening. Thankfully, everyone seemed to be involved in their own discussions. She reached out for River's elbow and tugged him with her into a far corner of the ballroom where no one could hear them.

"What is all this about, River?" she hissed at him through clenched teeth.

He crossed his arms over his chest, straining the shoulders of his designer tuxedo. "I don't know what you're talking about."

"The hell you don't. Why are you here tonight?"

"I was invited," he replied with a satisfied smirk.

Morgan sighed in frustration. He was going to make her spell this out just because he could. "How did our companies end up working together, River? This is the first I've heard of it or it sure as hell wouldn't have been approved. Was this your big idea? To weasel back into the family somehow through your business?"

"Why would I want to be in your family, Morgan? For the few hours I was related to the Steeles, I was treated like dirt. You've always been so arrogant. Acting like somehow everything always revolves around your important family and what people want from you." There was audible venom in his voice. "I didn't want anything from you but your love, Morgan, and your father wouldn't even let me have that."

Morgan watched a flicker of pain dance across his eyes. Yes, he'd been hurt. But he hadn't been abandoned the way she had been. "No, he wouldn't, but you seemed all too happy to settle for a fat check instead."
If your hero had a sexy-times play list, what song(s) would have to be on it?
Raised southern and blue-collar, I'd say that River would have quite a few 80s rock songs on his sexy playlist. Off the top of my head, I'd say that would include:
Pour Some Sugar On Me, Def Leopard
Talk Dirty to Me, Poison
Legs, ZZ Top
I'm sure there's INXS and White Snake in there, too.
If you could have given your characters one piece of advice before the opening pages of the book, what – would it be and why?
I would tell them that a lot can change in ten years. The people they were, the mistakes they made, are all in the past. Carrying those feelings and hurt into the present will only hold them back from something that could be amazing.
What are you currently working on? What are your up-coming releases?*
I just finished the third book in the Switched! series featuring Steele twin Sawyer. I believe it will be titled From Seduction to Secrets, out in January 2020. I'm currently working on a book for the next Texas Cattleman's Club: Rags to Riches series out in October 2020. I'm also wrapping up edits on the third Rosewood book that will be going up on Amazon this month as part of Kindle Unlimited.

Thanks for blogging at HJ!
Giveaway: One US Winner: Autographed copy of From Mistake to Millions
One Worldwide Winner: One Digital copy of From Mistake to Millions
To enter Giveaway: Please complete the Rafflecopter form and Post a comment to this Q:

River and Morgan are reunited after a dramatic breakup ten years ago. Would you be happy or horrified to run into your first love?
Excerpt from From Riches to Redemption:
"What exactly are you doing here?" Her gaze fixed on him with a pointed expression on her face.

"I'm here to talk about building houses for the poor. Isn't that why you're here?" He couldn't help the sarcasm from leaching into his voice. It was one of the only emotions he had left where she was concerned.

She studied his face for a moment. "I'm serious, River. Why did you sign up for this whole thing? If you only bid on this job to get your chance to tell me off, then just walk away now. This charity project is important to me. If you're not genuinely interested in helping the community, I'll find another contractor."

"Oh, I'm very serious," he said. And he meant it. "This project is essential to me and my company's five-year plan."

"So you're just using the Steele name to make a name for yourself."

"I've already made a name for myself and my company, thank you, but I'd be a fool if I didn't use the chance for some good press and free advertising. Hopefully, that will lead to great things in the future for me and my employees. But listen, I am fortunate enough to be in a position to do some good in the community. This was a great opportunity to do that and get the word out about Southern Charm. There's nothing wrong with that. As the force behind this whole effort, Steele Tools does the exact same thing."

"We do it to help others less fortunate."

River watched her expression as she spoke. She really believed what she'd said. "Maybe you do. But your dad and his stockholders go along with it for corporate promotion and tax deductions, I guarantee it."

"So you really just want to give back? Give your company a little boost?" She didn't seem convinced of it as she spoke. "You're telling me that this whole thing isn't just a ruse to see me again?"

River laughed. Louder than he'd intended to. Enough to make Morgan wrinkle her nose up in irritation. That only made him laugh more. She really was full of herself. "I'm sorry to disappoint, but I've been over you a long time, Morgan. If I wanted to see you, there's easier ways than signing my company up for a summer of charity work for zero profits. So no, this isn't about seeing you again."

He couldn't help but notice a painful flicker cross her face for a moment before she pulled herself back together. Was it possible that he'd hurt her feelings? After everything that had happened, he'd wondered if she had cared about him at all. There hadn't been one word, one email, one text after she left him alone in that honeymoon cabin that night. Just an envelope a few days later with a wedding ring inside.

And for that half a second, he saw the face of the girl he'd once loved. The one overflowing with emotions and vulnerabilities. One that would've held out hope that her first love might still carry a torch for her after all these years. Then the poised ice-cold princess returned.

"Of course, you're over me," she said. "I was thinking more along the lines of you wanting to give me a piece of your mind. Maybe tell my father off?"

"While speaking my piece might be therapeutic, no, it's not about you, little girl. I didn't even know that I'd be working with you when I started this process," he lied. He couldn't have her thinking otherwise or she might believe she had the upper hand in their situation. He might've been driven here out of revenge or even masochistic curiosity, but it wasn't a pining for Morgan.

"I'm a professional. I couldn't have built my company up from nothing if I wasn't. Besides that," River continued, "you seem to be a hell of a lot more upset with me than I am with you, although I have no idea why."
Excerpts. © Reprinted by permission. All rights reserved.


Book Info:
Her ex-lover is back—
right when she discovers her life is a lie.
Ten years ago, Morgan Steele secretly eloped with River Atkinson—only to see her vows betrayed. Now River's back, made good as CEO of a construction company that rivals her family's empire. Forced to work together, they give in to long-suppressed desire. But when Morgan discovers she was switched at birth and isn't the Steele heiress after all, will their second chance be sabotaged by secrets?
Book Links: Amazon | B& N | iTunes | Google |


Meet the Author:
Andrea Laurence is an award-winning contemporary author who has been a lover of books and writing stories since she learned to read. A dedicated West Coast girl transplanted into the Deep South, she's constantly trying to develop a taste for sweet tea and grits while caring for her collection of animals that includes a Siberian Husky that sheds like nobody's business.
Website | Facebook | Twitter |