The Last Post by Renee Carlino: Laya is in her element in the operating room. She loves her job as a surgeon and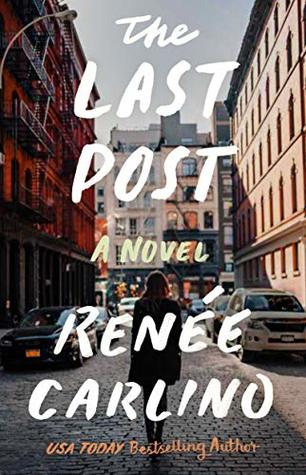 her life with her husband, Cameron, even if he regularly leaves her behind to pursue stunts as a sponsored daredevil. Her world comes crashing down when Cameron dies during a stunt and she struggles to come to terms with his sudden death and her grief.
Micah is an up-and-coming architect who had so many dreams for the buildings he would design, but now he feels stuck in a rut. He's tired of his life and looking for looking for more, not that he knows what "more" is. Micah is smart, loyal, introspective, and kind.
Micah is surprised by the immediate feeling he has of knowing Laya, despite their never having met previously. He sees past her beauty to her turmoil and just wants to connect with her. Laya is an emotional wreck and it doesn't help that she feels something for Micah, who is just the type of man her father would want her to date and the opposite of her late husband.
"I don't know exactly how to be in a relationship," he said.
"I'm not sure I would call this a relationship…"
"Well, anytime you're interacting with someone, even on a semi-regular basis, it's a relationship."
"You know I'm not ready-"
Neither are necessarily in a place for a relationship, but Micah has the best of intentions when he tries to help Laya and just make her feel better. It's a rollercoaster of angst, conflict, stops and starts, as Laya slowly moves out of the worst of her grief and begins to find purpose again. Micah is a supportive and calming presence, but she's not sure if moving on is possible.
"I don't need your help. I need time."
"I have feelings for you."
"That's what I'm questioning. Why would you have feelings for me? I'm damaged, don't you see that?"
The Last Post is emotional and heartbreaking, yet has humor, hope, and love. Renee Carlino created a surprising, unexpected, and compelling story. Ms. Carlino developed a well-developed and balanced cast including their family, friends, and co-workers. Fans of K.A. Tucker and Nicole Jacquelyn will enjoy The Last Post.
Book Info:

Publication: August 20th 2019 | Atria Books |
See you on the other side.
Laya Marston's husband, Cameron, a daredevil enthusiast, always said this before heading off on his next adventure. He was the complete opposite of her, ready and willing to dive off a cliff-face, or parachute across a canyon—and Laya loved him for it. But she was different: pragmatic, regimented, devoted to her career and to supporting Cameron from the sidelines of his death-defying feats.
Opposites attract, right?
But when Cameron dies suddenly and tragically, all the stages of grief go out the window. Laya becomes lost in denial, living in the delusion that Cameron will come back to her. She begins posting on his Facebook page, reminiscing about their life together, and imagining new adventures for the two of them.
Micah Evans, a young and handsome architect at Laya's father's firm, is also stuck––paralyzed by the banal details of his career, his friendships, and his love life. He doesn't know what he's looking for, only that there is someone out there who can bring energy and spirit to the humdrum of his life.
When Micah discovers Laya's tragic and bizarre Facebook posts, he's determined to show Laya her life is still worth living. Leaving her anonymous gifts and notes, trying to recreate the sense of adventure she once shared with her late husband, Micah finds a new passion watching Laya come out of the darkness. And Laya finds a new joy in the experiences Micah has created for her.
But for Laya, letting another man in still feels like a betrayal to her late husband. Even though Micah may be everything she could wish for, she wonders if she deserves to find happiness again.