Today it is my pleasure to Welcome romance author
N.J. Walters
to HJ!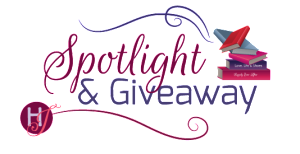 Hi N.J. Walters and welcome to HJ! We're so excited to chat with you about your new release, Fury Unleashed!

Hi , everyone!

Please summarize the book a la Twitter style for the readers here: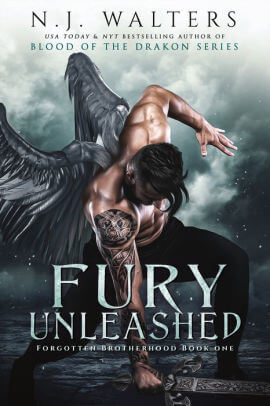 Morrigan Quill, one of Hell's bounty hunters, is sent on a suicide mission—kill the fallen angel turned immortal assassin, Maccus Fury. Stuck in the middle of a deadly game between Heaven and Hell, they join forces to uncover the truth, even knowing one of them must die.

Please share the opening lines of this book:
Maccus's eyes snapped open. He was completely awake and aware. His bedroom was pitch black, but he didn't fear the dark. It welcomed him, enshrouded him in anonymity and silence. It was where he was most at home.
Please share a few Fun facts about this book…
The hero is covered in tattoos of edged weapons. I had to spend a lot of time researching historical weapons. Then I had to figure out where they'd be placed on the hero and create a map, so I'd remember what went where.
What first attracts your Hero to the Heroine and vice versa?
My hero and heroine are brought together under unusual circumstances. Morrigan is one of Hell's bounty hunters and has been ordered by Lucifer to kill the fallen angel Maccus. In return, he'll free her from her contract and give her back her life. If she doesn't, he'll drag her to Hell. She has a lot riding on meeting her target—Maccus Fury. He's tall, dark, and deadly. And even though he's her target, she'd physically drawn to him. Even knowing who she is and why she's been sent, he'd not the least bit threatened by her.
The archangel Gabriel wants to hire Maccus to assassinate Morrigan. In return, he'll see that Maccus gets his wings back and is taken off Heaven's Most Wanted list. Maccus isn't impressed or tempted. But when his path unexpectedly crosses Morrigan's, he's drawn to her courage and fearlessness.

Using just 5 words, how would you describe Hero and Heroine's love affair?
Forbidden. Dangerous. Scorching. Tempestuous. Redemption.

The First Kiss…
There's so much more, but here's a snippet.

Cupping the back of her head with one of his hands, he held her steady as he mapped out the shape and texture of her lips. They were soft and warm, everything it seemed the woman herself wasn't. She was a warrior, a fighter, a survivor. She had to be in order to be one of Hell's bounty hunters.
Without revealing too much, what is your favorite scene in the book?
I like this passage, because it encapsulates the entire book in a few words.
Lucifer feared him. Gabriel feared him.

And so they should.

They'd created the monster he'd become. The only person who had a chance of containing him was the woman beside him, this former human turned demon bounty hunter.

It was almost laughable.
If your book was optioned for a movie, what scene would be absolutely crucial to include?
There's a big fight scene where all the major players all converge. It changes everything. I don't want to give away too much, but here's a short snippet:
His hands were shaking. His hands never shook. He held them out in front of him, not recognizing them.

Morrigan's breathing was weak. The rattling in her chest
worried him. She might be stronger than most humans, but she wasn't immortal.

He lifted her as carefully as he could, but she still cried out. He expected her to pass out, but she was still awake and aware.

"I'll take care of you," he promised. Maybe she'd hate him for what he'd done, but so long as she lived, he could handle her hate.
Readers should read this book …
This is not your ordinary love story. If you enjoy a dark paranormal romance with complex characters then give it a try.
What are you currently working on? What other releases do you have planned?
There are more Forgotten Brotherhood books in the works. Arctic Bite, Book 2, will be releasing in May. And there are two more coming after that.
Thanks for blogging at HJ!
Giveaway:

To celebrate the release of Fury Unleashed, I'm giving away a PDF copy of the book.
To enter Giveaway: Please complete the Rafflecopter form and Post a comment to this Q:

Does a character's flaws make them more relatable?
Rafflecopter Link: http://www.rafflecopter.com/rafl/display/e81af4829/?
*This Rafflecopter hosted by this Author

Excerpt from Fury Unleashed:
This is an excerpt from the scene where Morrigan receives her assignment from Lucifer.

"Kill this man, and you're a free woman."

When she'd signed on for twenty-five years as a bounty hunter, she'd never believed she'd live long enough to complete her contract. And if she died on the job, she forfeited her life and would spend eternity in Hell.

Now here was a way out. It seemed too good to be true. And if she'd learned one thing when it came to working with the devil and dealing with demons, it was that if it seemed too good to be true, then it usually was. There was always a loophole, or some detail omitted.

He slowly released her and stood. "Fail, and you'll spend the remaining fifteen years of your contract in Hell." The smile he gave her chilled her blood. "And if you're still alive at the end of those fifteen years, you'll be free."

Yeah, like she'd be able to stay alive for a week on her own in Hell. Not with all those bounties she'd returned over the years actively hunting her. No, if she failed, she'd spend eternity being tortured.

"Do whatever it takes to get close to him." He pointed at the picture and then ran his gaze over her body. She wanted to pull her legs up and curl into a ball. But he'd only make her stand, maybe even strip her naked so she would be even more vulnerable. "Anything," he repeated.

After making his position crystal clear, he disappeared in a puff of smoke. Coughing, she sheathed her weapons and waved her hand in front of her face, gagged a couple of times, and swallowed heavily to keep from throwing up. Oh, she understood completely. She was to sleep with the guy in the picture if it allowed her to get close enough to kill him.

Not willing to look into the face of the man she was supposed to kill, she picked up the photo and turned it over first. There was only a name on the back—Maccus Fury.

She slowly flipped the picture around and studied him. Black eyes glared back at her as if he was already fully aware of what she'd been ordered to do. Jet black hair was cut short on the sides, with the top long and pulled back into a short tail. The image was only of his upper body, but peeking out from beneath his shirt were several tattoos. She picked up the photo and brought it closer but couldn't quite tell what the images were.

"What have you done to piss off Lucifer?" He wouldn't win any prizes for beauty. His features were too rough, too rugged for that. But there was something so compelling about him, and she took a second and then a third look.

She was going to die.

A sense of inevitability filled her. This man was no easy mark, no demon drunk on a furlough to earth so he could enjoy all its forbidden pleasures, no scared human trying to hide from the devil.
He's a warrior. It was written in every line of his body.

I'm totally fucked.

Morrigan sucked in a deep breath. She didn't cry, had lost that ability ten years ago when she'd given up her humanity to save the only person she'd ever truly loved—her baby sister. Everything she'd been through had been worth it to save the then misguided eighteen-year-old. Kayley was now twenty-eight and out there somewhere living her life. That was enough. It had to be. It was all she had.

The picture burned her fingers, and she dropped it on the table. The paper curled as fire licked over the edges. When it disappeared, there was writing burned into the table. "New York." As soon as she said the words, the letters faded. She had her starting point.

Time to hunt.
Excerpts. © Reprinted by permission. All rights reserved.


Book Info:
Fury Unleashed
Forgotten Brotherhood, Book One
Maccus Fury, a fallen angel, is trying hard to keep his sanity. Seems being an assassin might be catching up with him. Now, Heaven, or Hell, has sent a beautiful assassin to kill him. Lovely. She's pretending to seduce him, and he's okay with that. She's smart and snarky—but she has no idea what she's walked into. And he's more than peeved that they only sent one person. They're going to need an army if they want him dead.
Morrigan Quill is one of Hell's bounty hunters. She sold her soul to keep her sister safe, and now she's working off her contract by catching bad guys and dragging them back to hell. When Lucifer makes her a new offer––that's definitely too good to be true—she can't say no. All she has to do is kill a powerful and crazy-hot fallen angel, who will totally kick her ass in battle.
Good thing he won't see what's coming next.
Book Links: Amazon | B&N | iTunes | Goodreads |


Meet the Author:
N.J. Walters is a New York Times and USA Today bestselling author who has always been a voracious reader, and now she spends her days writing novels of her own. Vampires, werewolves, dragons, time-travelers, seductive handymen, and next-door neighbors with smoldering good looks—all vie for her attention. It's a tough life, but someone's got to live it.
Website | Facebook | Twitter | | Instagram |