Today, HJ is pleased to share with you

Emma Chase's

new release: 

Getting Played

A magnificent new romance by New York Times bestselling author Emma Chase!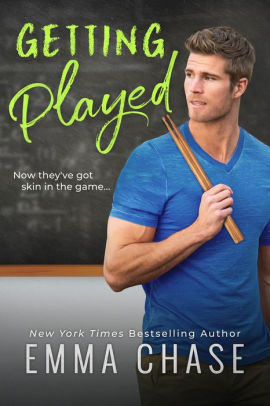 Dean Walker is all about keeping life simple. He's effortlessly talented and intelligent—spending his summers playing drums in the local band and the rest of the year teaching high school in the same Jersey town where he grew up. He likes his love-life simple too, enjoying the commitment-free hook-ups his good looks and sexy charm have always made oh-so easy.
Then he meets Lainey Burrows. And his simple, easy life gets turned upside down.
One wild one-night stand was all it was ever supposed to be, so Lainey is shocked when she discovers that her sizzling summer fling is also her son's new math teacher. But that's nothing compared to the most unexpected twist of all—their hot hook-up left Lainey knocked-up, and now they're about to become parents. Together.
What ensues is an addictive, insatiable, sweet and tender romance that won't be simple, but it will be more than worth the fight.
Enjoy an exclusive excerpt from Getting Played 
Lainey
"Oh. My. God. How hot is he?" the woman next to me says to her friend.
"Sooooo hot," her friend sighs back.
They're talking about the drummer on the stage a few feet away. I know they're talking about him, because I'd bet my bottom dollar every woman in this bar—except my sister—is talking about him.
Despite the cheesy cover band name—Amber Sound—they're actually really good. And their drummer is outstanding. With great hands, a gorgeous mouth, sun-kissed hair and sculpted golden-tan arms that contract lusciously with every move he makes. He's got an aura around him—the cocky, vibrant kind—that sucks in every woman within a ten-foot radius, like a hot alien tractor beam.
"He's looking this way!" the woman at the bar whisper-squeals. "He's looking right over here."
He is looking over here. Little excited sparks burst in my stomach—because the hot drummer guy has been looking over here a lot.
And I'm not the only one who's noticed.
"All these do-me gazes between Lainey and the drummer are giving me a second-hand boner."
My sister's boyfriend, Jack O'Shay, has picked up on it too.
"You wanna get freaky in the bathroom, Erin? A blow job would be awesome right now."
Jack has a unique, piggish kind of charm—it grows on you.
"Well, when you ask me like that, how can I resist?" The sarcasm is heavy in my sister's voice. "You're so romantic."
"I know." Jack grins, playing along. "But I'm storing up the big guns for after the wedding. You want the full Romantic Jack Experience, you need to let me slap a ring on it."
Erin and Jack have lived together for the last three years. For about half that time, he's been trying to get her to make an honest man of him. But the sound of them debating the romance quotient of a bar-bathroom blow job fades into the background . . . because the drummer is looking at me again.
And I'm looking back—watching him, watch me. His gaze moves from the spiral curls of my honey-blond hair to my shoulders, lingering at my cream bo-ho knit tank-top, before dragging down over my light blue ripped jeans.
Then the corner of his mouth hooks into a sexy, suggestive, grin.
And my vaginal muscles clamp down in a needy clench that would make Dr. Kegel stand up and cheer.
I take a long sip of my drink, fanning myself—'cause Nelly knew what he was talking about—it's getting hot in here.
A moment later, the lead singer—a dark-haired guy in a leather jacket—thanks everyone for coming out, wishing us all a good night. I watch as the drummer stands up from his kit, talks to his bandmates for a minute—slapping hands and laughing. And then he's turning, stepping off the stage in loose, easy strides.
Walking straight to me.
And it feels just like an 80s movie—the swoony scene that always comes at the end— when the former plain-Jane-turned-prom-queen finally gets the guy.
"Hi."
He's even better-looking up close—his eyes are cerulean with flecks of green and gold. Ocean-blue eyes.
"I'm Dean."
Dean.
It's a good name. A player's name—a hot guy's name. It fits him.
I feel myself smile, a little giddily, a lot turned on.
"Hi. I'm—"
"Beautiful." He says it intensely. Like he means it. "You're really fucking beautiful."
And just like that I'm a puddle on the floor. Sold. Gone. Done.
His.
It's not that I'm easy—it's that Dean, the ocean-eyed drummer, is just that good.
He glances at the almost empty glass in my hand. "What are you drinking?"
"Vodka and sprite."
"Can I get you another one?"
I forgot about lust. I forgot the power of it—the pulsing, pulling, palpable connection that springs up between two people who are instantly attracted to each other. I forgot the excitement and fun of it. My heart pounds and my palms tingle, and for the first time in a long time, I feel reckless and young.
I feel alive.
"Sure. Another one would be great."
Excerpt. ©Emma Chase. Posted by arrangement with the publisher. All rights reserved.
Giveaway:

One signed paperback of Getting Played, available US only.
To enter Giveaway: Please complete the Rafflecopter form and post a comment to this Q:

What did you think of the excerpt spotlighted here? Leave a comment with your thoughts on the book…
Meet the Author:
The New York Times and USA Today bestselling author Emma Chase writes contemporary romantic comedies filled with heat, heart and laugh-out-loud humor. Her stories are known for their clever banter, sexy, swoon-worthy moments, and hilariously authentic male POVs. Emma's novels have been translated into over twenty languages and published around the world.
Emma lives in New Jersey with her amazing husband, two awesome children and two adorable and misbehaving dogs. She has a long-standing love/hate relationship with caffeine.
Connect with Emma:
Website: https://authoremmachase.com/
Facebook: http://bit.ly/AuthorEmmaChaseFB
Goodreads: http://bit.ly/AuthorEmmaChaseGR
Instagram: http://bit.ly/AuthorEmmaChaseIG
Twitter: http://bit.ly/AuthorEmmaChaseTw
Amazon: https://amzn.to/2Zyj4c0
Bookbub: http://bit.ly/AuthorEmmaChaseBB
GETTING PLAYED BUY LINKS:
Audible Audiobook: http://bit.ly/GSECAudible
Apple Books: https://apple.co/2uV5cv7
Amazon Kindle: https://amzn.to/2IqawOQ
Nook: http://bit.ly/2VzvVZT
Kobo: http://bit.ly/2X1JdhM
Google Play: http://bit.ly/2IqcPkU
Amazon Paperback https://amzn.to/2DiLjmn
Add it on Goodreads http://bit.ly/2InZUA5