Today, HJ is pleased to share with you

Anna Bennett's

new release: 

Girls Before Earls: A Rogues to Lovers Novel

Girls Before Earls is the delightful first novel in the Rogues to Lovers series from romance author Anna Bennett.
WHAT A GIRL WANTS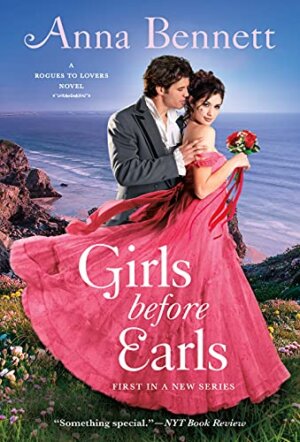 To survive her difficult childhood, Miss Hazel Lively relied on two things: a tough exterior and a love of books. Now, she's realized her life-long dream of opening a school for girls. She's hoping the wealthy families who summer at the shore will entrust their daughters to Bellehaven Academy—and help pay for less fortunate students. All Hazel must do is maintain a flawless reputation. It's a foolproof plan…until a handsome earl strides into her office.
WHAT AN EARL NEEDS
Gabriel Beckett, Earl of Bladenton, has had a monstrous headache since the day his teenaged niece became his ward. She's already been expelled from two London schools, but Blade is determined to enroll her at Bellehaven Academy, where she'll be out of his hair. If only he can convince the buttoned-up—and unexpectedly intriguing—headmistress to take a risk.
LEAD TO AN IRRESISTIBLE DEAL
Blade makes an offer that's impossible for Hazel to refuse, but she has one condition: the earl must visit his niece every other week. Soon, Blade discovers there's more to Hazel than meticulous lessons. Their sparring leads to flirtation…and something altogether deeper. But the passion that flares between them poses a threat to Hazel's school and Blade's battered heart. They say a good thing can't last forever, but true love? Well, it just might…
Enjoy an exclusive excerpt from Girls Before Earls: A Rogues to Lovers Novel 
From Girls Before Earls by Anna Bennett. Copyright © 2021 by the author and reprinted by permission of St. Martin's Publishing Group.
Chapter 2
Blade blinked at the buttoned-up headmistress sitting across the office from him, debating his next move. Because there was no way in hell he was dragging his arse all the way to Bellehaven Bay every other week.
"Forgive me," he said, mustering his last morsel of civility, "but you must realize such a requirement isn't practical. I have obligations in Town. An estate to run."
"Those are my terms, Lord Bladenton." Miss Lively stood and folded her slender arms across her chest. Every time she moved, her tantalizing scent filled his head. "I don't think I'm asking too much. If you wish for me to take on Kitty as a student, I must insist that you visit her for at least a few hours twice a month."
"Absolutely not," he ground out. He shoved himself off the windowsill and turned to look outside, bracing an arm on the wall. "I can't imagine why you'd make such an absurd and unreasonable demand, but I will not subject myself to these machinations."
"It's not my intention to make your life difficult," she countered, her voice infuriatingly calm. "But I think it's important that Kitty doesn't feel like she's being . . . abandoned."
Blade spun on his bootheels to face the headmistress. "You have no right to make that accusation."
"I didn't mean to imply that you are abandoning her," she said evenly. "But I do fear she may perceive it that way."
He barked a laugh at that. "In case it wasn't glaringly obvious from your brief interview with Kitty, the very last thing she wants to do is spend time with me. In fact, she detests me. It vexes her that she must breathe the same air I do. My very existence upon this earth is an unbearable affront."
Miss Lively had the audacity to cluck her tongue. "How old is she—fifteen?"
He had to think about it for a minute. "Yes."
"Do you recall being that age?"
"I'm not yet in my dotage," he grumbled. "Of course I remember."
"Then I daresay you may remember feeling a measure of hostility toward adults in a position of authority. Fifteen-year-olds are not always the most rational of creatures. But we mustn't underestimate them or diminish their feelings."
Good God. He couldn't believe he was letting a headmistress lecture him about feelings. It was too much. "I won't do it," he said. "I refuse to travel from London to the coast every other week just to serve as a target for her vicious barbs and death glares."
"That is your prerogative, of course," Miss Lively said, irritatingly cool and detached. "You needn't accept my offer to enroll Kitty as a boarding student. I'm sure there are plenty of other schools willing to take your money without condition. This, however, isn't one of them."
Hot under the cravat, Blade swallowed a curse and counted to ten before speaking. "My niece's attempts to manipulate me are bad enough. I will not do your bidding, Miss Lively."
The headmistress inclined her head in a manner that was maddeningly civil and said, "I regret that we were not able to reach a mutually acceptable agreement, Lord Bladenton. I wish you and Kitty well." A breeze riffled the curl at her temple, and she quickly tucked it behind her ear, blushing as though she'd inadvertently exposed an undergarment.
For the life of him, Blade could not imagine why the idea of such a thing intrigued him so.
All the more reason for him to get the hell out of Bellehaven, posthaste. He stuffed his hat on his head, made a cursory bow, and strode to the office door. Swinging it open, he bellowed, "Let's go, Kitty. We're leaving right n—"
He looked around the room and blinked at Miss Lively's assistant, who was hunched over a small table in the antechamber, industriously labeling the shells and carcasses of various sea creatures while Kitty was quite noticeably absent. "Where is my niece?" he asked. His voice was surprisingly controlled, given the potent mix of dread and anger that flooded his veins.
The flustered assistant looked up and adjusted her spectacles. "Hmm? Oh, Miss Kitty said she required a bit of air. She stepped outside to stretch her legs."
"And you let her go?" he asked, incredulous. She was probably at the local pub, tossing back her third pint by now.
"Lord Bladenton." Miss Lively said his name like a warning as she glided into the antechamber. "Jane is not responsible for your niece." To the assistant, she said, "Did Kitty say where she was going?"
"I'm afraid not," the assistant answered, contrite.
But Blade knew she wasn't to blame. He was—as usual.
He grumbled an apology as he burst out of the school's front door, then looked up and down the street.
Miss Lively followed on his heels. "Any sign of her?"
Blade shook his head and planted his hands on his hips, beyond exasperated. "She's gone. And if I know Kitty, she's looking for trouble."
Oh dear. Hazel stepped back inside and grabbed her bonnet from its hook. "Jane, I'm going to help Lord Bladenton locate his niece. I don't expect it will take long, but if I haven't returned in time for today's lesson, will you stand in for me please? I've left a few notes on my desk."
Jane nodded eagerly. "Of course. Don't worry about a thing."
From Girls Before Earls by Anna Bennett. Copyright © 2021 by the author and reprinted by permission of St. Martin's Publishing Group.
Excerpt. ©Anna Bennett. Posted by arrangement with the publisher. All rights reserved.


Giveaway:

One giveaway copy of GIRLS BEFORE EARLS by Anna Bennett – US Winner Only
To enter Giveaway: Please complete the Rafflecopter form and post a comment to this Q:

What did you think of the excerpt spotlighted here? Leave a comment with your thoughts on the book…
Meet the Author:
Anna Bennett is the award-winning author of the Debutante Diaries and Wayward Wallflowers series. Her dream of writing romance began during a semester in London, where she fell in love with the city, its history, and its pubs. Now Anna's living happily-ever-after in Maryland with her family, who try valiantly not to roll their eyes whenever she quotes Jane Austen.