In Love at First Spite by Anna E. Collins, Interior designer Dani Porter has decided she's going to prove to her cheating ex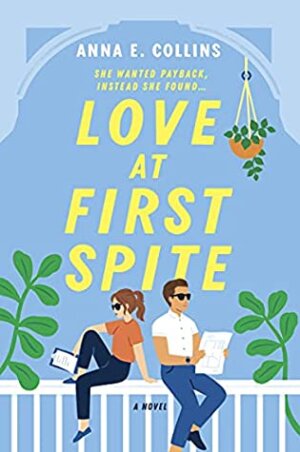 that she's not a woman to be toyed with. Problem is, she's not sure of the best way to get revenge. Yet. But soon Dani's coming up with a devious plan, one that involves buying the small piece of property next to what should have been her and Sam's dream house. Finding out her fiance was messing around with their Realtor nixed that perfect idea so now Dani is going to build a tiny rental house next door to ruin Sam's perfect life.
'The For Sale sign shines more intensely red now. It sways in the wind, taunting me. This is either the best idea I've ever had, or the worst by far.'
Dani's next task is to find someone to create blueprints for the project. Now that she's got her landlord Iris and her cousin Mia on board for support and funding, she wants to get the Spite House built asap. But unfortunately the only architect able to help is the office grump, Wyatt Montego. He's handsome. He's rather stuffy. And he doesn't play well with others. Dani has no other alternative but to accept. As she and Wyatt begin to nail down the specifics of the house, she's pleasantly surprised to find out he actually does have a personality after all. And that they have insane attraction to each other–which might be something that could create issues for them both at work and in their personal lives.
'What's between us isn't merely a want, it's a need. I need him to be mine.'
Love at First Spite was a rom-com debut novel by Anna E. Collins that had me giggling furiously from the start with its opening scene and actually quite desperate to see how it would all work out for this enjoyable cast of characters.
He lifts his glass. "To your build."
"To a productive collaboration," I say. "With…benefits?"
Wyatt stills, surveying me above the rim of his glass. A Cheshire grin blooms behind it.
How much fun is that premise, right? A Spite House. A completely real thing that I hadn't ever really heard of before–but after reading the author's note at the end of this book, I can see why it sparked her imagination. And I think Collins did the concept justice with Dani and Wyatt's story. It was ridiculously fun to see all the things Dani and her friends worked up to mess with her smarmy ex, Sam. But I also liked that Collins showed how easy it could be to get carried away and take things a bit further than initially planned as we watched Dani figure out where to draw the line on her "revenge".
The characters themselves were wonderful. From our spunky heroine Dani to her cousin & BFF Mia to Dani's landlady Iris, they were a combo that worked on so many levels. I loved how they stuck together, supported each other, weren't afraid to laugh at themselves, and also stood up for what they believed in. And oh the shenanigans the trio got up to!
Adding Dani's grumpy coworker Wyatt to the mix was rom-com gold. When one of the other employees referred to him as Shrek-like, I was sold. (lol) He was described as being a tall guy who was built like an athlete and was gruff and to the point. But Wyatt had hidden depths and wound up being a terrific guy who had reasons for the way he acted at work. And in my humble opinion, I thought of Wyatt as more of a beta hero. He was a nice–almost calming–balance to Dani's constant energy and I just loved the explosive chemistry between them and their fun & sexy bantering.
QOTD: Have you ever heard of the term Spite House before or actually visited one?
Book Info:

Publication: Expected publication: January 4th 2022 | Graydon House |
Falling in love is the ultimate payback in this delightful romcom about an interior designer who teams up with a mysterious architect at her firm to get revenge on her ex the only way she knows how: by building a spite house next door
They say living well is the best revenge. But sometimes, spreading the misery seems a whole lot more satisfying. That's interior designer Dani Porter's justification for buying the vacant lot next to her ex-fiancé's house…the house they were supposed to live in together, before he cheated on her with their Realtor. Dani plans to build a vacation rental that will a) mess with his view and his peace of mind and b) prove that Dani is not someone to be stepped on. Welcome to project Spite House.
That plan quickly becomes complicated when Dani is forced to team up with Wyatt Montego, the handsome, haughty architect at her firm, and the only person available to draw up blueprints. Wyatt is terse and stern, the kind of man who eats his sandwich with a knife and fork. But as they spend time together on- and off-site, Dani glimpses something deeper beneath that hard veneer, something surprising, vulnerable, and real. And the closer she gets to her goal, the more she wonders if winning revenge could mean losing something infinitely sweeter…
"Love at First Spite had me hooked from the first page! The playful banter, steamy love scenes, and delightful cast of secondary characters made this debut an unputdownable read."
—Alexandria Bellefleur, author of Written in the Stars
"Love at First Spite delivers on every level with humor, heat, and heart. Collins has crafted characters I was so delighted to spend time with, and whose love story was full of emotion and sparkling sexual tension."
—Denise Williams, author of How to Fail at Flirting