Today it is my pleasure to Welcome author
Lori Ann Bailey
to HJ!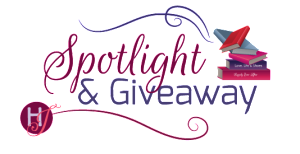 Hi Lori Ann and welcome to HJ! We're so excited to chat with you about your new release, Highland Obligation!

Thanks so much for having me. I always have a great time here on Harlequin Junkie.

Please summarize the book for the readers here: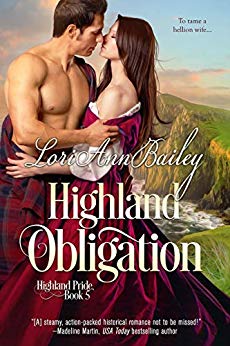 Highland Obligation is about a Scottish laird's heir who is forced to wed the woman he blames for his best friend's death.

Please share your favorite line(s) or quote from this book:
Grant is a man whose greatest desire is to bring peace to the Scottish Highlands. He doesn't know the true identity of the woman who he saw fighting with a rebel group the day his friend died, but when he sees that she is his arranged betrothed and walking toward him in the chapel to say their vows, this is one of his first thoughts.

He'd already lost one wife, what would it say about him if he killed his second on their wedding night?
Please share a few Fun facts about this book…
Each time I write a new book, I chose a soundtrack based on the emotions I want to elicit from my characters. The album I chose for Grant and Isobel in Highland Obligation was Chris Young's I'm Coming Over.
In Highland Salvation, the book just before this one, my heroine is terrified of cats. In Highland Obligation I wanted show the positive about animals and how they ground us and help us become better people. BTW, while I love dogs, I'm absolutely a cat person.
What first attracts your Hero to the Heroine and vice versa?
For Grant and Isobel, it's love (or at least fascination) at first sight, but that's what gets them into trouble. Their first meeting leads to tragic circumstances that causes animosity between them. They must overcome these grievances to get back to where they began.
Did any scene have you blushing, crying or laughing while writing it? And Why?
Isobel is a strong heroine. She fights for a group of renegades known as the Royalist Resistance. Shortly after marrying Grant, who wants to put an end to her fighting, she sneaks out of the castle and into the lists to practice her skills with a sword. In this scene she imagines she is fighting her enemy and then her thoughts circle around to her own shortcomings and how she blames herself for something that was out of her control. Reading this misconception she has about herself always brings me to tears.
Readers should read this book….
Although it seems Isobel and Grant are complete opposites, they have more in common than one would think. The journey of them discovering that they truly belong with each other is a fulfilling emotional ride.
What are you currently working on? What other releases do you have in the works?
A Highlander for Hanukkah is a story that's part of the Eight Kisses anthology that will be releasing November 12th. It's a compilation of stories with a Hanukkah theme. Each one is unique, some moving, some fun, and some that bridge the gap between religions, races, and stages of our lives.
I'm currently working on the second book in a new series that I'm hoping to bring everyone by the end of next year. I also have a secret project in the works and that book will be released late spring in conjunction with books from several other authors. But, that's all I can share about it right now.

Thanks for blogging at HJ!
Giveaway: One signed print copy of Highland Obligation – US only
One e-copy of Highland Obligation – open to everyone
To enter Giveaway: Please complete the Rafflecopter form and Post a comment to this Q:

We typically blame ourselves for things out of our control. What is something you do to console yourself when something has gone wrong? I have a glass of wine, talk with my friends, or read a book.
Excerpt from Highland Obligation:
After stabling the horses, Isobel held the kitten out to him, but a grin spread across Grant's face as he crossed his arms and shook his head. He was amused by her discomfort and what made it worse was that she was finding she enjoyed seeing a smile on his face.

"What does it eat?" she asked.

"Have ye never had a pet before?"

"Nae, and I dinnae want one."

"Looks like ye have nae choice. They like cream and meat. Come," he said as they walked through the empty yard at the back of Cairntay. He led her to a little building half buried in the ground near the castle walls. After taking the steps down, Grant lifted the latch and pushed open the door, hooking it on something to keep it ajar.

"The larder?" she asked as they walked in.

"Aye. We'll find something in here for it."

"I cannae see a thing." The only light came from behind them and the clouds blotted out most of the sun's rays.

"Give me a moment." And just a few breaths later, Grant had a candle lit.

Shelves were piled high with provisions, but she had no idea what she was looking for. After she set the creature down and lost its warmth, she noticed the room had a chill to it, just like the larder back home. The kitten must have missed their connection as well, because it started climbing up her skirts, claws pulling at the material.

Gasping, she backed away, bumping into the door and loosening the latch when she hit her head on a shelf. "Ouch."

"Nae," Grant called out and lunged for the door, but in his haste, he pushed it farther along on its course. He crashed into the frame and the walls seemed to shudder with the force. The sound of banging metal gave her a sickening dread in the pit of her stomach.

Rubbing her head, she blinked, trying to adjust to only the candlelight in the room. The kitten had found her, its claws clinging her skirts. "Ah." She pulled the creature free. She wouldn't be surprised if the new gown had tears in it from the animal's vicious talons.

Banging on the door, Grant yelled, "In here." He continued for several moments before giving in and turning his frustration on her. "It appears we are stuck for now."

"'Tis nae my fault."

"Ye should have been more careful. Ye seem to be good at doing things without thinking."

"Are ye referring to this or something else? I can assure ye I never do anything without thought."

How dare he blame her for this.

"Then that makes some of yer decisions even worse." He seemed to loom over her in the small space, the light shining on him as she backed a step. Hell, she was never afraid of anyone, and she was not going to let her husband have the advantage.

"If anyone is to blame, 'tis ye. I told ye I dinnae ken anything about these creatures. Ye should have taken it." Peeling it from her arms again, she held it out to him. But this time the cat twisted, clawing at her, trying to hang on.

"Ouch." The kitten fell, landing on its paws and scrambling into the dark. Turning away from her husband, she held her arm toward the candle to inspect the damage. Three lines had formed on her skin, small traces of red seeping through them. Then she felt her husband's presence beside her. He reached down and took her arm.

"Are ye all right?"

"I will be." She breathed in as his woodsy scent invaded her.

His fingers traced the sensitive skin around the injury, and strange tingles pulsed out from the connection. Her chest tightened because, heaven help her, she wanted to kiss him. She attempted to retreat, and although his grip was gentle it was firm. Instead of pulling free, she managed to draw his solid body into hers.

Glancing up into his eyes, she wasn't sure if they had darkened or if it was just the room, but he didn't release her. She swallowed. His free hand coiled around her waist, gently cradling her to him. A foreign feeling erupted somewhere inside her and instead of pushing him away, she held still to examine it.

The hand holding her injured arm slid up past her shoulder, over her neck, and fingers delved into her hair as her body decided not to obey her command to retreat. His hand threaded its way into her scalp then removed the few pins she'd been able to secure there.

She found her feet moving backward as he guided her into the closed door. Tugging gently at her loosened strands of hair, he tilted her face up toward his. The next thing she knew, his lips were crashing down on hers and sweeping her into something new, something she had never wanted before that made her insides ignite with unexplored desires.

Oh, hell, she liked it.
Excerpt. © Reprinted by permission. All rights reserved.


Book Info:
Isobel MacLean fears she can't protect those she loves. Due to a violent attack in her past, she'll do anything to keep them safe–except marry the infuriating Grant MacDonald, heir to the MacDonald laird. She wants justice for her family, not a damn husband. Unfortunately, we don't always get what we want…
Forced to wed the lass responsible for his friend's death, Grant MacDonald is determined to tame his hellion wife. On a mission to Edinburgh to prevent war, sparks fly as they spar with each other, and Grant is starting to wonder if maybe his wife is a wee bit misunderstood.
He'll need to use every tool in his arsenal to distract his alluring wife from her quest for vengeance…before it's too late for them both.
Each book in the Highland Pride series is STANDALONE:
* Highland Deception
* Highland Redemption
* Highland Temptation
* Highland Salvation
* Highland Obligation
Book Links: Book Links: Amazon | B&N | iTunes | kobo | Google |


Meet the Author: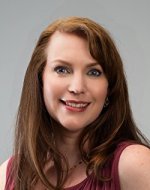 Spotlight: Lori Ann BaileyLori Ann Bailey is a best-selling author and winner of the National Readers' Choice Award and Holt Medallion for Best First Book and Best Historical. Lori writes hunky highland heroes and strong-willed independent lasses finding their perfect matches in the Highlands of historic Scotland. She is active in Romance Writers of America, having served on committees on the national and local levels, and is a contributor to the weekly podcast, History, Books and Wine. When not writing or reading, Lori enjoys time with her real-life hero and four kids or spending time walking or drinking wine with her friends.
Website | Facebook | Twitter | Instagram | GoodReads |