Wait For Me by K.L. Grayson: Grayson is an overwhelmed single dad to three little kids. He loves his kids,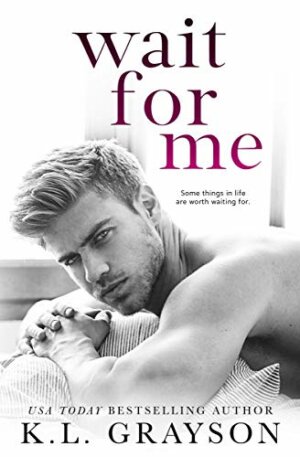 but it's exhausting. When he's not trying to be everything to his kids, he runs his own car restoration business which is doing really well. He's sexy, confident, generous, and great with his kids. After getting burned by their mom, he's also pretty done with dating.
Nora is ready to break out of the box she's been confined to. She's grown up and wants her manager, record label, and fans to see for the person she is rather than the character she's played. She's smart, talented, and in need of a break from her life. She's grateful for what she has, but she needs more than the press, expectations, and being managed.
Heading home to spend time with her brother is just what Nora needs. She needs time out of LA so interest in her breakup can fade. She didn't expect to meet Grayson or to immediately fall for his kids. The attraction is instant and her timing couldn't be better. Nora needs to keep busy and helping him out with his kids will keep her hopping.
"Hey," I whisper. "You spent the entire day with my kids, and you're still alive."
"Barely. Your kids have an endless supply of energy. I'm going to sleep for days."
"Sleep? What's that?"
We laugh, and Nora leans in. "Pink is definitely your color. Very chic."
Grayson is surprised by just how good Nora, a Hollywood star, is with his kids and by how much he's tempted to break his no dating rule. The more time they spend together, the more Nora gets involved in their life and the closer they get. Grayson has plenty of drama in his past and he doesn't need the drama of Nora's but she's so much more than just a star.
"So, basically, you want me to be your arm candy?"
"Yes! Wait, no. Not like that," she says, laughing. "Quit putting words in my mouth."
"Sorry, keep going."
"Just…" She sits back on the swing and angles her body toward me. "Will you do it? Will you be my date to the premiere?"
Wait for Me is funny, sexy, sweet, and hot. K.L. Grayson developed the characters while providing humor, family, friendship, and anticipation. Ms. Grayson created a great cast of characters, especially the kids who steal the scenes. Fans of Penelope Ward and Vi Keeland will enjoy Wait for Me.
Book Info:

Publication: Published July 23rd 2019 | K.L. Grayson |
My life is a mess. Literally.
I'm a single dad, which means If I'm not cleaning up spilled milk or changing a diaper, I'm pulling gum from my daughter's hair. I barely have enough time to eat—let alone sleep.
And women? Forget about it. That ship sailed two years ago along with my ex-wife. My brother says I need to get laid. I say, screw that. I'm content with my life, until pop star Nora Hayes walks through my best friend's front door and flips my world upside down.
She's beautiful, famous, and completely off limits.
My life is a headline waiting to happen. Literally.
It all started with fishnet stockings and ended with a baseball bat to my boyfriend's Porsche, putting me on the front page of every newspaper and gossip magazine in the country.
My life is spiraling out of control and I'm ready to make some serious changes. What I'm not ready for is a hunky man to strut his jean clad tush into my life. Grayson Calhoun is as rugged as he is sweet. He's also way in over his head with his kids, and I have an offer I'm hoping he can't refuse.
What starts as an agreement, turns to a friendship, and quickly escalates to stolen kisses and heated nights spent wrapped in each other's arms. What we have is temporary. I promise him that I won't fall in love.
But I make that promise already knowing it's a lie.