Today it is my pleasure to Welcome author
Tee O'Fallon
to HJ!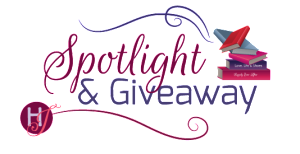 Hi Tee and welcome to HJ! We're so excited to chat with you about your new release, Honor 'N' Duty!

Hi everyone! I'm excited to talk with you today about my new romantic suspense release, book 6 in the Federal K-9 series, Honor 'N' Duty.

Please summarize the book a la Twitter style for the readers here: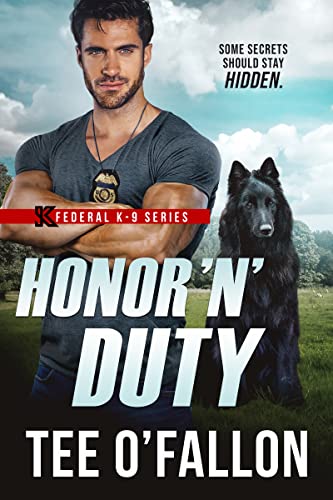 A drug cartel is after Laia Velez and her young daughter. The only person who can help is the one man she swore never to call.

Please share the opening lines of this book:
Kade Sampson pulled into the Regional Bank & Trust's parking lot. The bank was hopping, forcing Kade to park in the back forty.
He turned off the engine, taking in the massive, two-story concrete and brick structure. With the never-ending bank of windows and the gold dome capping the second floor, it reminded him of the Emerald City in the Wizard of Oz. Kade's older brother had done good for himself. Better than good, actually.
Please share a few Fun facts about this book…
The K-9 in this book, Smoke, is a Belgian Sheepdog, the same breed of dog that I currently have. They are a cousin to the famous Belgian Malinois, but a sheepdog looks more like a light-boned, long-haired, black German Shepherd. They are agile, intelligent, loving, fun, and beautiful.
Loki and Kyrie, my dogs, are both Belgian Sheepdogs, so I have personal experience with this breed's personality and abilities. The three of us currently grace the inside back cover of Tough Justice, K-9 Special Ops, book 1.
The government buildings I describe in this book are places I've been to many times in my career.
In my opinion (no personal bias whatsoever) this book has one of the hottest love scenes I've ever written! It's hard to come up with love scenes that aren't cookie cutter from one book to the next. In this story, I think I nailed it!
My ex-boyfriend (yes, we're still friends), a former government agent, helped me out with a few factual details.
What first attracts your Hero to the Heroine and vice versa?
I think the same things attract each of them to each other. From the moment they first meet, there's instant, inexplicable chemistry that not even six years apart can diminish. They both feel their initial meeting was fate. They have so much in common, it's as if they were destined to be together.

Using just 5 words, how would you describe Hero and Heroine's love affair?
Passionate. Emotional. Heart-wrenching. Exciting. Desirous.

The First Kiss…
She cupped the side of his face, and before he knew what was happening, he was leaning into her palm. "Well? What would we have done?"

"I'd have taken you down to the beach."

She gazed into his eyes. "Would you have held my hand?"

"Uh-huh." To start with.

"Would you have kissed me?" She leaned in, placing her hand on his hip, way too close to his groin. "Would you?"

Yeah. This was what he'd always wanted. She'd been a craving he'd never been able to eradicate, never been able to erase with anyone else. So what was he waiting for?

Don't do it, the rational part of his mind screamed again.

Once he had the taste of her mouth and skin on his tongue, there'd be no stopping him.
Laia leaned in closer until her soft breasts pressed against his chest.

"Laia—" He clamped his jaw together. If she were any closer, she'd be under his skin.
So much for religion because she was already under his skin.

"Kade," she whispered, his name warm and gentle across his lips, the way he imagined a butterfly's wings would feel.

Her teasing gentleness was the spark, the emotional catalyst that set off a nuclear chain reaction.
His head grew hot. His blood started to boil. Then an explosion rocked his heart, his head, and everything inside him that yearned to take full possession of the woman he'd wanted for so long he couldn't remember.

With a loud groan, he cupped the back of her head, then slanted his mouth across hers.
Without revealing too much, what is your favorite scene in the book?
No matter how serious or suspenseful my stories can be, at times, I just can't help adding a good dose of humor here and there. I had SO much fun writing the whipped cream scenes in this book!!
She headed downstairs, following the giggling then an odd, squirting sound. Inside the kitchen and next to the stainless-steel refrigerator, Kade held a can with a nozzle to Rosa's open mouth. Beside them, with his tail swishing on the tile floor, Smoke licked his lips.
"Press harder," Kade said, and Rosa wrapped her tiny hands around his. The squirting sound grew louder, then Rosa's mouth filled with whipped cream.
"Mmm," Rosa mumbled, then licked her lips.
"Here you go, buddy." Kade held an identical can above Smoke's head, and he opened his jaws while Kade gave the can a squirt. A long strand dripped into the dog's mouth. Smoke chewed, then swallowed, licking his lips just as Rosa had.
Rosa began hopping up and down. "Again! Again!"
"No, not again!" Laia narrowed her eyes on Kade. "What in the world are you doing?"
"Having a little snack while we waited for you to come down." He put one of the cans to his mouth and pressed the nozzle. After swallowing, he held out the can to her. "Want some?"
"No, I don't want some." Though why she was so annoyed, she couldn't exactly say. It wasn't the whipped cream. Maybe it was seeing them together so naturally and having so much fun. Josh had loved Rosa but aside from reading to her from Cinderella nearly every night had never actually taken the time to have fun with his daughter. He'd have to have been home for that to happen. A year after Rosa was born, he rarely was.
"Uh-oh." Rosa's tongue darted out to lick away a tiny gob of cream on her lower lip. "Mommy's mad at both of us."
"Is there a problem?" Kade arched a brow, but his attempt at being genuinely confused failed when a corner of his mouth lifted.
"Whipped cream?" She stared at him in disbelief. "You're feeding a five-year-old whipped cream directly from a can?" And right before dinner, no less.
"Yeah, I am," he answered with zero remorse, then threw Rosa a conspiratorial look that made her giggle again. "It's our thing."
"Your thing? What does that mean?" She grabbed the can in his hand, somewhat gratified to see this one had Smoke's name on it written in black marker. At least Kade hadn't been feeding Rosa from the same can.
"Relax." He held up his hands, palms facing her as he tried to calm her down. Instead, it only irritated her more. "Considering how the day started out, I thought Rosa could use a little fun. We've been doing this for years. Right, Cream Puff?"
Rosa nodded emphatically. "Right, Uncle Kade. Smoke, too."
Smoke stared longingly at the can with his name on it.
She looked from her daughter to Kade, wondering what else they'd been doing at her in-law's house when she hadn't been there. Now she knew where the nickname he'd called Rosa earlier had come from. Cream Puff.
If your book was optioned for a movie, what scene would be absolutely crucial to include?
Laia's hands trembled, whether from rage or the thrill of seeing Kade again she couldn't be sure, but her heart thumped wildly nonetheless.
The years had been good to him. If anything, he was more handsome than she remembered. All high cheekbones and chiseled…everything. He seemed taller and bigger than she remembered, too. Broader shouldered, leaner, more powerful, and with the same commanding presence, something she learned he'd acquired in West Point and later in the Army Rangers. The only signs of age were the fine lines at the corners of his striking hazel eyes. A burst of fiery amber surrounded the dark pupils with golden green irises—
Stop it, Laia.
She shook the thoughts free and lifted her chin. She should not be ogling her brother-in-law. The words she and Kade had exchanged on her wedding day had left a permanent scar on her heart. She'd nearly broken down right then and there and fessed up. But she couldn't. The promise she'd made to Josh was one she couldn't have broken. Even now it didn't seem right to divulge their agreement. To anyone.
Since that day, she'd only seen Kade once. Three years after the wedding—at Josh's funeral—the only words he'd spoken to her were his condolences, a quick I'm so sorry, then a peck on the cheek and he was gone, never to be seen or heard from again. Until now. The only things that had driven her to call him again were desperation…and fear. Fear that Josh's past could put Rosa in danger.
"Officer Sampson?" Sergeant Braden boomed from behind her.
"Yes." Kade held out his free hand to Sergeant Braden first, then to Officer Garcia, the tall woman who'd responded first to Laia's 911 call.
How did they know who he was?
As Kade shook hands with the cops, the muscles in his forearms flexed below the rolled-up sleeves of his shirt—a tuxedo shirt. There could be many reasons why he'd be wearing a tuxedo. Surely, he wouldn't have left his own wedding to come to her aid. Right?
She looked at his hands. No ring. Besides, her in-laws would have mentioned if he was about to be married. His marital status was none of her business, and it probably would have been better if he had been married. Yet the breath she let out next was filled with relief.
"Chief Hassan notified us you were on your way," Sergeant Braden continued. "Anything you need, just let us know."
So Kade did have friends in high places. Just last week, the house across the street had been broken into, some cash and gold jewelry stolen. The police hadn't given the victims half the time they'd expended at her house.
"Thanks," he said. "Can you fill me in?"
As Sergeant Braden began rattling off the procedural steps the police had taken since their arrival, Officer Garcia laughed softly. Rosa had begun plucking at Kade's hair. Knowing her daughter and judging by the way her lips had twisted into an adorable pout, Rosa was clearly perplexed at how to braid a military-precision buzz cut.
Nothing about having his hair played with by a five-year-old while talking to the police diminished Kade's concentration, not even when Rosa pulled hard.
"According to Ms. Velez," Sergeant Braden continued, "nothing was taken, which is odd."
Odd, yes, but thank goodness she'd had her laptop in the car with her at the time of the break-in. Without it, she'd never be able to finish her vet school application for the January semester.
"As expected, forensics found lots of prints," Garcia said, "but we won't know until early next week whether they all belong to Ms. Velez, her daughter, her neighbors, or the burglars."
Rosa tugged harder on a strand of brown hair. "Ouch." Kade's hard, sensual lips lifted as he sent Rosa a mock scowl.
When his elusive dimples made a guest appearance, unwanted heat curled low in her belly. Despite her latent anger, watching him interact so naturally, so paternally with her daughter unleashed a yearning deep inside her, making her wish for things that could never be.
Readers should read this book …
…if they love reading about tortured heroes, sassy, intelligent heroines, and courageous dogs. If they love a romantic suspense story not only chock-full of suspense, but with passion that sizzles, and enough humor to make you laugh just when you need it..
What are you currently working on? What other releases do you have planned?
I'm currently working on Burning Justice, the follow-up to Tough Justice, book 1 in my brand-new K-9 Special Ops series. This is ATF Special Agent Brett Tanner and his Chesapeake Bay Retriever canine, Blaze's, story. I'm also hoping to release the final book (title TBD) in the Federal K-9 series later this year. This is Jamie Pataglio's story.
Thanks for blogging at HJ!
Giveaway:

I'll be giving away a $20 Amazon or B&N gift card (winner's choice) to one winner.
To enter Giveaway: Please complete the Rafflecopter form and Post a comment to this Q:

Did you ever meet someone (or know someone who experienced this) and know within the first forty minutes that you were meant to be together?
Excerpt from Honor 'N' Duty:
Laia sighed as she crouched on the floor where Rosa kept holding up her hand for Smoke to high five, which he did perfectly.

Smoke snorted, then lowered his paw, still holding it in the air at an unnatural angle, bending it right behind the metacarpal, the largest pad of a dog's paw. At first, Laia thought this was perhaps related to why he was limping. Then Rosa met the dog's paw with her closed fist.

"See what I taught him?" Rosa smiled, revealing a space where one of her lower teeth used to be. "It's a fist bump. Uncle Kade and I fist bump, so I taught Smoke to do it." Rosa giggled, fist bumped Smoke's paw again, then pulled her hand away, waggling her fingers in the air. "Boo-yah!"
Smoke cracked his jaws, uttering a half bark, half howl that sounded eerily like boo-yah.

"That's very impressive. You could be a dog trainer one day." Laia was only half kidding. Rosa possessed the same love of animals, dogs in particular, that Laia did.

The dog's dark-brown eyes watched her closely while she petted the top of his head. His thick hair was long and soft, his ears tall and pointed. There was no doubting his intelligence. It was in his eyes, in the proudly erect bearing with which he held his head. It was almost as if Smoke, too, had been influenced by generations of Sampson military men.

"Mommy, are you still mad at Uncle Kade?"

Yes. "No, of course, not." In a calm move that belied the frustration ready to burst from her head with more force than a shaken soda can, she brushed a silky-soft strand of hair from her daughter's cheek.

"I hope not." Kade had returned, crossing his arms as he leaned his shoulder against the doorjamb. "Because until we figure out what's really going on here, you're staying with me. At my house. For your safety and Rosa's."

"What?" Laia jumped to her feet. What he was suggesting was ludicrous. Impossible. "No. No way. There's not a chance in hell—"

"Heck," he said, his lips quirking as he raised his brows, tipping his head to Rosa and reminding her that she shouldn't be cursing.

She stepped closer, getting in his face and waggling a stiff finger at him. "Heck, Hades, purgatory, underworld… The only reason I called you was for my daughter's sake, to keep her safe from whatever's happening here. I appreciate you coming, but there's no way we're staying in the same house with you."

Kade pushed from the door to tower over her. A challenging gleam lit his eyes, making the amber halos in them burn like a ring of fire. "Wanna bet?"

He was so close, his heat washing over her, his nearness and clean, fresh scent so overwhelming she was forced to take a step back.

Renewed anger and fear stoked hotly up her spine. The anger she understood. The fear…she couldn't put into words as to why that was. One thing was for certain, though, and that was the neon sign blinking in her head, warning: No, no, and just…no!

Where Kade was concerned, her emotions were all mixed up, and she had to maintain a rational distance from him and keep reminding herself that for years, he couldn't be bothered with her. Now he wanted them to move in with him?

But he'd played on the one thing that could make her say and do things completely against her better judgment. Rosa.

Years ago, she'd married Josh, who'd turned her world upside down. Now, she was about to repeat history and live under the same roof with a man who would, she didn't doubt for one second, completely and utterly turn her world upside down, then inside out.
Excerpts. © Reprinted by permission. All rights reserved.


Book Info:
Two years after his brother's murder in jail, Department of Homeland Security K-9 Officer Kade Sampson is still haunted by guilt. No man should ever have to arrest his own brother, even if he is laundering money for a drug cartel. Fortunately, Laia Velez—his brother's gorgeous widow—never learned the truth about Kade's involvement. But when she asks him for help, he knows that trouble with the cartel is far from over…
Kade is the last person Laia wants to call. But between her house being thoroughly trashed and the uneasy sense that she and her young daughter are being watched, Laia isn't taking any chances. The cartel wants something from her. And Kade and his K-9 partner, Smoke, are her only chance to survive whatever fresh hell is coming their way…
Now Laia and Kade are trying to stay one step ahead in a game that's growing more deadly by the minute. But what the cartel wants, the cartel gets. And Kade is running out of time to save the woman he loves from the same fate that killed his brother…
Meet the Author:
Tee O'Fallon is the award-winning author of the K-9 Special Ops, Federal K-9, and NYPD Blue & Gold Series. Tee spent twenty-three years as a federal agent conducting complex, long- and short-term criminal investigations, especially undercover operations, across many agencies at the federal level, and multi-state investigations as a police investigator. It felt only natural to combine her hands-on experience in the field with her love of romantic suspense. She has lived in New York State most of her life with a five-year stop in Colorado. When not writing, Tee enjoys cooking, gardening, chocolate, lychee martinis, and kicking back with her Belgian Sheepdogs, Loki and Kyrie.
Website | Facebook | Twitter | | Instagram |