After Hours Temptation (404 Sound #3) by Kianna Alexander is an exciting story full of music.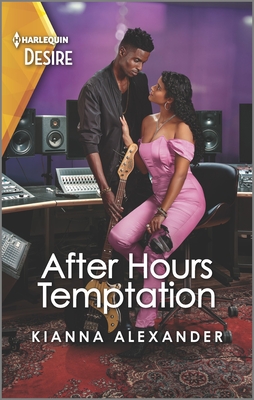 Bassist Maxton McCoy was one of the musicians chosen to work in one of the hottest Hip Hop artists' new album, which will be recorded in 404 Sound Recording Studios. There, he meets Teagan Woodson, the studios' sound engineer and the youngest daughter of the Woodson family—owners of the studios. They felt attracted to each other immediately and, eventually, started an affair. The rules are simple: a no strings attached relationship. But what will happen when that temporary fling isn't enough?
Both Maxton and Teagan have a lot of chemistry together. This is a slow-burn romance and a passionate one at the same time. Maxton lives carrying a burden: he feels guilty for the death of his sister. In fact, everything changes in his family because of the accident that took his sister's life. Teagan, on the other hand, she discovers something about her father she didn't expected. As they deal with mourning loss and keeping secrets respectively, their get closer and intimate, forgetting the terms of their affair.
" "Enlighten me, Teagan. What will we be doing, exactly?"

"We hang out…have a little fun. No strings, no commitments. And above all, we don't let this thing interfere with our work or our lives." "
Teagan and Maxton's interactions are excellent and they flow organically. This is an unforgettable couple.
Secondary characters are crucial in this story, especially on Teagan's side. Her family runs the series (this is about a family company and their secrets), so we could see some of them interacting with Teagan and Maxton. Also, their scenes will give us hints for future books in this series.
This is my first book from this author (why didn't I read the previous books of this series before? WHYYYY!?) and I'm glad I had the opportunity of reading this book. The story is brilliantly developed, with great scenarios and full knowledge of the album's recording process, not only explained in a very simple way so the reader would understand them, but without making the scenes boring. Ms. Alexander knows how to create an intense and fascinating story and I hope to read more of her books in the future.
Book Info:

Publication: June 28, 2022 | Harlequin Desire | 404 Sound #3
In the high-stakes world of hip-hop, these opposites work hard and play harder as Kianna Alexander's 404 Sound series continues.
From the recording studio to the bedroom,
he's hitting all the right notes…
Renowned sound engineer Teagan Woodson prides herself on maintaining her professionalism. But guitarist Maxton McCoy challenges all her self-imposed boundaries. He's too talented, too sexy…and too off-limits! Which is only confirmed when their innocent flirtation becomes an all-consuming affair and emotional demons from their past are resurrected. Soon Maxton's fear of losing Teagan the way he tragically lost his sister threatens everything—including their album. Are they destined to become hip-hop's latest power couple…or just a one-hit wonder?
From Harlequin Desire: A luxurious world of bold encounters and sizzling chemistry.
You'll be swept away by this bold, sizzling romance, part of the 404 Sound series:
Book 1: After Hours Redemption
Book 2: After Hours Attraction
Book 3: After Hours Temptation