Today, HJ is pleased to share with you

Tif Marcelo's

new release: 

It Takes Heart

From romance author Tif Marcelo comes a heartwarming story about taking a second chance on love at a family-owned couples resort.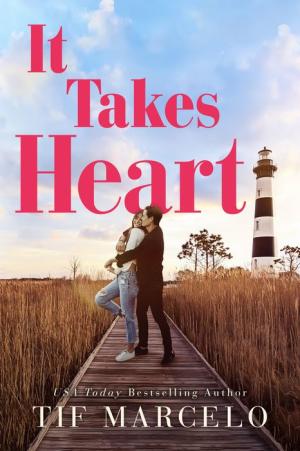 Heart Resort, a private resort in the Outer Banks, is a romantic getaway for couples but a hotbed of family drama for its proprietors, the Puso family. Brandon Puso, the youngest of the four siblings, prefers life on his own as a licensed contractor in DC after a falling-out with his eldest brother.
After a hurricane plows through the Outer Banks, Brandon has a change of heart. He returns to the resort to help with the grand reopening but encounters his big sister's best friend, designer Geneva Harris, who's there to do the same thing. But Geneva and Brandon have a secret. Years ago, they had a secret romance that ended in heartbreak.
With the resort's future at stake, Brandon and Geneva decide to put the past aside and to keep peace with the family. But as their mutual attraction heats up, they have to decide if history will repeat itself—or if this time, love gets a second chance.
Enjoy an exclusive excerpt from It Takes Heart 
"Can you take that rug over and switch them out?"

"Sure." Brandon wrapped his arms around the rolled-up eleven-by-fourteen-foot, hand-woven blue-and-white rug.

But as he walked it to the other side of the warehouse, the rope around the rug undid itself.

"Oh, Brandon," Geneva warned, marching in his direction.

The rug unfurled, and it tipped, right on Geneva.

She burst into laughter as it unrolled itself completely on the warehouse floor.

"Oh my God. Are you okay?" he asked.

"Yes." She patted back her unruly hair and was met by Brandon's concerned expression. "It's just another day moving furniture."

"Here, let's roll it back up."

The rug itself was heavy, so it took the both of them to bring it to an area large enough to roll the rug uniformly. She knelt next to him.

"I have to say, this is pretty rad," he said, running a palm against the fibers. "Super soft."

"It is. I love the wood floors, but it's always nice to have a rug to sink your feet into, don't you think?" She mimicked his actions, the softness enticing. "It makes you just want to lie on it."

"Have you lain on it?"

"No."

"Let's do it," he said. "I don't know about you, but all this lifting is exhausting."

As he crawled onto the rug, Geneva grinned. "But it's not our rug."

"I beg to differ. Am I not a Puso? And isn't the rug's bill going to a Puso?" He clasped a hand across his belly and shut his eyes. "Ahhhhh . . . this is comfortable."

"C'mon, Brandon, get up." She reached over and tugged at his shirt, the soft cotton lengthening.

He lifted his arm, and one eye opened. "Is there a bug on me?" He play pushed her arm away.

Giggling at his touch, she shoved him with a little more force.

"Bran." Under her hands, his biceps constricted, his muscles tensing at her fingertips. Her heart leapt at the contact, at the excitement of the innocent moment. "If you don't get off, I'm gonna …"

Both eyes opened now in a playful dare, and a smile split his face. "You're gonna what?"

"I'm gonna tickle you," she said, taking it right out of their playbook. She hovered above him, enticed by instinct and the echo of their voices.

"No you won't," he dared, eyes alight. "No, no you won't." He held her wrists, though gently. "You know, Gen. You know."

Oh, yes, yes she knew. Brandon was strong, fast, lithe, but he hated to be tickled. "I know you become like a puppy that's scratched at just the right spot. A maniac." She placed pressure against his hands, as if she was going for his ribs, and he scooted an inch away, squealing in a high pitch.

She hooted. "How could you be thirty-two and still be wary of the tickle monster."

"Don't you dare—"

She went after his ribs again, and this time, she beat him to it. Not only did she make contact with his sides and belly, but she was able to overcome and straddle him.

Over him, she had absolute full advantage. As she tickled, his eyes shut. And though Brandon was cackling, she was imagining something entirely different.

And she was definitely feeling something different.

Her fingers slowed. Brandon opened his eyes, first in concern—yes, she was indeed on top of him—and a dark look passed across his eyes, and his gaze, which ran down her body, lit her on fire.

Geneva's breath hitched. His abdomen rose and lowered with deep, slow breaths, and his hands came to rest over hers, tentatively.

The air around them crackled like the sound of film being passed through a recorder. With a blink, Geneva remembered all the times they had been in this same position.

Her fingers crawled up his abdomen to his chest. Though with a shirt on, she felt the grooves of his body, and in her mind's eye the shirt was off, and beneath her fingers was his warm skin.

The pressure on her fingers increased as his torso rose, his elbows now bearing both of their weights. His face neared, lips coming closer, eyes canvassing her face before ending at her lips.

"Geneva," he whispered, and the sound of her name this time sent her spirits soaring. It was a plea, a need, and it was primal.

Her instinct was to satiate it, and especially knowing that she could. That she could take this spark between them and turn it into a bonfire that could be seen for miles away. Because it hadn't been extinguished. What she had for Brandon was, after all, like the heat of the sun. It withstood time and distance.
Excerpt. ©Tif Marcelo. Posted by arrangement with the publisher. All rights reserved.


Giveaway:

A digital book copy of It Takes Heart by Tif Marcelo.
To enter Giveaway: Please complete the Rafflecopter form and post a comment to this Q:

What did you think of the excerpt spotlighted here? Leave a comment with your thoughts on the book…
Meet the Author:
Tif Marcelo is a veteran US Army nurse who holds a BS in nursing and a master's in public administration. She believes in and writes about the strength of families, the endurance of friendship, and the beauty of heartfelt romance—and she's inspired daily by her own military hero husband and four children. She hosts the Stories to Love podcast, and she is also the USA Today bestselling author of In a Book Club Far Away, Once Upon a Sunset, The Key to Happily Ever After, and the Journey to the Heart series. Sign up for her newsletter at www.TifMarcelo.com.