Both Valencia and Lorenzo are trapped by more than a tornado in Trapped with the Texan by Joanne Rock.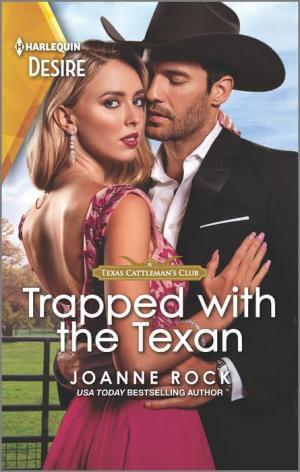 Both are trapped by the past and its hurts. Valencia had a difficult childhood and Lorenzo seems to have a hard time moving on past a huge emotional loss.
With the novel being part of the Harlequin Desire line, the reader knows there is bound to be some serious sizzle. Author Joanne Rock certainly delivers that along with poignant moments to tug at your heartstrings.
Valencia's life is all about horse rescue and she needs some help to fulfill that dream. Lorenzo has family wealth and a great love of horses. At the same time he has trust issues and it seems only fair to check into Valencia's background.
The Texas setting with ranches and horses is just charming. Even if you don't have as big an interest in horses as the main characters, you have to admire people who love animals and young people and want to help. To me, anyone who is involved in animal rescue is an angel on earth.
Recently I have read a fair number of books by Joanne Rock. She has her own voice and style that keeps the reader engaged. Her stories have good pacing and keep you turning the pages. Before you know it, you are at the end and looking for her next novel.
Book Info:

Publication: July 27, 2021 | Harlequin Desire | Texas Cattlemen's Club: Heir Apparent #6
Stranded together…and then crossing the line!
Is he her shelter from the storm…
Or her biggest mistake?
Valencia Donovan's plan to dazzle the wealthy investor she needs for her horse rescue start-up takes an unexpected turn when a tornado strands her with Lorenzo Cortez-Williams. Giving in to attraction in a desperate moment only makes them hungry for more. After they've blown away all boundaries, Valencia's treacherous feelings for the guarded ranching heir could jeopardize her lifelong dream. But closing the deal—while walking away from their intimate affair—could cost her even more…