Today it is my pleasure to Welcome author
Sarah Hogle
to HJ!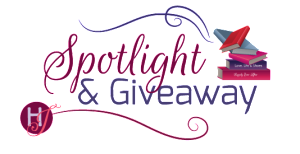 Hi Sarah and welcome to HJ! We're so excited to chat with you about your new release, Just Like Magic!

Hello, lovely readers!

Please summarize the book for the readers here: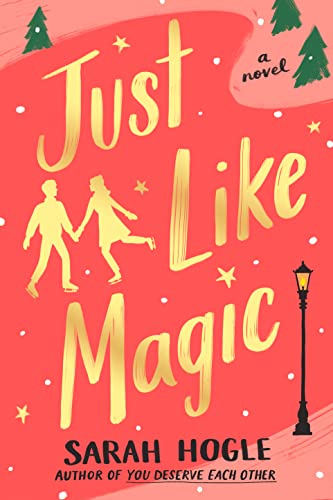 Just Like Magic is a bonkers Christmas romcom about Bettie Hughes, an irresponsible C-list celebrity who has lost all of her money and is dreading spending Christmas with her big, wealthy family. While drunkenly playing Mariah Carey's "All I Want for Christmas is You" backwards on vinyl, she unintentionally summons the Holiday Spirit, who manifests as a cheerful, attractive man who calls himself Hall. Bettie decides to use Hall's magic to grant her every wish, sidestepping his personal mission to fill her life with joy and holiday spirit. But the more time they spend together, the more human Hall becomes, the more Bettie begins to change herself, and consequently, the shorter Hall's remaining time on Earth grows.

Please share your favorite line(s) or quote from this book:
He leans in. Murmurs in my ear, "I've got a hamster in my pocket."

The show tries to cut to commercial, but I force them right back on the air. Lucas karate-chops the host and two judges when they attempt to coax him offstage.

I'll shoot ornaments off the giant Christmas tree in the town square with a BB gun, then start slinging snowballs at children who dare to come admire my pretty gingerbread house.

What he likes to say, whenever I ask him "What are you?", is:
"Well, I am yours, of course."
Please share a few Fun facts about this book…
A record player that holds special significance in the plot is called a Kinollghy, a brand I made up, and Kinollghy is an anagram of "Holly King."
MMWCT, the license plate on Hall's truck, stands for Make My Wish Come True.
The setting in the book is a town called Teller City, which is actually a ghost town. I like to use ghost towns in my books and fictionalize them as if they'd never died out.
I listened to Mariah Carey's "All I Want For Christmas Is You" played backward so that I could write an accurate description, and it truly made the hairs on the back of my neck stand on end. It sounds weird and haunting and unnatural, and definitely capable of conjuring a spirit of some sort!
There is a suspension bridge mentioned in the book, called 'the Disbelief', which enters the scene during a conversation that is very over-the-top. An unsubtle reminder that this story definitely requires you to suspend your disbelief, lol.
What first attracts your Hero to the Heroine and vice versa?
Bettie is first attracted to Hall on a purely superficial level, as she finds him good-looking, but then grows to greatly admire his positivity and uniquely magical outlook on life. Hall, who begins this story having never experienced romantic feelings before, is won over by Bettie's irresistible charm, her growth, and eventual vulnerability.
Did any scene have you blushing, crying or laughing while writing it? And Why?
I laughed SO much while writing this book. Lots of evil cackling. (And admittedly, was a bit sniffly during a few emotional scenes!) Bettie's grandmother (and namesake) is extremely over the top, and as a talented actress, handily steals every scene she's in. Any time I got to write Grandma Bettie, it was a special treat. Here is a glimpse of her:
Hall sneaks a glance at me, absolutely petrified. Clearly, he thought she'd be more like her spunky, pigtailed character from the olden-days sitcom Here Come the Warrens. Her role as Maggie Warren catapulted her to stardom, and her catchphrase was "You dare me to?" But if you say that to Grandma in real life, she locks you in the pantry and makes you listen through the door as she donates your inheritance to Scott Disick's Patreon.
"Here you are," Grandma barks, slamming a door wide open. The room is cramped, dim, with an odor of disuse. It comes with a single twin bed and one flat pillow. For comparison, Grandma has a temperature-controlled trophy room with four well-lit velvet stages that could each roomily support a hearse. Which one of them does. It's filled with all the awards she got for her guest stint on CSI: Minneapolis.
Readers should read this book….
Readers should pick up this book if they want to have a good time, laugh at the characters' wild antics, and have their hearts feeling like gooey cinnamon rolls by the end. Just Like Magic is meant to be consumed along with a cup of hot cocoa and your favorite holiday music.
What are you currently working on? What other releases do you have in the works?
I've written another romance novel and am crossing my fingers that I'll have more to announce on that soon! I will say that it's my favorite love story I've ever written.


Thanks for blogging at HJ!
Giveaway:

 (1) A print copy of Just Like Magic by Sarah Hogle
To enter Giveaway: Please complete the Rafflecopter form and Post a comment to this Q:

Canonically, there are thousands of holiday spirits for every holiday. Bettie conjured Hall specifically because he aligned with her personal idea of the holiday spirit – joy, togetherness, zeal for homemade cookies and snow. If you accidentally conjured a holiday spirit, which holiday would that entity represent and what would their personality be like?
Excerpt from Just Like Magic:
He holds it in both hands, sucking in a little breath. "Oh, Bettie," he says quietly, gaze so starry that I can't look directly at him for long. It's like peering into the depths of a billion answered wishes. "Is this for me?"
I nod.
He cups the side of my face, then retracts. "This is my very first gift. I've never gotten one before." He slips it into the car and wraps me up in a hug. "Thank you," he murmurs into my hair.
I can't move, blinking rapidly at a streetlight over his shoulder. My throat begins to close, the corners of my eyes burning. As though a carver takes a chisel to my heart, I feel another sliver of ice chipping away.
When he lets me go, I smell faintly of peppermint and my fingertips are warm to the touch. "You're welcome."
I don't think Hall cares as much about the gift as he does about the fact that he was given one. "Wait until I learn all these tricks," he says with one of his lopsided smiles. "You won't know what to do with yourself. You'll be all in swoons."
"Swoons?"
Hall chucks my chin with his thumb, then drags it over to the base of my throat where my pulse thumps. "Yeah. You know? All aflutter." He can't see, but burnished gold washes over the red and green plaid of his sweater, starting at the shoulders like epaulets, trickling all the way down.
I stare at him, every ounce of amusement escaping through my cracks, evaporating in the chilly air. My pulse is hammering, pressing right into his hand. I feel like Hall is becoming more and more human before my eyes. Changing. The pure wonder remains, but on top of that, other pieces of what it means to be human, of what it means to be a human Hall, are layering one over the other in startlingly rapid succession.
"If I could summon special effects in real life," I force myself to say, throat bobbing, "I'd disappear in a puff of smoke whenever I leave a room instead of using the door."
His eyes twinkle. "I could make that happen."
"That would be incredibly extra."
"The only way to be." He withdraws his hand to snap his fingers, knave of hearts card appearing between his thumb and forefinger. "I'd have flames shooting out of my hands. And then I'd go like this"—he punches the air—"and—fireball! Swoosh, right through the wall."
"You're absurd." It comes out sounding like You're adorable.
"You'd love it." He grins. "Don't lie."
"If we were actually in a movie," I remark, "we wouldn't have to drive back through all this snow, we'd just slide from now into tomorrow, appearing in the living room out of thin air to admire this sunrise you've been talking up so much. I would simply clap my hands and—"
Excerpt. © Reprinted by permission. All rights reserved.


Book Info:
The holidays were never her thing, until she accidentally conjures the Holiday Spirit…before her very eyes.
Bettie Hughes once knew the comfort of luxury, flaunting a collection of designer purses and an enviable dream home in Hawaii. That was before she lost all her money. Long obsessed with her public image, Bettie boasts an extravagant lifestyle on social media. But the reality is Bettie is broke and squatting in Colorado, and her family has no idea.
Christmas, with its pressure to meet familial expectations, is looming when Bettie plays a vinyl record of "All I Want for Christmas Is You" backward and accidentally conjures up Hall, the Holiday Spirit, in the form of a charming and handsome (if offbeat) man. Once the shock wears off, Bettie knows she's stumbled upon the greatest gift: a chance to make all her holiday wishes come true, plus a ready-made fiancé.
But as some of Bettie's wishes lose their charm, she finds herself thrown off-kilter by Hall's sweet nature. Suddenly, grumpy Bettie is finding her heart merry and light. But the happier she gets, the shorter Hall's time on earth grows. Can Bettie channel the Christmas spirit and learn to live with goodwill toward all men? Or will her selfish ways return as soon as the holidays are over?
Book Links: Book Links: Amazon | B&N | iTunes | kobo | Google |


Meet the Author:
Sarah Hogle is a mom of three who enjoys trashy TV and provoking her husband for attention. Her dream is to live in a falling-apart castle in a forest that is probably cursed. She is also the author of You Deserve Each Other and Twice Shy.
Website | Facebook | Twitter | Instagram | GoodReads |