Today, HJ is pleased to share with you

Maria Luis's

new release: 

Kiss Me tonight

I had it all.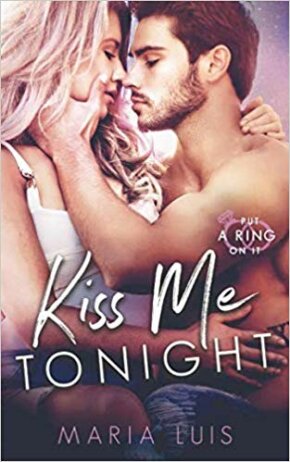 The Super Bowl rings.
The hot shot TV gig.
Then I got fired.
Now I'm living in middle-of-nowhere Maine, playing assistant coach to the woman of my nightmares.
Did I mention that she and her son are my new neighbors?
If you talk to the locals, they'll tell you Aspen Levi is the queen of high school football.
But if you ask me, my new head coach is a pain in my left nut sac.
She's too blonde.
Too peppy.
And way too sexy for my peace of mind.
Only, one minute we're fighting, and the next I can't keep my hands off her. One hot kiss. One forbidden touch. I don't do love but . . .
What I want, I take, and what I want is Aspen Levi.


Enjoy an exclusive excerpt from Kiss Me tonight 
ASPEN

Dominic's voice emerges as pure gravel when he orders: "Close your eyes for me."
My lids flutter shut on command. The rough pads of his fingers curl under my chin, lifting it up, as he carefully drags the paper towel over the most sensitive part of my face.
"For the record, I'm not mad at you for being late. Annoyed? Yeah. Did I feel out of my comfort zone? Yeah, I'm man enough to admit it."
Something in Dominic's tone sends a shiver skittering down my spine. If he feels the tremor, he doesn't bring it up.
I swallow past the lump in my throat, my eyes still closed. "The calendar."
I sense the shift in his breathing. It comes a little faster, a little heavier, as it falls across my temple. "Like you, I took this job for a fresh start. You're back here because you divorced Rick and want a bite of the familiar. I'm here because I'm tired of pretending to be someone I'm not."
"Who's that?" The light behind my lids turns darker—a bruised purple—like Dominic has stepped directly in front of me and cut off my access to the rest of the bathroom.
The hand cupping the back of my head slips south, to where my neck and shoulder meet. Squeezes once. In warning? Lust?
"Gonna have to take a pass on answering. I'm not looking to be that vulnerable."
"I call bullshit."
His thumb traces my collarbone, exposed by my lace top. "Maybe it's not."
"Maybe you cornered me in this bathroom because you were actually worried about me." I saw his text asking if Topher and I were okay. Heard the concern through his written words, even if he'll never voice them out loud. Perhaps it's the fact that I can't see him that revs up my boldness, but I decide to call him out on the tangible tension radiating between us. He can pretend all he wants, but there's no way I'm the only one feeling this—this heat that just won't quit. "Could it be that you're regretting your decision to not . . . take me home the night we met?"
The gentle tracing stops.
As does my heart.
I blink open my eyes, unwilling to forego the opportunity to study his expression.
Stillness.
It's the only word that comes to mind looking up at him now. He's as still, as unmoving, as a glass pond.
Then I meet his gaze, and I feel as though I've been launched into a pit of flickering flames. Heat scorches my skin, tugging my knees together. My sex clenches—and though I try to remain perfectly still and wait out his response, my hips give the smallest roll. Needy. Wanting. The paper towel isn't as damp as it was at first touch, but I still seek it out with an almost keening desperation to ease the fire flaming to life beneath my skin.
I want Dominic—I admit it.
I wanted him that first night we met here at the Golden Fleece and, standing here now with my body caged between his and the mirror, I want him even more.
With the damp paper towel acting as a barrier, he smooths his thumb over my upper lip, directly over the hairline scar that gives my smile a crooked flare. He drops his heated gaze to my mouth, to the slope of my neck, then traces the same well-traveled path back up again. To my disappointment, he curls his hand into a fist—the one that's been teasing me with caresses that make me want to nip his thumb playfully—and plants it on the mirror above my head.
Excerpt. ©Maria Luis. Posted by arrangement with the publisher. All rights reserved.


Giveaway:

Signed Paperback copy of Hold Me Today by Maria Luis
To enter Giveaway: Please complete the Rafflecopter form and post a comment to this Q:

What did you think of the excerpt spotlighted here? Leave a comment with your thoughts on the book…
Meet the Author:
Maria Luis is the author of sexy contemporary romances, though she may or may not have a few historical romances hiding in the cobwebs of her computer.
When she's not writing about strong men and the sassy women who sweep them off their feet, Maria is a historian who specializes in medieval England and 19th century New Orleans. What do the two eras have in common, you ask? Not much, except for disease, scandalous activities and crime–Maria's favorite topics.
Maria lives in New Orleans with her better half, where she can generally be found hiking with her two dogs, Zeus and Athena, kayaking in Louisiana's inter-coastal waterways, or curled up on the couch with a good book.
Website: https://www.marialuis.org
Facebook: https://facebook.com/marialuisauthor
Facebook Group: https://www.facebook.com/groups/493008187713277
Instagram: https://www.instagram.com/marialuisauthor
Books+Main: https://bookandmainbites.com/users/19141
Newsletter: http://bit.ly/MariaLuisSubscribe