Today, HJ is pleased to share with you

Anna E. Collins's

new release: 

Love at First Spite

Falling in love is the ultimate payback in this delightful, breezy romcom about an interior designer who teams up with an enigmatic architect at her firm to get revenge on her ex the only way she knows how: by building a spite house next door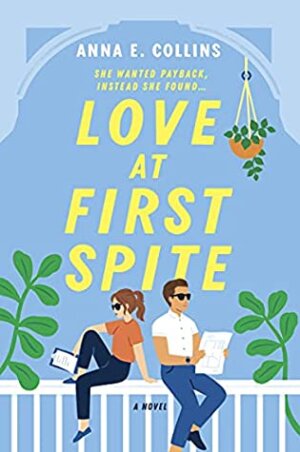 Meet Dani, the star of Anna E. Collins's delightful debut LOVE AT FIRST SPITE. Dani has decided to get revenge on her cheating ex-fiancé by building a rental house next door to him.
This brilliant plan will 1. Ruin his precious view and 2. Prove that she is not someone to be messed with.
But things get complicated when she's forced to team up with the haughty (and handsome) architect at her firm to draw up the building plans, and sparks soon fly. The closer Dani gets to the ultimate revenge, the more she realizes that you can't open your heart to someone new while dwelling in the past.
With the juicy workplace tension of Suits, the thought-provoking emotions of Beach Read, and a fantastic secondary cast of Dani's ride-or-die friends, LOVE AT FIRST SPITE turns rom-com tropes upside down for a hugely entertaining read.
Enjoy an exclusive excerpt from Love at First Spite 
After work, I head over to bartender Matt's aunt's house. She sounded nice enough when I spoke to her yesterday, but the uneven rhythm I tap on my steering wheel still speeds up as I near the house. What if "likes dogs" is code for "lures desperate, midlevel professionals into dungeon?" Maybe I should have let Mia come with me.
Iris's house is a white stuccoed bungalow with a deep porch. It's not cute exactly, could use a coat of paint and some landscaping, but the door is an inviting carmine red, and the doormat makes me chuckle. "Ring the doorbell and we'll sing you the song of our people," it says. Signed, The Dogs.
I opt to knock, but if the ruckus coming through the door is anything to go by, it didn't make a difference.
"Cairo, Cesar," an authoritative voice calls out right before the door opens. Miraculously, the barking stops. A bespectacled woman with a dark Joan of Arc bob and short bangs offers a fine-boned hand. "Sorry about that. You must be Danielle."
"Dani," I say. "And you're Iris?" I'd assumed she'd be younger, because my aunts and uncles are all still shy of sixty, but Iris has for sure passed seventy, with soft jowls and a diminutive frame. And yet—the expression behind the trendy black glasses is sharp, her outfit more young Audrey Hepburn than Golden Girls. Is that a cigarette holder between her fingers?
"Indeed I am." She grins and a decade falls off her. "Come on in. And I'm a shoes-off kind of house."
As I toe off my Keds, she bestows praise upon two of the biggest Great Danes I've ever seen—one dark, one sand-colored. They sit stock-still, tongues out, observing me until Iris says, "Greetings?" and they saunter over and bump their noses near my pockets.
I scratch their ears. "Sorry, fellas, I don't have any treats."
"Here." Iris hands me a couple of biscuits from a jar on the entry table. "Cesar is the tan one. He'd eat all day if I let him."
"Hi, Cesar." He pushes against the treat in my hand, forcing me to take a step closer to the wall. "Yeah, he's hungry all right."
"And the polite one waiting is Cairo. Cesar, sit," Iris commands. "There you go." She ushers Cairo forward.
The black beast looks up at me with intelligent brown eyes, sits, and lifts his paw as if to shake.
"Aw, you're a sweetheart," I coo, giving him the cookie. "How old?" I ask Iris.
She watches them affectionately.
I see what Matt meant when he said they're like her children.
"But come on in." She turns around, snapping her fingers, and instantly Cairo and Cesar follow. "Do you want some tea? Coffee?"
"Sure. Whatever you're having is great." I take a seat at the table that's against one wall of the small kitchen. The place has been updated at some point, but the bones are likely original. No open concept. 1920s maybe. The decor feels Scandinavian—light woods, minimalist lines, white airy curtains, lots of plants—but the wall art is primarily architectural drawings of landmarks like the Eiffel Tower and the Notre Dame, save for a few photographs of Iris and another woman.
The dogs head to a huge pillow in the living room and lay down with audible sighs.
"They're really well trained," I say. "My parents' dogs were never like that."
"You get what you give." Iris sets down two mugs with hot water along with boxes of tea. "True with animals and people."
We sip our beverages, she has a few questions, answers mine. I'm surprised to learn she used to be an engineer for Microsoft—she doesn't have that vibe—and she wants to know everything about my ventures in textile printing—a hobby from my college years I don't have much time for anymore. It's like talking to an old friend, and I'm about to ask when I can move in, room unseen, when my cell phone rings. I expect it to be Mia, but the name lighting up the screen makes me do a double take. The mother of my ex-fiancé.
"I'm sorry, I should take this." I gesture to the phone. "I'll be right back."
Iris gets up. "No. You stay. I'll go print a contract for you."
I know it's rude, and I'd decline the call if not for the fact that she'll keep at it if I do. The first week after I left Sam, it was every day, nonstop. You'd think he was a five-year-old needing help navigating the kindergarten playground, not a thirty-two-year-old venture capitalist with a mortgage and a brand-new mistress.
"Christy," I answer. "What can I do for you?"
"He's beside himself," she says, not bothering with formalities. "I've never seen him like this. He stayed over on Saturday and barely ate anything."
Sam never eats at his parents' house because his mom is a terrible cook.
I plead with the crown molding where wall meets ceiling for strength. "Like I've said before, that's no longer my problem. Sam and I are not together anymore."
"But people make mistakes. If you'd only listen to him explain…"
I know this tune well enough by now, I lip-sync what comes next: "We all have moments of weakness."
I shake my head. "I don't know how much clearer I can be, Christy. Sam cheated on me a month before our wedding. With the Realtor who sold us our house."
"And he's all alone in that big house now, constantly reminded of what could have been. Hasn't he suffered enough?"
I push up from my chair at the same moment Iris returns, but the way she startles at the sight of me stops my impending outburst in its tracks.
"I'm going to go now," I say instead, teeth clenched. "Please don't call again." I hang up and shove the phone into my back pocket before I dare look at Iris.
"Sorry, I should explain." I sink back into my chair.
She shrugs and taps her ear. "It's a small house. Your fiancé cheated on you. Pretty self-explanatory. Matt said you're living with your cousin temporarily."
"Have been for about a month now."
Cesar comes to investigate the commotion in the kitchen, but Iris nudges him back out.
"Sam and I were together over three years," I say as if she asked. "I moved out here to be with him a year ago. My things are actually still in the house we bought."
"The one with the Realtor?"
She'd heard that part, too, then. "The same."
"And now his mom is calling you?"
I let out a deep huff. "Yeah, it's a lot."
"Indeed. Incidentally, why I prefer dogs." She slips her hands into the pockets of her houndstooth cigarette pants. "But maybe things are looking up. Ready to see the room? It's guaranteed in-law-free."
I smile. "Sounds perfect."
Excerpt. ©Anna E. Collins. Posted by arrangement with the publisher. All rights reserved.


Giveaway:

2 Print copies of LOVE AT FIRST SPITE by Anna Collins
To enter Giveaway: Please complete the Rafflecopter form and post a comment to this Q:

What did you think of the excerpt spotlighted here? Leave a comment with your thoughts on the book…
About the book:
They say living well is the best revenge. But sometimes, spreading the misery seems a whole lot more satisfying. That's interior designer Dani Porter's justification for buying the vacant lot next to her ex-fiancé's house…the house they were supposed to live in together, before he cheated on her with their Realtor. Dani plans to build a vacation rental that will a) mess with his view and his peace of mind and b) prove that Dani is not someone to be stepped on. Welcome to project Spite House.
That plan quickly becomes complicated when Dani is forced to team up with Wyatt Montego, the handsome, haughty architect at her firm, and the only person available to draw up blueprints. Wyatt is terse and stern, the kind of man who eats his sandwich with a knife and fork. But as they spend time together on- and off-site, Dani glimpses something deeper beneath that hard veneer, something surprising, vulnerable, and real. And the closer she gets to her goal, the more she wonders if winning revenge could mean losing something infinitely sweeter…
https://bookshop.org/a/397/9781525899799
https://www.amazon.com/dp/1525899791
https://www.harlequin.com/shop/books/9781525899799_love-at-first-spite.html
https://www.thirdplacebooks.com/book/9781525899799


Meet the Author:
Anna E. Collins is a Seattle-area author who writes stories about the lives and loves of women. Once upon a time she was a teacher, and she has a master's degree in educational psychology. LOVE AT FIRST SPITE is her first novel.