Today it is my pleasure to Welcome author
Liana LeFey
to HJ!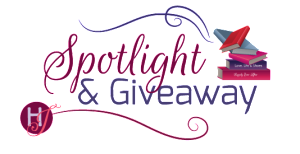 Hi Liana and welcome to HJ! We're so excited to chat with you about your new release, Tempting the Vicar!
I'm Liana and I'm thrilled to share my latest romance release with Harlequin Junkie's followers!

Please summarize the book a la Twitter style for the readers here: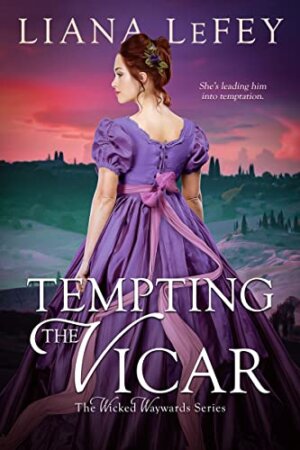 A tenacious vixen, a vicar in disguise, a tangled web of seduction and lies. A sweet and spicy romance awaits between the covers of Tempting the Vicar!

Please share the opening lines of this book:
Olivia lifted the new gown out of its box, her excitement quickly transforming to dismay. The pale pink silk was right, but everything else was…wrong.
Instead of the fashionably décolleté neckline she'd commissioned, this one would cover her up to her collarbones. What should have been a figure-flattering bodice was now covered in a wealth of unrequested lace and ill-placed bows, too. More bows embellished each peak of
the skirt's ruched silk, and its bottom half now boasted no less than five tiers of ruffles!
Please share a few Fun facts about this book…
My feline overlord (a very cuddly Russian Blue menace) is featured in Tempting the Vicar. He was quite the rambunctious kitten when we first adopted him, which was right when I was writing Tempting the Vicar, and his "zoomie-beast" antics inspired me to immortalize him in fiction.
When I was told I needed to revise an intimate scene to avoid having my hero actually deflower my heroine before putting a ring on it, I managed to somehow make that scene…even hotter. Like WAY hotter. I honestly worried it would get kicked back with a big red "NO" in the margin, so I was quite pleased when it passed muster with happy commentary instead!
The physical appearance of my hero (and his twin) is based on a rebellious angel from a long-running (15 seasons!) television series. The man is so good looking I just had to have him as my character model twice. The thirst is real, my friends…
I learned that Almack's tyrannical matrons once refused The Duke of Wellington entry because he was wearing the wrong kind of pants. Talk about a strict dress code! The event is mentioned in Tempting the Vicar.
I got the idea of Olivia's father having her dress altered to send her a message from an experience one of my friends had back when we were high school freshmen. After she got caught hiding miniskirts in her bag to change into after arriving at school, her dad sewed big, floral-print ruffles to the hems of all her skirts and checked her bag every morning to make sure she wasn't sneaking anything out. She was less than enthusiastic about her dad's sense of fashion.
What first attracts your Hero to the Heroine and vice versa?
Daniel can't help admiring Olivia's beauty, but it's her strong spirit and keen intellect that really draw him to her. Olivia thinks she's out to bag herself a sexy Bad Boy only to find out her target isn't really a rogue at all. To her surprise, the discovery only increases her desire for him.

Using just 5 words, how would you describe Hero and Heroine's love affair?
Intense, complicated, tumultuous, sweet, sultry.

The First Kiss…
The dam had broken, and Daniel didn't care. All the walls he'd put up to keep her out fell at once, and restraint went straight to the devil as want overrode all the warnings blaring in his mind. He kissed her, reveling in the feel of her soft curves pressed against him, in the give of her body as he wrapped himself around it, threading his fingers into the living fire of her hair.
Without revealing too much, what is your favorite scene in the book?
I love the scene where Olivia finally confronts her own feelings for Daniel and asks the hard question that gets at the root of her reluctance.
"For different reasons, both you and your brother once viewed me as an enemy," she told him, steeling herself as confusion crept into his face. "In the end, you both ran away to avoid me."
Confusion gave way to remorse. "Olivia, I—"
"What made you change your mind about me?" she cut in, knowing she had to get this out quickly before her heart softened too much. "Why risk exposing yourself and your entire family to condemnation to court a woman almost certain to refuse you? And don't say 'love.' I've heard no less than four men tell me they love me tonight. I want to know the real reason why you could not bear to leave matters as they were. Don't answer now. Think about it, and when you have an answer you believe capable of convincing me it's worth leaving behind everything I've ever known to be with you, I'll listen."
If your book was optioned for a movie, what scene would be absolutely crucial to include?
The scene where Daniel meets Olivia for the first time is critical, as it sets the tone for the whole "show" so to speak.
Daniel blinked, momentarily stunned into silence. He'd come to Lambeth's looking for Lady Waldrop in order to gently sever his twin's association but had had no luck finding her. Now, he was faced with an entirely different problem: the notorious Miss St. Peters.
Only, with the exception of her auburn hair and leaf-green eyes, the woman before him looked nothing at all like the one Dev had described. He'd been told to expect a bold seductress. Instead, he found himself staring at an awkward, red-faced young lady modestly covered from neck to toes in a veritable mountain of pink silk heavily embellished with lace, ruffles, and bows.
The gaudy gown was the epitome of every little girl's fantasy princess play dress, complete with tiny puffed sleeves, only it was adult-sized. And it was…unflattering, to say the least. Even he, a vicar who led a sheltered existence in a little village far removed from the fashionable world, knew it was ridiculous. His lips twitched uncontrollably, and it was all he could do not to burst out laughing—until he saw the crushing weight of utter, abject humiliation in her eyes…along with the telltale shimmer of unshed tears.
All mirth died in the face of her visible distress, and he at last found his tongue. "Miss St. Peters, as always, the pleasure is mine."
Her throat worked, and her pink, trembling lips moved slightly, but no sound issued from between them as her face suddenly began to lose color. As if time had slowed, he watched her long lashes flutter and her eyes roll back.
The girl beside her let out a squeak of dismay as Miss St. Peters tilted sideways into her and began to fall.
Readers should read this book …
…if they enjoy a slow burn enemies to lovers romance with plenty of verbal fencing between two equally stubborn, well-matched minds and a whole lot of potent chemistry!
What are you currently working on? What other releases do you have planned?
Daniel and Devlin have several Wayward brothers and a Wayward sister, and I believe we should get to see them ALL find happy ever after.
Thanks for blogging at HJ!
Giveaway:

Liana's "Box of Happiness" is a themed gift box including signed books by Liana (To Love a Libertine, To Wed in Scandal), a "Joy Journal," a brass-and-wood letter seal kit (rose) complete with colorful wax pellets, melting spoon + candles, a selection of delicious teas, and various other pretty sundries to fill up the corners. U.S. only.
To enter Giveaway: Please complete the Rafflecopter form and Post a comment to this Q:

If you had the option of choosing to be with only one of a set of handsome identical twins, either a "Bad Boy" to tame or a sweet, somewhat naive "Angel," which would you choose and why?
Excerpt from Tempting the Vicar:
Raising his head, he favored her with a sad little smile. "If you gain pleasure from it, then that is enough for me."
"Then you'll see it through to completion? And establish your presence there, as planned?" Desperately, she clung to hope.
A frown marred his brow. "If my own family considers me a stain on their honor such that I am not even to attend my sister's nuptials, it might be better for your sake if I remain an unseen investor."
No, no, no…! "Nonsense! You should continue in your path toward respectability," she said, appealing to his ambition. "You have both blood and wealth. New doors may open for you, giving rise to lucrative opportunities. And you never know—if you succeed in winning the approval of the higher circles, it may well be that your sister will hear of it and relent. Saint's could still be the means of your salvation."
The look he leveled at her was so intense it sucked the air from her lungs. "If I am to be redeemed, it will not be because of any club," he said in a voice that affected her like a physical caress. Her legs all but liquefied, and it was all she could do to remain standing as he drifted within arm's reach and looked down at her, eyes full of fire. "You are a far better friend than this man deserves."
Heart hammering, she waited, unable to breathe, as he stretched out a hand and brushed a stray wisp of hair back from her face. Paralysis held her in its grip as he then bent and…placed the gentlest of kisses on her brow before again withdrawing to the far side of the fireplace.
The gauze that had settled over her thoughts clung like a tenacious fog, and she stared at him in confusion as he took up a poker and stirred the coals. Devlin Wayward had just looked at her with passion…and then kissed her on the forehead.
"I'll do as you say and hold my course," he went on, sounding tired. "I may be unable to attend her wedding, but you have given me hope that I may not be excluded from her heart entirely. And for now that is enough."
It was a good thing he hadn't turned around yet, because part of her was fairly certain her mouth was still hanging open. Devlin Wayward simply did not kiss women on the forehead. On the one hand, she thought it sweet that he would treat her with such deference, that he would respect her so much that he would restrain his passion—and what she'd seen in his eyes was undeniably passion—to bestow such a benign token of affection and esteem. On the other, she felt robbed. How many other women had the man kissed—at the least—before today?
Ah, but you are not other women, a little voice inside whispered. He truly cares for you. Enough that he is conflicted. He wants you, but he feels unworthy. He fears damaging your good name.
The silence was deafening. Forcing her mouth to work, she at last responded. "I believe she will eventually come around. Your persistent love will win in the end, just as your brother's did."
He looked up sharply, and she saw pain flash across his face, followed by what could only be identified as guilt.
It took all her strength of will not to go to him that instant and kiss him properly, kiss away the awful feelings that were holding him back. His earlier reticence gave her pause, however. He was clearly fighting a battle with himself where she was concerned, and the last thing she wanted was to give him any reason to retreat again, now that there had been progress in the right direction. He needed to come to her of his own accord.
Excerpts. © Reprinted by permission. All rights reserved.
Book Info:
After his twin brother pulls a foolish prank, Reverend Daniel Wayward's life is now decidedly complicated. With his family, his parish, and even his reputation at risk, there's only one way to avoid utter ruin—by swapping places with his rakish, wicked twin. And the second Daniel steps foot into his brother's worldly and sinful life in London, he's completely caught by temptation of the most enticing, green-eyed kind.
Miss Olivia St. Peters knows the son of the duke is a dangerous fellow, but something in those hooded, hungry blue eyes makes her blood sing with pleasure. She's determined to have this Wayward noble, no matter what Society—or even her father—says about the match. And if that means playing with fire, she'll gladly burn…
The more Daniel resists the oh-so-inviting charms of Olivia, the more determined she is to have him. Now he's caught between his vows of faith and the lure of sweet temptation. And the only thing standing between his heart and his immortal soul is one unforgivable deception…
Book Links: Amazon | B&N | iTunes | Goodreads |


Meet the Author:
Liana LeFey delights in crafting incendiary tales that capture the heart and the imagination, taking the reader out of the now and into another world. Between the pages of her sensual historical romances you'll find deep emotional journeys and passionate romance! Liana lives in Texas with her own dashing hero/husband, their beautiful daughter, and one spoiled-rotten feline overlord. She adores chocolate and anything involving salted caramel. When her brain is too fried to weave stories, she reads (of course!), watches movies or television series, makes jewelry, sketches, composes music, and enjoys exchanging paper-and-ink correspondence with friends.
Website | Facebook | Twitter | | Instagram |