Today, HJ is pleased to share with you

Lauren Ho's

new release: 

Lucie Yi Is Not a Romantic

An ambitious career woman signs up for a co-parenting website only to find a match she never expected, in this unflinchingly funny and honest novel …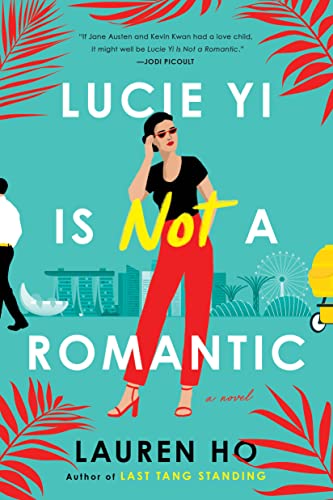 Management consultant Lucie Yi is done waiting for Mr. Right. After a harrowing breakup foiled her plans for children—and drove her to a meltdown in a Tribeca baby store—she's ready to take matters into her own hands. She signs up for an elective co-parenting website to find a suitable partner with whom to procreate—as platonic as family planning can be.
Collin Read checks all of Lucie's boxes; he shares a similar cultural background, he's honest, and most important, he's ready to become a father. When they match, it doesn't take long for Lucie to take a leap of faith for her future. So what if her conservative family might not approve? When Lucie becomes pregnant, the pair return to Singapore and, sure enough, her parents refuse to look on the bright side.
Even more complicated, Lucie's ex-fiancé reappears, sparking unresolved feelings and compounding work pressures and the baffling ways her body is changing. Suddenly her straightforward arrangement is falling apart before her very eyes, and Lucie will have to decide how to juggle the demands of the people she loves while pursuing the life she really wants.
Enjoy an exclusive excerpt from Lucie Yi Is Not a Romantic 
Collin stumbled a little, wheezing as he started to break out in the ugliest hives she'd ever seen. Big, pink welts blotted the tan brown of his skin. His face was swelling. Maybe he wasn't about to cry. "Did you eat something with nuts before meeting me?" he gasped.
Collin, it appeared, was more allergic to nuts than she'd realized.
"Oh shit! I had an almond croissant this morning," she said, frantically fanning him with her notebook as he slumped onto the bench outside the café, wheezing as he groped around in his backpack. "But that was a few hours ago. What are you looking for? Can I help?" His neck, even his fingers, looked like they were swelling. Or was that her imagination?
"Just . . . my EpiPen," he said. He found it and injected his thigh in a panicky move before slumping, eyes closed.
"Shit! Shit!" All thoughts of being cool and composed flew out of the window. Lucie was close to tears herself, wringing her hands. "I'm so, so sorry! Oh my God! I didn't know it was so bad. Do you need to go to see a doctor?"
"In a bit," he said, pale, breathing heavily through his mouth. "But no worries. Sit down."
No worries? She'd almost killed him!
A bald, harried-looking man in his forties in jeans and a black T-shirt came out of the coffee shop and passed them a cup of water. "Are you all right?"
"I think this lady just ruined my tights," Collin said hoarsely, smiling up at her to show he was not serious. "I'm good, I just need to let the EpiPen work. Then we're going to the ER."
"All right." The man looked hesitant. "Well . . . just give me a holler if you need anything," he said before disappearing back inside.
Lucie looked down at her feet, her cheeks flaming. She was sure he would leave as soon as he could walk, and she wouldn't blame him. Forget the weeks of camaraderie—he'd barely escaped with his life. "Honestly, I can't tell you how sorry I am." She gave a shuddery laugh. "I've never nearly killed someone on a first meetup before. If you hadn't had an EpiPen on you . . ." She swallowed.
"Someone in the half-mile radius would have had one; it's New York. And I'm always packing at least two." He took her hand and gave it a quick squeeze. "Seriously, don't beat yourself up over an innocent mistake. I guess I should have re-emphasized the four-hour no-nut rule." A hiccup. "Thank goodness these yoga tights are pretty resilient."
Hey eyes slid down involuntarily. Yep, they were resilient. And tight. She jumped up to her feet. "Let's get you in front of a doctor ASAP. I cannot ruin my perfect no-deaths-on-a-first-date track record, not now."
They took a cab to the nearest ER and waited for someone to see him, Lucie feeling sick to her stomach with fear and finding it hard to breathe. She hated hospitals, after what had happened two years ago.
Luckily, Collin's reaction was deemed non-life-threatening, and after a couple of hours of monitoring, they discharged him. As they stood outside on the sidewalk, Lucie thought sadly, This is it. Forget about us fusing DNA. He'll never want to see me again.
Instead, he said, "Shall we go back to Elsie's?"
"Really?"
"You would laugh, but this isn't the first time this has happened to me."
"Stop trying to make me feel better."
"Seriously, you won't believe how many first dates end up with me on my back, dying. The first time at age thirteen, my second kiss, the culprit: my crush's walnut carrot cake snack bar." He waggled his finger. "It'll take more than anaphylaxis to get rid of me. That's my motto in life: whoever doesn't kill me at first deserves a second date."
She laughed. Much harder and longer than was necessary. She had to rein herself in because she could sense another So Bébé-level outburst coming. "Honestly, this is not what I would call an Ideal First Meet-up".
He offered her an arm. "Forget 'ideal', aim for 'fun'. I'm having fun. Now how about some breakfast for dinner? Elsie's has an amazing all-day breakfast."
"I'm buying. Don't even try to go dutch."
"Woman, I'm going to be mailed a giant bill from the hospital in a few weeks. Of course you're buying."
She laughed again and took his arm.
They chose a table by the window and ordered the house special all-day breakfast and two kale shakes. Now that the drama of him almost dying had passed, she felt a strange shyness descend on her. She found it difficult to meet his eye, so she focussed on his carefully unshaven chin. It wasn't that he was so physically overwhelming or attractive—her last date, Bryan, was more conventionally handsome—it was how she felt around the entire arrangement. Seeing him brought home the reality, the magnitude of what they were thinking of doing together.
Not that he was a bad choice for the job—far from it. Sporty, smart, a decent human being. And good-looking to boot.
But still not Mr. Right.
Her expression must have clouded over; he hesitated before saying, "A penny for your thoughts?"
"I'm still conflicted about taking this path to parenthood," she admitted. "And you." She and Collin were beyond the smoke and mirrors of regular first dates.
"Oh. And here I was, thinking you're my butter half."
She cocked her head, not sure she'd heard right. Did he just pun? "Did. . . . did you just say 'butter half'?"
"I don't have thyme for this. And by 'thyme' I mean T-H-Y—"
"I got it." He laughed. "By the way, full disclosure: I'm not a pun person," he said. "But I remember from our chats that you liked them." He made a face. "You sent me so many punny texts. So, so many."
"I'll stop."
"No, don't, don't change who you are. Pun away."
She smiled back. "OK."
No, he's not Mr. Right, but he's Mr Right Enough, right now. And that, she decided, was good enough for her.
Excerpt. ©Lauren Ho. Posted by arrangement with the publisher. All rights reserved.

Giveaway:

A print copy of LUCIE YI IS NOT A ROMANTIC by Lauren Ho
To enter Giveaway: Please complete the Rafflecopter form and post a comment to this Q:

What did you think of the excerpt spotlighted here? Leave a comment with your thoughts on the book…
Meet the Author:
Lauren Ho is a reformed legal counsel who now prefers to write for pleasure. Hailing from Malaysia, she is currently based in Singapore, where she's ostensibly working on her next novel while attempting to parent. She is also the author of Last Tang Standing.