Today it is my pleasure to Welcome author
Katee Robert
to HJ!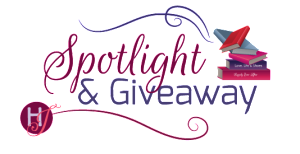 Hi Katee and welcome to HJ! We're so excited to chat with you about your new release, Make Me Crave!

Thank you so much for having me!

Please summarize the book for the readers here: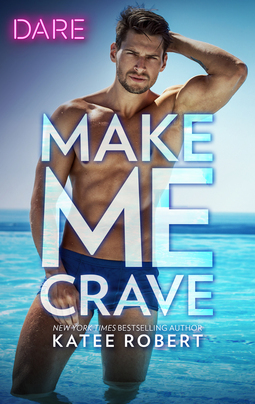 Make Me Crave is an enemies to lovers story with a dash of mistaken identity, all of which takes place on an island paradise and is filled to the brim with smoking hot sexy good times.

Please share your favorite line(s) or quote from this book:
"Aphrodite."
She tore her gaze away from his cock. "What?"
"If I'm Adonis, then you're my Aphrodite."
Please share a few Fun facts about this book…
The heroine, Allie, is very loosely inspired by the plus-sized model Hunter McGrady (check out her Instagram–it's amazing).
The island they are vacationing at is also loosely inspired by a real place called North Island. It's absolutely amazing and I would dearly like to visit there some day. The book was written during the winter, so looking at pictures of a tropical paradise was both wonderful and jealousy-inspiring.
What first attracts your Hero to the Heroine and vice versa?
Allie is initially attracted to Romance because of his charm and good looks–she nicknames him Adonis. He's offering her something that she never pursues on her own–selfish pleasure.
For his part, Roman likes how confident and at ease Allie is. She never quite reacts how he expects her to, and that delights him to no end.
If your book was optioned for a movie, what scene would you use for the audition of the main characters and why?
It would be the first conversation Allie and Roman have. Neither of them knows the other's name, and the scene is so filled with tension, it's an almost physical thing.
"Looks like it's just you and me."
She jumped and spun around. The man stood a respectable distance away, but his sheer size ate up the space and made her feel closed in. She froze. I'd recognize those shoulders anywhere. Confirming her suspicion, his gaze slid over her body as if he was reminding himself of what she looked like with nothing but what she'd worn on the beach. She tried to swallow past her suddenly dry throat. "You."
"Me." He finally looked her in the face, and she rocked back on her heels. The man was an Adonis. There was no other way to describe his blond perfection, from his hazel eyes to the square jaw to the cleft in his chin to the body that just wouldn't quit. He might be wearing a shirt now, but the button-down did nothing to hide his muscle definition.
He held out a wide hand with equally perfect square fingers. "Let me buy you a drink?"
"We're at an all-inclusive resort."
His lips twitched, eyes twinkling. "Have a drink with me."
Oh, he was good. Charm practically colored the air between them, and she had the inexplicable impulse to close the distance and stroke a finger along his jawline. To flick that cleft chin with her tongue.
Allie gave herself a shake. "Since we're the only ones here, it'd be silly to sit apart."
The look he gave her said he saw right through the excuse, and why not when it was pathetically flimsy? The truth was that this man was magnetic and she suspected she'd be drawn to him even in a room full of people. He waved a hand at the empty place. "Lady's choice."
"How magnanimous of you."
"I try."
She laughed and headed for the table in the middle of the small patio. There were half a dozen tables, and she picked a spot that put her back to the building and presented the best view of the ocean through a carefully curated gap in the foliage.
He eyed the view and then the chair on the other side of the table, and then he picked it up and set it adjacent to hers so they were sitting on a diagonal, rather than directly across from each other. "Nice view."
She turned to agree—and found him staring at her.
Readers should read this book….
If they're looking for a little slice of paradise with a dose of naughty good fun.
What are you currently working on? What other releases do you have in the works?
I'm currently working on a MMF novel called FOREVER THEIRS, which will release in September. I also have a mermaid novella, SIREN'S CURSE, releasing in August, and the print version of THE BASTARD'S BARGAIN coming out in October.

Thanks for blogging at HJ!
Giveaway:

$25 Amazon gift card
To enter Giveaway: Please complete the Rafflecopter form and Post a comment to this Q:

What is one vacation spot you'd love to visit? Why?
Excerpt from Make Me Crave:
"Morning."
"Mmm. And a good one at that." She still hadn't opened her eyes, but as one of his hands trailed down to her clit, she laughed hoarsely. "You're insatiable."
"Only with you." He kept up those slow kisses to the nape of her neck. "You make me crazy. I just came and I want you again already." He cupped her pussy, the possessive move making her moan.
But then she opened her eyes and realized how light it was outside. Allie froze. "What time is it?" If Becka woke up and realized she'd never come back last night, she'd be worried. Allie was reliable and dependable, and she most certainly didn't stay out all night while having amazing sex with a stranger. As beyond amazing as it'd been, she hadn't stopped to consider that her friend might think she was hurt or that something bad had happened.
He picked up on her tension and removed his hand. "What's wrong?"
"I have to go." She rolled out of his arms, her body crying out at the loss of warmth, but if Becka wasn't already awake, Allie had to make sure she got back to the villa before that happened. If she was, then Allie had some explaining to do.
Either way, she couldn't stay there.
He sat up and watched her scramble for her dress, a frown marring his handsome face. "I know we joked about it being a one-night stand, but that doesn't mean you have to bolt the second the sun comes up. I thought we could have breakfast before you left."
It sounded just as wonderful and perfect as things had been since she'd taken his hand and embarked on this wild adventure.
Unfortunately, reality was calling—or as close to reality as a person got on West Island.
But she didn't like the look on his face—as if she'd somehow hurt him—so she paused. "I would love that, but my friend is back at our villa, and if she wakes up and finds me gone, she's going to think that I walked off the path and broke my leg or something and sound the alarm. I don't have an easy way to get ahold of her, so I have to go make sure she's not forming a search party."
His frown cleared. "I understand." He got out of bed and pulled on his shorts. "I'll give you a ride back."
She started to tell him she didn't need that, but the truth was she did. It was one thing to take his cart because she'd changed her mind about being with him and didn't want to walk the paths alone at night. It was another to want to skip a potentially awkward morning-after conversation. She was an adult. She could handle it.
She hoped. "Thanks. That would be helpful."
He threw on his shirt, but didn't bother buttoning it. It gave him the look of a…she didn't even know, but she liked it. A lot. Down, girl. She found her shoes and followed him out to the golf cart.
Allie was so tense as she sat next to him, she was surprised she didn't jostle right out of the seat when he put the cart into gear, but he reached over and took her hand, interlacing their fingers as if they held hands all the time. She relaxed, muscle by muscle, but her nerves didn't calm. "I don't do that normally—any of it."
"You don't have to explain yourself to me." He squeezed her hand. "I had a good time last night."
"Me…too." She studied his profile. Adonis, indeed. "A really good time."
He shot her a look as he took a turn onto a path marked with her villa number. "I'm in danger of being pushy, but I'd like to have a repeat—or several. I'm here on business, but my nights are yours if you're interested."
Her breath caught in her throat, though she couldn't say why. To spend her days with Becka doing all the activities they had planned and her nights with her Adonis… That truly would be paradise. She licked her lips. "I…I'd like that."
He grinned and pulled to a stop where the cart path ended and the walking path began. "In that case, would you gift a poor man with your name? You'll always be Aphrodite to me, but I'd like to know the true identity of the woman I plan to have coming countless times in the next few days."
She blushed, and then called herself an idiot for blushing. "I'm Allie."
He went so still, he might as well have turned into a statue. Those hazel eyes focused on her with unsettling intensity. "Allie? Allie Landers?"
She jerked her hand back, her heart beating for a reason that had nothing to do with desire. "How do you know my last name?"
He laughed, but not like anything was funny. "This is so fucked."
"What are you talking about?"
Gone was the devilishly charming Adonis who'd seduced her with little effort last night, replaced by a cold man she didn't recognize. "Roman Bassani."
She knew that name. She knew that name. Allie scrambled out of the cart and took several steps back, though he made no move to touch her again. "The guy who keeps hounding me? What the hell are you doing here?"
His smile was as cold as any she'd seen. "I'm here to convince you to sell your business."
Excerpt. © Reprinted by permission. All rights reserved.


Book Info:
Roman Bassani will do anything to close a deal. Even chase down Allie Landers on her Caribbean vacation to make an offer on her company. He expects a challenge—but not their immediate intense attraction. After an accidental one-night stand they agree to put business aside—for now. The island lulls them into a heated sexual journey…but what happens to their opposing interests when they return from paradise?
Book Links: Book Links: Amazon | B&N | iTunes | kobo | Google |


Meet the Author: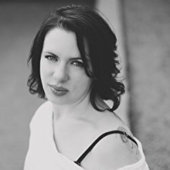 New York Times and USA TODAY bestselling author Katee Robert learned to tell her stories at her grandpa's knee. Her 2015 title, The Marriage Contract, was a RITA finalist, and RT Book Reviews named it 'a compulsively readable book with just the right amount of suspense and tension." When not writing sexy contemporary and romantic suspense, she spends her time playing imaginary games with her children, driving her husband batty with what-if questions, and planning for the inevitable zombie apocalypse.
Website | Facebook | Twitter | Instagram | GoodReads |