In From Doctor to Princess by Annie Claydon, accepting her new position as a private physician to Dr.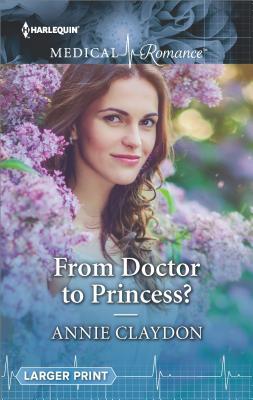 Hugo DeLeon couldn't have come at a better time for Dr. Nell Maitland. However, when her ex-boss begins to cause problems for her in her new job, she finds the only way to fight her troubles is to become fake engaged to her patient. Yet, the more time she spends with Hugo, the more she finds herself falling for a man she knows she shouldn't be falling for, especially when he's a crown prince. Will Hugo do everything he can to make Nell his princess for real or will they go their separate ways once Nell finds a way to fight her ex-boss's allegations?
="I'm a doctor and it's my mission. You have a mission?"
"Yes. I suppose I do."
"Then you'll understand the compelling nature of it. Weakness on my part can only undermine the message I'm trying to give."
Nell swallowed hard, trying to clear the rapidly growing lump in her throat. "Or…it might be seen as a strength. That you understand…"
"My job is to make things happen. And I'll freely admit that I'm a prime example of someone who hasn't followed the most basic advice and sought help at the first signs of any problem with my heart. Which is inexcusable, since I have a clear understanding of what those signs are."=
This was such an entertaining and wonderful tale right from start to finish of healing, finding love and which encompasses the fake relationship trope. The way this story started had me sympathizing with the hero, as he's been through a lot and it's hard for him to slow down and take the rest time he's supposed to be taking since he has a big project in the works. However, it was from the moment the hero and heroine meet for the first time where things get really interesting, as the heroine is in charge of his health and she's determined to make him listen. How far is she willing to go to get his co-operation? Will her methods work? Will the hero listen to her medical advice or will he challenge her, especially since doctors make lousy patients?
As for the dialogue, it was intense due to the main characters back stories, especially that of the heroine because she needs to get away from her last job since her ex-boss is a complete jerk that doesn't understand the word no. Will she find a way to get her ex-boss to back off? Will the hero be able to help the heroine? Moreover, I loved both the main characters. They're compelling due to their back stories and their growing relationship and I liked that they took a chance on each other, even though being in the press is something the heroine isn't used to. I also liked the heroine's resilience, her courage and her determination to make the hero understand that he can't do everything at the pace he once did, which is proven by the medical issues that arise for him.
="Your heart and mine, Nell. Beating together."
"That means we're both alive." She smiled up at him.
"I feel more alive than I have for a long time…"=
While the hero, he's stubborn, brave and I liked how determined he was to continue with his plans, even though he can't do a lot because of his condition. Really, he needs to take better care of himself. Yet, what I liked most of all about the hero was his willingness to let the heroine help him in any way she can, which is proven by everything she does to help him with his project; and I also loved his encouragement for the heroine to pursue her career and not to give it up for him.
Overall, Ms. Claydon has delivered a really good read in this book where the connection between this couple was intense; the romance was heart-warming and special because Hugo needs to put a lot of trust in Nell in case things go wrong, if their relationship progresses from platonic to physical intimacy; and the ending had me loving the hero's determination to prove to the heroine that she's the one for him. Really, his words brought on happy tears because it's palpable these two are made for each other and shouldn't let anything stand in the way of them being together. However, it was the epilogue that wrapped this story up nicely, as there's so much love between Nell and Hugo and I'm glad that they've both followed their passion in their personal and professional lives. I would recommend From Doctor to Princess by Annie Claydon, if you enjoy medical romances, workplace romances or books by authors Annie O'Neil, Sharon Kendrick, Charlotte Hawkes, Meredith Webber and Susan Carlisle.
Book Info:

Publication: July 1st, 2018 | Harlequin Medical |
Dr Nell Maitland has escaped her unpleasant former boss to become private physician to Dr Hugo DeLeon – who's also a crown prince! But doctors make the worst patients…especially when they're as distractingly handsome as Hugo. When her past catches up with her, Nell must fake an engagement to this Prince who makes her heart pound! Might she become his Princess for real?