Today it is my pleasure to Welcome romance author
L.E. Rico
to HJ!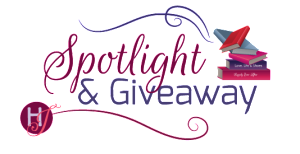 Hi L.E. Rico and welcome to HJ! We're so excited to chat with you about your new release, Mismatched in Mayhem!

Thanks so much for having me!

Please summarize the book a la Twitter style for the readers here: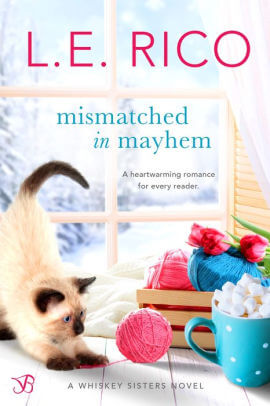 Dark and stormy bartender Walker O'Halloran has been dodging love for a very long time. But when sunny, "boy next door" Mason Stevens lands in her life—and her car—she just can't shake him. Mainly because he won't let her! But Mason is hiding something that could give Walker just the excuse she needs to retreat back into her self-imposed lonely and reclusive ways.

Please share the opening lines of this book:
"Will you m-marry me?" he asks, and then promptly hiccups—a distinct improvement from the last time, when he belched out his proposal.
"No."
"Ohhhhh…c'mon, W-walker. Don't make me b-b-beg."
I lean across the top of the bar and drop my voice.
"Jake, I said no last week and the week before. And the week before that. Three shots of Tanqueray and you're ready to walk right down that aisle—do not pass go. Do not collect one hundred dollars."
Please share a few Fun facts about this book…
It was inspired by actors Jessica Lange and Sam Shepard who left Hollywood to raise their young children in Stillwater, Minnesota
I lived in Minnesota for eight years and, while I never met folks THIS quirky, the Minnesotans are definitely a breed unto themselves. I tried to capture their delightful blend of friendly, whacky, hard-working and hilarious,
Walker was originally named Seven (for Seagrams 7) but my editor insisted I change it.
Walker is Johnny Walker BLACK O'Halloran because she's dark-haired. Had she been a redhead, like her sisters, she'd have been Johnny Walker RED O'Halloran
My editor was concerned very few people would get the Chuck Norris/Walker Texas Ranger joke I threw in and I had to reword it, explaining what the show was.
What first attracts your Hero to the Heroine and vice versa?
Mason is smitten immediately. He needs a ride home and by the time Walker drops him off, he knows he just has to see her again. He loves her sarcastic sense of humor and there's something about her "hard shell" exterior that leaves him wanting to know more.
Walker, on the other hand, is totally perplexed by Mason and her unexpected attraction to him. He's what she calls the captain of the football team, student body president, and Prom King all rolled into one. SO not her usual bike-riding, tattooed, pierced, rough around the edges kinda guy.

Using just 5 words, how would you describe Hero and Heroine's love affair?
unnecessarily complicated, too many secrets.

The First Kiss…
I see it coming—I think before she even realizes what she's doing. She leans forward and I'm sure she's going to stop short…but she doesn't. She goes in all the way until her sweet, soft mouth is touching mine. It's a tentative kiss that's over as quickly as it began, leaving me wondering if it ever happened at all. But I can see from the flaming scarlet color of her cheeks that it most definitely did happen. And she's most definitely regretting it.
Well, to hell with that.
Without revealing too much, what is your favorite scene in the book?
Without a doubt, the kids' birthday party at Benny's Birthday Bonanza (sort of like Chuckee Cheese but with animatronic birds singing 50's tunes). Benny has started to stutter and malfunction in front of a room full of concerned children so dad Bryan jumps in to take matters into his own…er…hands…
I follow her gaze to where Bryan is now wrapping his hands around Benny's upper wings and giving him a good hard twist.
And, while his actions do succeed in freeing the bird, they also manage to wrench his head right off.
Now, perhaps this could have been mitigated…had the head not then gone airborne. But it has, and there's a collective gasp around the room as every eye follows the head's progress as it sails above the crowd, slams onto one of the long cafeteria tables, rolls through a pizza, off the edge and onto the floor before finally coming to a rest in a corner.
This, too, might have been mitigated, had Benny's lower extremities not continued to gyrate and sway in time to the music that's still playing.
If your book was optioned for a movie, what scene would be absolutely crucial to include?
After losing a bet and having to go on a date with Mason, Walker demands a picnic. But it's winter in Minnesota and she figures he'll have to wait till spring. She figured wrong…he gets a heated tent by a frozen lake..
"Walker, why did you come here tonight?" I ask at last.
She looks a little taken aback by the question.
"Because I lost the bet."
"Yeah, we both know that's bull. I haven't known you for long, but I can already see that you don't do a damn thing you don't want to do."
She shifts uncomfortably on the blanket before she finally answers.
"I wanted to pretend."
"Pretend what?"
"That I could have this…this thing that other people have. That I could be with someone like you and be happy."
The obvious response here would be to tell her that she doesn't have to pretend. That she can have this. That she can be happy. But, for whatever reason, Walker O'Halloran doesn't believe this to be true, and I'm fairly certain there isn't a thing I can say that's going to convince her otherwise. So I do the only other thing I can think to do. I just go with it.

I get to my feet, fish my phone out of my pocket, swiping and tapping until Glenn Miller's
"Moonlight Serenade" begins to stream through the tiny speakers I have positioned around the tent. Then I walk to where she's sitting and extend a hand downward. She looks up at me then takes it without asking any questions. When she's on her feet, I pull her close against me and begin the slow rock from side to side, moving the way my mother and father did when they used to dance around the living room when we were kids. She doesn't fight me, instead resting her head against my chest. I, in return, rest my chin atop her head. I'm pretty sure that both of us have our eyes closed as we move in small circles under the fairy lights.
And I pretend to pretend.
Readers should read this book …
with a box of tissues nearby. You'll need them for both the tears of laughter and the tears of frustration that these two just can't seem to get their acts together!
What are you currently working on? What other releases do you have planned?
I'm currently trying my hand at my very first women's fiction, The Second Lives Club about newly-divorced Molly and her journey to reclaim her long-lost hopes and dreams.
After that, it's back to Mayhem for Bailey's book, due out in the fall.
Thanks for blogging at HJ!
Giveaway:

An e-copy of Mismatched in Mayhem from Amazon or Barnes and Noble (winner's choice)
To enter Giveaway: Please complete the Rafflecopter form and Post a comment to this Q:

Are there any quirky characters in YOUR town? Someone who you thought "Wow, she'd make a great character in a book!"
Excerpt from Mismatched in Mayhem:
When he glances back down again, he finds me staring. At him.
"Come here," he says quietly, opening his arms to me.
For a second, I fell bashful, and it's such a foreign feeling for me. I loathe the feeling of vulnerability. But it's not just a feeling. It's what I am. And somehow, that's never a problem when I'm with him.
I step forward and he draws me against his large, broad body, making me feel delicate and fragile—like a bird. A bird he could easily crush. I know this now. But I go to him anyway. Because my heart won't let me not go to him. So I stand on my tiptoes, wrapping my arms around his neck, and pressing my lips to his. This is my answer to his apology. This is my promise to him. This is the moment that finally frees me from the self-imposed curse that's plagued me for so long.
When we finally stop kissing, we're still attached—every part of me touching every part of him. We're staring at each other, and I feel an intensity between us that sends a wave of heat throughout my entire body. He puts his hands on either side of my face, stroking my skin with his thumbs.
"How'd I get to be so lucky?" he whispers, more to himself than to me.
"I don't… What do you mean?"
"You have absolutely no idea, do you?"
I don't. Maybe I'm dense, but I don't have any clue what it is that he's trying to tell me. "Mason, I don't—"
Before I can finish, he's scooped me off my feet and into his arms. "Johnny Walker Black O'Halloran, you have well and truly stolen every bit of my heart. And, if you'll have me, it would my great honor to spend tonight showing you just how much that means. Just how much you mean to me."
I want to believe him. But…
"Look at me," he commands, sensing my reluctance. "Look at my face."
I do, scanning every inch from forehead to chin.
"Look in my eyes."
I do, settling my gaze there.
"Do you see it?" he asks. "Do you see how much I care for you, Walker?"
My acknowledgment comes slowly. It's a nod that arrives only when I do see it for myself.
"I do. And I…I think I…I might…"
His lips are on mine again before I can struggle with the words for too long. And then, I press my lips against his ear, and I whisper.
"Stay."
Excerpts. © Reprinted by permission. All rights reserved.


Book Info:
Welcome to Mayhem, Minnesota, with its sweater-wearing cats and ultra-competitive trivia nights. Where love really does conquer all…if you'll let it.
Walker O'Halloran is finally ready to shed her "wild child" persona. Bartending at her family's pub, babysitting her adorable niece and nephews, and getting her degree during the day. What she doesn't do is date–or even think about dating. Ever. Until he walks into her bar, looking like a former Mr. Quarterback of the Football Team and Student Council President all rolled into one. No, thank you.
Mason Stevens has a secret—and it prevents him from knowing if someone is truly interested in him, or just what he can do for them. Until he meets Walker. She's the first person in ages who doesn't recognize him, and her grouchy attitude feels like the greatest challenge of his life. And he's ready for it.
But the more time they spend together, the more he's desperate to come clean—it's just never the right time. Until the paparazzi do it for him…
Book Links: Amazon | B&N | iTunes | Goodreads |


Meet the Author:
Over the last three decades, Lauren Rico has established a reputation as one of the top classical music broadcasters in the country. In that time she has introduced listeners to the stories of the great composers and their music.
Now, Lauren is composing some great stories of her own.
In just a few short years, she has become an award-winning, bestselling author of eight novels ranging from the sweet romance of the Whiskey Sisters series to the thrilling heat of the Reverie trilogy.
And, while she is still heard on radio stations around the country and on SiriusXM, Lauren takes advantage of all those long symphonies and concertos to concoct her next page-turner.
Website | Facebook | Twitter | | Instagram |