Rancher's Wild Secret by Maisey Yates is a sexy revenge romance for a man seeking payback only to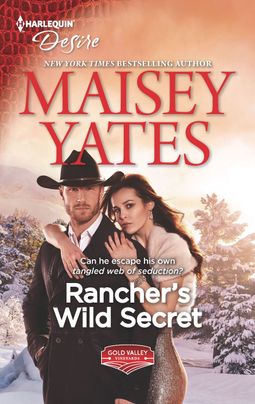 find himself falling for his enemy's daughter.
Emerson Maxfield doesn't know what to think of her father's new hired ranch hand at the family vineyard. Something about him makes her want to test the chemistry arcing between them. She's engaged to a man her father found suitable, an arranged marriage for business reasons but there is no heat there – not like she feels around Holden McCall.
Holden has been waiting for his chance to get revenge on James Maxfield, Emerson's father, for seducing and discarding his younger sister, leaving her struggling to deal with a miscarriage, then attempting suicide and being institutionalized. Clearly Emerson has no idea of the man her father really is under his fancy suits and suave demeanor. Holden wants to make James pay, and ensure he can't damage another young woman again. If he has to do it by seducing his enemy's daughter, so be it. Even better he can blackmail her into marrying him instead of her fiance, giving him a stake in the vineyard and something to hold over James. But will he ruin his own chance at happiness in the quest for revenge?
I really enjoyed this intense and passionate romance! Emerson and Holden have a spark of attraction from their first meeting, an inconvenient one for them both though it doesn't stop them from responding to it in some sexy scenes. Emerson thinks it will just be a one night stand, a night of passion to remember in her sure to be loveless marriage, but she opens up to Holden and when he comes back at her a few days later with his blackmail, telling her the truth about her father (and his own real identity as a wealthy property developer) she is hurt and angry at his betrayal. Yet she goes through with the quickie Las Vegas marriage to save the family business from ruin. And she can't stop herself from giving in to their attraction once again on their wedding night.
From there it's a rocky but satisfying path to their happy ending. Holden's sister plays a key role in making him see how his revenge plan, something she never wanted from him, is risking his future happiness. Emerson's two sisters, Wren and Cricket, also have a stake in the vineyard and I'm interested to see where their stories will take them. Maisey Yates can be counted on to deliver passionate and entertaining western themed romances and the Gold Valley Vineyards series has started off nicely!
Book Info:

Publication: Nov 1, 2019 | Harlequin Desire | Gold Valley Vineyards #1
He's come to Gold Valley with a hidden agenda…
not to fall for his enemy's daughter!
Emerson Maxfield is the perfect pawn for rancher Holden McCall's purposes. She's engaged to a man solely to win her father's approval, and the sheltered beauty never steps out of line. Until one encounter changes everything. Now this good girl must marry Holden to protect her family—or their desire could spell downfall for them all…