Today it is my pleasure to Welcome author
Jenni Fletcher
to HJ!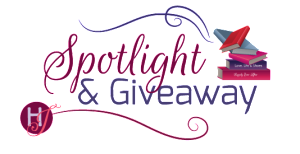 Hi Jenni and welcome to HJ! We're so excited to chat with you about your new release, Miss Amelia's Mistletoe Marquess!

Hi, thanks for having me!

Please summarize the book for the readers here: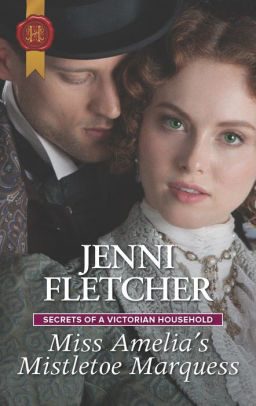 Miss Amelia's Mistletoe Marquess is a Victorian Christmas story with a self-sacrificing heroine who decides to rebel for one night and finds herself stranded in the snow – and compromised – with an emotionally withdrawn Marquess . It's all about being true to yourself, overcoming difficult pasts and learning to love again.

Please share your favorite line(s) or quote from this book:
I love baking so cakes feature a lot in my books (more and more so, to be honest – my next book is set in a biscuit shop!) This is from a scene where Cassius and Millie are touring his estate and being plied with food:
'Delicious.' Millie set her empty plate on the table beside her. Cassis certainly hadn't ben exaggerating about her not needing a big breakfast. At this rate she would't have any room left for dinner either. In the space of four hours, she'd consumed two pieces of plum cake, two ginger biscuits, a buttered tea cake and three mince pies. Not to mention eight cups of tea. The combination was starting to make her feel somewhat queasy.
Please share a few Fun facts about this book…
This is the second in a new Victorian series based around one family, the Faircloughs (featuring a mother, two sisters and one son) so I got to work with writers I admire like Sophia James, Georgie Lee and Virginia Heath. I also loved writing a couple of cat characters! I'm a cat lady!
What first attracts your Hero to the Heroine and vice versa?
When my hero Cassius first sees the heroine, he thinks she looks like a snowman. They're stranded in the snow, but since neither of them knows who the other is, they're able to be completely honest with each other, which is a relief for him because he doesn't want to be a Marquess at all. She also likes the fact that he doesn't just see her as the good and dutiful sister so he brings out her rebellious side!
Did any scene have you blushing, crying or laughing while writing it? And Why?
Writing the snowball fight scenes made me laugh and I really enjoyed writing the scenes between Cassius and his long-suffering butler, Kendrew. Dialogue is my favourite thing to write.
Readers should read this book….
Because it's a feel-good Christmas-set story intended to make you smile.
What are you currently working on? What other releases do you have in the works?
I've recently finished 'Redeeming her Viking Warrior' (part of another series with four other authors) as well as a Tudor Christmas novella and I'm about to get back to the second in my Regency Belles of Bath series. The first is out in February!

Thanks for blogging at HJ!
Giveaway:

I'm offering readers the chance to win a signed US paperback copy of Miss Amelia's Mistletoe Marquess. Open internationally.
To enter Giveaway: Please complete the Rafflecopter form and Post a comment to this Q:

Which would you prefer, being trapped in the snow or stranded on a desert island?
Excerpt from Miss Amelia's Mistletoe Marquess:
'Tea is served.' Cassius announced, lifting the pot and pouring out two cups of steaming amber liquid.
'Thank you.' Miss Amelia Fairclough, as she was apparently called, clasped her hands around the rim with a pleased-sounding sigh.
'Sugar?'
'Two lumps, please.'
'Two lumps.' He dropped them into her cup and stirred. 'I'm rather good at playing mistress of the house, don't you think?'
'Very proficient.' Her lips—perfect, bow-shaped, rosy-red lips—spread into a smile. 'All you need now is an apron.'
He chuckled and sat down on the hearth rug beside her, leaning against the armchair for comfort. It was strange how relaxed he felt in her company now. Positively serene, in fact. Since returning to England, he'd barely spoken about his time in Afghanistan and India to anyone, no more than was necessary anyway. He preferred that nobody knew how much the experience had affected him. Part of the reason he chose to sleep in the gatehouse was so that his staff, never mind Sylvia and her daughters, wouldn't overhear his nightmares. He didn't want anyone else to know that he had them at all, only Miss Fairclough had somehow guessed the truth. As to why he'd chosen to tell her the details, he had no idea. It wasn't simply because she'd been there in a moment of weakness. It was her. She'd made him want to talk, to be listened to as well by someone who'd seemed like she might understand. She'd truly made him feel better. So much so that he wanted to help her, too.
'Now I have a question for you, Just Millie, if you'll permit me?'
'I will.' She lifted her cup and blew across the surface of the tea to cool it. 'But I've told you my full name. You're permitted to use it.'
'But I prefer Just Millie. It suits you and Miss Amelia sounds far too formal. In my mind you'll always be Just Millie, umbrellaed avenger!'
'Now you're being ridiculous.' She laughed. It sounded soft and soothing, like water trickling over stones in a brook. 'Very well, then, what's your question?'
'What do you want?'
She gave him a baffled look. 'Pardon?'
'You said that you've become someone you didn't want to be so…' he opened his hands, palms upwards '…what do you want? If you could do anything with your life, what would it be?'
'Anything at all?'
'Anything. Be Queen of England if you want.'
'I believe the position is taken, but if I could do anything…' She tapped her chin thoughtfully. 'I'd like to be decadent, just for one day. I'd lie on a chaise longue, eat macaroons, read novels and have a cat.'
'A cat?' He lifted an eyebrow. 'Did I mention that you could do anything?'
'Yes, but I don't have any regal ambitions and I've always wanted a pet cat. My brother sneezes around them so it was never possible growing up.'
'So you're saying that you want a cat more than you want to be Queen?'
She nodded her head firmly. 'I'd call it Electra or Orestes, depending on whether it was male or female.'
'I see you've put a lot of thought into this.'
'I have.' She leaned forward conspiratorially. 'I tried keeping a stray once. She was mewling so pitifully at the back door so I made her a little bed in the coal shed, but I must have carried her hair inside on my clothes. Silas still sneezed.' She sighed plaintively. 'Fortunately I found her a home with an old lady on our street. They were both very happy.'
'And why the Greek names?'
'Oh, I've always liked Greek mythology. When I was little I had a book filled with stories and legends. I read it so much that eventually the cover fell off.'
'You don't think that Electra and Orestes have somewhat bloodthirsty connotations?'
'They're still nice names.'
'I suppose so.' His lips twitched in bemusement. The conversation was so odd he half-wondered if he was dreaming again. 'Well then, can't you have a cat now? Or does your brother still live at home?'
'No.' Her expression turned anxious. 'He went to America to seek his fortune just over a year ago. He sent several letters at first, but now we haven't had any word in seven months. We're all worried.'
'Naturally.'
'I'm sure there are all kinds of good reasons why we haven't received any letters, but if I were to get a cat, it would be like admitting he wasn't coming back at all.'
'I see.'
'But maybe I'll get one if—' She stopped mid sentence, her cheeks flushing a pretty pink colour.
'If…?'
'If I marry.' She lifted her teacup and held it at chin level. 'A friend of the family, our local Curate, asked me to marry him last week.'
'Indeed?' He felt a jolt in his chest, a reflexive stab of something like disappointment. 'You don't sound very enthusiastic.'
'Because he's a friend. I know we could get along perfectly well together. He's a good man and I respect him, but I don't know if I could ever care for him in the right way. As a husband, I mean.'
'Have you told him that?'
'Oh, yes, and he said he's had similar thoughts about me as a wife, but overall he considers friendship more important than love.' She took a sip of tea and then looked up abruptly. 'Isn't that odd? If you were married, wouldn't you want your partner to be more than just a friend?'
Yes. Unquestionably. Undoubtedly. Unequivocally.
The words were on the tip of his tongue, but he swallowed them with a mouthful of too-hot tea. 'I suppose so. Some people might even say it was integral.'
'He's never even tried to kiss me.' She murmured the words as if to herself and then blushed violently again. 'Forgive me, I shouldn't have said that.'
'Why not? Kissing is another important aspect of marriage.'
'Oh, dear.' Her eyelashes fluttered. 'That's what I was afraid of. Only he doesn't seem to want to and every time I even try to imagine kissing him, my mind just shies away from the idea. Last week I polished all the brass in the house just to avoid thinking about it! I know I oughtn't to say it, especially to another man, but it just doesn't feel right.'
'Then I believe you might have your answer to his proposal.'
'It's not as simple as that!' She sounded indignant. 'I wish it were.'
'But surely if you don't feel the right way…?'
'How I feel has nothing to do with it. My mother and sister and I are almost down to the last of our savings. Without my brother's money coming from America, we can't afford our rent, let alone food, at least not without taking money from the Foundation and Mother would hate to do that. If I don't marry, then we could be destitute.'
'You can't marry just for a place to live.'
'Says the man who's allowed to make his own living.' She gave him a scornful look. 'Having a place to live is the reason why a lot of women marry. We have to be practical.'
'Can't you strive for happiness, too?'
'Keeping a roof over my family's heads will make me happy.'
'Even if it makes you want to go out into the woods and scream?'
She knitted her brows together, taking another sip of tea before answering. 'Even if it does that, yes.'
'What about love? Your suitor might not think it important, but what do you think?'
If he wasn't mistaken, her breath caught at the word love. 'That would be another sacrifice, but I believe marriages without love are quite common.'
'Pardon my saying so, but you sound very cynical about it.'
'I suppose I am. Only I've met all kinds of women at the foundation and I've listened to their stories. I know the real world isn't romantic.'
'On the whole I'd agree with you, but you seem a little too young to give up.'
'I'm twenty-five.' Her eyes shot to his and then softened. 'Forgive me, you might be right. I know that true love exists because I saw it with my parents, but I can't let my mother and sister be thrown out of our home just because I want the same thing. It would be selfish of me. Besides, what if I never meet a man I can fall in love with?'
'What if you do?'
'And what if we all starve or freeze to death in the meantime?'
'I still say that marrying this suitor of yours is a sacrifice too far.' He felt suddenly determined to convince her. If she was so desperate for money, then he would be more than happy to help, though he could hardly make the offer at that moment without it sounding somewhat indecent. Perhaps what she needed was a different kind of convincing.
'All right, Just Millie, tell me this.' He leaned closer towards her. 'Do you think you could ever love this man?'
'As a friend or a brother, yes. As a wife, no.'
'Because you can't imagine kissing him?'
'In part.'
'Have you ever been kissed?'
'Mr Whitlock!' Her body jerked so abruptly that tea sloshed on to his dressing gown.
'Don't worry about that.' He reached for her cup, putting it aside as she started to wipe herself down. 'I shouldn't have put the question so bluntly, but have you considered that it might just be the thought of kissing itself that puts you off? If you've never tried it, perhaps you're simply nervous?'
'Perhaps.' She pulled her shoulders back stiffly and folded her hands in her lap, seeming to make a concerted effort to regain her composure, though her expression was still flustered. 'Yes, I suppose it could be that.'
'In which case, maybe I can help.'
Green eyes widened like saucers. 'What do you mean?'
'Just that if you'd like to try then I'd be more than happy to oblige.'
'You would be…' He hadn't thought that her eyes could get any bigger, but apparently he'd been wrong. Fortunately the expression in them was more bewildered than offended. 'Are you offering to kiss me, Mr Whitlock?'
'Yes.'
'Why?'
Excerpt. © Reprinted by permission. All rights reserved.


Book Info:
The virtuous Miss Fairclough
Now faces ruin!
When Amelia Fairclough had sought refuge in a blizzard, a brooding stranger had given her warmth and shelter. She'd even tried to soothe him of his demons in return. But as she scurried home at dawn she was spotted! Now he's in the parlour, offering to do the honourable thing. Surely she'd be a fool to turn down the new Marquess of Falconmore!?
Book Links:  Amazon | B&N | iTunes | kobo | Google |


Meet the Author:
Jenni Fletcher was born on the north coast of Scotland and now lives in Yorkshire, where she writes historical romance novels set in several different eras, from Roman to Victorian. She studied English at Cambridge University before doing an MA on Women and Literature in English and a PhD on Edwardian literature and psychology at Hull University, while trying to finish her first book, which was rejected. Thinking there must have been some mistake, she then wrote another, which was fortunately accepted by Harlequin Mills&Boon.
She spends a large part of her day obsessing about things like the Oxford Comma and whether she uses exclamation marks too often (she does!) while getting distracted by Twitter. The rest of the time she drinks too much caffeine, eats too much chocolate, and teaches creative writing at a university in the north of England. She has been nominated for 3 RoNA awards (for Historical and Short Fiction), and intends to keep trying. Her favourite Jane Austen novel is Persuasion and her favourite Brontë is Anne. If she had to choose a romantic hero it would be John Thornton, probably just because she's Northern.
Website | Facebook | Twitter | Instagram | GoodReads |