Family Under Fire (Colton 911 #6) by Jane Godman:  Love of family is a very strong motivation!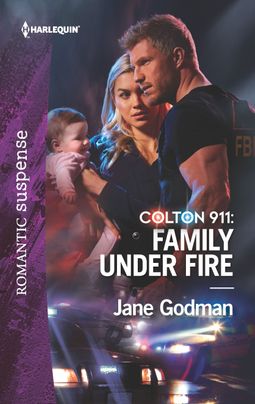 Alyssa Bartholomew and Everett Colton haven't seen each other in the four years since their relationship ended. When Everett walked into the reception area of the law office of Raymond Torrington he thought he was imagining things as he smelled the scent of violets. Acqua Viola. It couldn't be. He is here for the reading of the last will and testament of Sean Dodd and Delilah Kennedy Dodd. He walks into the office and is shocked to see Alyssa Bartholomew sitting there. He sat as they both waited for the attorney to show up. The shock of seeing each other once again was more than doubled when the will indicated that they are now the guardians of the Dodd's six-month-old daughter, Kennedy. The requirement is to raise her together. They both fell in love with the sweet baby so it looks like they will take up this challenge. What a challenge it turns out to be. There are notes threatening baby Kennedy. There are attempts on the parents' lives. It's time to find out who is behind this evil and stop it.
Colton 911: Family Under Fire by Jane Godman is part of Harlequin's Colton 911 series. As I read this story I realized that there is a book before this one which features Everett's twin brother Casey, Colton 911: Caught in the Crossfire. I plan to pick up that one soon as the hints from this book about Casy are intriquing. Speaking of intrigue, this story has lots of intrique and suspense. But what really caught my attention was the relationship between Alyssa and Everett.
I like how Jane Godman develeoped these characters and described their strengths and weaknesses so well. Their relationship broke up initially due to issues festering from their pasts. Alyssa feared the danger of Everett's job and Everett was too closed off and didn't reveal what bothered him. They worked hard after Kennedy came into their lives to overcome their issues. Through threats and danger they perservered and the end result was a happy family.
This story takes place during the Christmas season and the spirit of Christmas exhibited even through all the stress added to my enjoyment of this book.
Book Info:

Publication: December 3rd 2019 | Harlequin Romantic Suspense | Colton 911 #6
A once-in-a-lifetime reunion in danger!
FBI Agent Everett Colton never expected to see his ex-girlfriend, Alyssa Bartholomew, again. But when a suspicious tragedy reunites them-and makes them guardians of an orphaned baby girl, Everett must protect the child he's grown to love…and the woman he never forgot.