Today it is my pleasure to Welcome author
Moni Boyce
to HJ!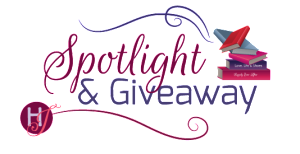 Hi Moni and welcome to HJ! We're so excited to chat with you about your new release, More Than Enough: A Blue Collar Romance!

Hey everyone! Excited to have you meet Lexie and Ezra!

Tell us about the book with this fun little challenge using the title of the book: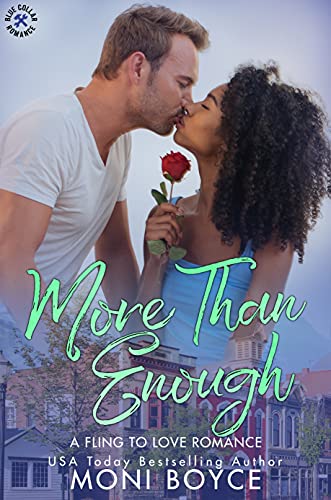 M is for Meal. Ezra cooks for Lexie more than once, and she finds it very sweet.
O is for One-night stand, which is how Lexie and Ezra's relationship starts.
R is for Realtor. This is Lexie's profession. She works at Picket Fence Realty.
E is for Exciting, sexy love scenes that occur between Ezra and Lexie.
T is for Talk. Ezra and Lexie share some deep conversations and get to know one another.
H is for Hangover. After their one-night stand. Lexie has a killer hangover.
A is for Anger. Ezra grew up with a lot of anger, because of his father's abandonment.
N is for New series. More Than Enough is part of a new, multi-author series.
E is for Erica, one of Lexie's best friends that acts like a mama, always watching out for her.
N is for Next time. After the one-night stand, Ezra wants there to be a next time, and Lexie keeps lying to herself about wanting there to be a next time.
O is for Ox, Ezra's best friend since elementary school, an eternal optimist and Ezra's business partner.
U is for Undressing. Ezra undresses Lexie their first night together.
G is for Graphic. Some of the steamy scenes will have you fanning yourself.
H is for Hot. The story takes place over the summer, and it is sweltering.
Please share the opening lines of this book:
Why did it bother me so damn much if he'd moved on?
Trying to be discreet, I scrolled through the pictures and engagement announcement Erica had texted me for the umpteenth time. My ex-husband and his new bride-to-be stared back at me, their smiling faces souring my mood further.
Please tell us a little about the characters in your book.
When I started thinking about the concept for this book and the characters of Ezra and Lexie, I saw them as the Molly Ringwald and Judd Nelson characters from The Breakfast Club, if it was ten years later and they were grown-ups. Ezra and Lexie are both trapped in these boxes that people placed them in back in high school: the bad boy & the popular, good girl. They can't seem to break free of that. Neither have ever felt like they were enough. They will have to overcome not only their own bias and insecurities to be together, but also free themselves from the expectations and perceptions of their friends, families, and the town. Ezra believes if Lexie just gives them a chance, they might find they are more than enough for each other.
Please share a few Fun facts about this book…
Here are some fun facts about More Than Enough.
For inspiration in writing the characters of Ezra and Lexie I watched The Breakfast Club and I went back and watched scenes of Heather and Ray from the Amazon Prime show Panic.
Ezra is a landscaper, so I watched a lot of gardening and landscaping YouTube videos to understand terminology and learn more about the types of things a landscaper does.
While writing their story, I couldn't stop listening to the song Wildfire by Cautious Clay, because I felt like it embodied how Ezra felt about Lexie.
What first attracts your Hero to the Heroine and vice versa?
Ezra and Lexie went to high school together. She was one of the popular girls in school and he was the bad boy. Back then, he lusted after Lexie like many of the other boys in school. As adults, when he meets Lexie again, he's clearly attracted to her physical. He thinks she's gorgeous. The more he gets to know her. He loves this sweet sexiness he sees in her. Ezra loves that he finds it easy to talk to her. That's something he's never had before. For Lexie, she finds Ezra sexy and good looking. The other things that draw her in and make her fall in love with him are the little gestures, the ways he shows he cares about her. Plus, Ezra's always asking her about herself, asking her deep and meaningful questions. No one's wanted or cared to ask her questions like this before. At first, it's nerve wracking, but she finds she likes when he asks, because it shows that he wants to know her and not just sleep with her.
The First Kiss…
The first kiss between Lexie and Ezra comes about because of a bet Lexie makes with her friends. She's out trying to put a brave face on the fact that her ex-husband is marrying his sidepiece and the whole town knows. She wants to do something completely out of character and be spontaneous. After having a few too many drinks at the bar, she says she's going to kiss the next guy that walks in the door. That person happens to be Ezra. She grabs him and kisses him. Instead of pushing her away or finding the kiss revolting, he goes with it and kisses her back. Lexie seems to enjoy it too, because she doesn't pull away or put a stop to it. They only stop kissing once they realize they have an audience.
If your book was optioned for a movie, what scene would you use for the audition of the main characters and why?
If my book was optioned for a movie, I'd use the following scene because right before this happens, they've just unexpectedly slept together for the second time so there are so many emotions and feelings happening in the scene. They are coming down off this sex high, and Ezra decides to ask a serious question. He isn't afraid to challenge Lexie, and that's scary for her. I think it would show whether the actors have chemistry together or not. When they first meet earlier in the book there is an instant physical and sexual attraction between them and it's powerful, but they also have a connection that runs deeper than that. We need to be able to see that between the actors and it needs to be believable.
"Why'd you kiss me that night at The Rox?"
I was standing too close for her to look away.
"I…" She took a deep breath. "I was trying to be daring… and different… spontaneous…" Lexie chuckled, but it seemed devoid of mirth.
"Okay. It could have ended with the kiss. Why sleep with me?"
Her eyebrows scrunched together, and she folded her arms across her stomach. "I just told you." An undercurrent of annoyance crept into her words, but I chose not to heed it.
"No, that explains the kiss, not why you slept with me."
She wasn't getting out of this easily. I wanted her to tell me, because I remembered that night, wondering if it was some sort of prank or dare, but now I wondered something else. "Did it have anything to do with Daniel getting remarried?"
If your hero had a sexy-times play list, what song(s) would have to be on it?
Ezra enjoys music from different eras, especially the 1980s and 1990s. He likes more contemporary stuff too, so I think he would mix it up on his sexy times playlist. He'd have some playful songs on there, but also songs to really set the mood. "Slave to Love" by Bryan Ferry. "I Need You Tonight" by INXS.
When he's trying to be playful and invoke his inner Magic Mike, he'd put on Ginuwine's "Pony".
For more contemporary songs for when he's being romantic, it would be songs like The New Basement Tapes "When I Get My Hands On You" and "Feels So Good" by Isak Thomas and the Stoop Boys.
If you could have given your characters one piece of advice before the opening pages of the book, what – would it be and why?
If I could give my characters one piece of advice, I would tell Lexie to stop caring about what other people will think of her. No one else's opinion matters when it comes to her own happiness. She needs to follow her heart. I would tell Ezra to let his anger go. Not to let it eat him up. I would also tell him that just because family has disappointed us before, doesn't mean every family member will disappoint. Be willing to give people a chance and not make them pay for the mistakes of someone else.
What are you currently working on? What are your up-coming releases?*
I have so many things I'm working on. Sometimes I have to tell myself to stop being the kid with the shiny new toy and focus. I'm working on a fated mates wolf shifter series called Curse of the Wolf. The first book, Hexed, came out in March as part of an anthology. It was novella length. I'm currently expanding it to be novel length, so I can rerelease it. That will be a four-book series. I have a duet I plan to release next year about a rocker and a billionaire that I'm excited about. I have a Mafia romance series called Bound to the Fixer. I'm working on book 2 called Make Me Love. I have a motorcycle romance series I plan to release next year, along with a spin-off series of my paranormal romance series The Oracle Chronicles. I also have a few special projects I'm working on, but don't want to share details about those just yet. So, stay tuned. I have a lot in the works.

Thanks for blogging at HJ!
Giveaway:

$10 Amazon gc + backlist ebook title – winners choice
To enter Giveaway: Please complete the Rafflecopter form and Post a comment to this Q:

Do you care about how family, friends or society would feel about the person you're in love with?
Excerpt from More Than Enough: A Blue Collar Romance:
A minute passed before the door was answered.
A young girl in faded cut off jean shorts, Vans and a Bite Me t-shirt gawked at me. "Who are you?"
Ezra came up behind the teenage girl. "Lexie?"
She looked at Ezra and then back at me, with a question marring her brow. "Are you the woman he bought the candle for?" Curiosity filled her gaze when she examined me from head to toe.
I looked to Ezra for the answer. Did he want me to respond?
"Lexie… this is my nosy kid sister, Cameron," he emphasized the word nosy.
Ezra had a sister. Was she part of his dad's other family?
I looked at her again. This time in a new light. He'd never mentioned one before. When I was here the last time, I didn't remember seeing any photos of her.
Now it was my turn to examine her from head to toe.
Cameron's short hair was a lighter shade of blonde than his. They both had those same blue eyes that pulled you in.
"She was just leaving."
A goofy look passed across the young girl's face. I knew it wasn't because of me. I thought she would be upset with him for kicking her out in favor of me, but she turned and threw her arms around Ezra's waist. "You've never called me your sister before."
"Don't make me regret it." Despite the scowl and gruff tone to his voice, there was a tender look in his eyes.
Once she pulled away from him, she looked between the two of us. "Ezra, I thought you said you didn't have a…"
"Leave." Ezra interrupted her question and pointed out into the street.
For a second, I thought he was angry with her until I realized he was trying to suppress a grin.
With a giggle, she grabbed her skateboard and ran down the porch. "Bye Ezra's girlfriend."
So, that's what she was trying to ask before he shut her down.
"That kid. Always irritating the hell out of me." Ezra ran his hand through his hair and then turned and gave me the full weight of his gaze.
We stood in the doorway together not speaking. Ezra was the first one to eventually break the silence.
"What are you doing here?" Puzzlement and surprise colored his face. Happiness crept into his words and flickered in his gaze, the kind you're uncertain you should feel. I saw it in the smile he tried hard to fight against, and in the way he held onto the door with one hand and stuffed his other hand in his pocket so he wouldn't be tempted to touch me.
I understood his shock at seeing me turn up on his doorstep.
Needing something to do with my hands, I hiked my purse strap higher onto my shoulder. "I wanted to come by and make sure you're okay." I stood in the doorway, unsure whether I wanted to go inside or flee.
"You know you could have called to check on me, right?" There was that teasing grin of his.
"Yeah… of course." In my nervousness an awkward chuckle fell from my mouth. I licked my dry lips; glad I'd gone to Lowe's. "Besides… um checking on you… I came by because I bought more fertilizer to replace what was damaged yesterday." With my thumb, I pointed over my shoulder at my car.
"It's in the trunk."
He didn't try and peer over my shoulder at my car. He just kept staring at me.
"I must have caught you at a bad time. I can bring the fertilizer to the house when you're there this week. It was silly of me to come over here with it…" I wanted to sink into the floor after rambling like an idiot.
When I turned to go, Ezra grabbed my hand. It caught me by surprise.
Looking down at our hands, I tried to push away thoughts of how right it felt.
"Don't go." I could feel the steady beat of his heart through his fingers. Those two words sounded strong and sure leaving his lips.
I looked up at his face.
"Stay." His eyes confirmed what his words conveyed.
I let him pull me into the house and shut the door. We stood together in the living room, centimeters apart, breathing in one another, our gazes locked on one another.
Ezra reached up and pulled the strap of my purse off my shoulder and sat it on a chair.
"I'm glad you're here." His lips were so close to mine when he said it, I could feel his breath on my face.
I wasn't sure what to say. I knew what was coming. We'd had sex multiple times at this point, but something felt different about now. It felt like it was the first time.
When he finally pressed his lips to mine and kissed me, this warm, tingly feeling swarmed my body. As if they had a mind of their own, my arms went up around his neck and pulled him closer.
Usually, we're both in such great need that things between us, kisses, sex, become so hurried, frenzied even. Not this time. This kiss was slow, lazy almost, but not lacking in intensity.
I could feel how he burned for me, because it matched the twin flame inside of me. Ezra held me tightly to him and ravished my mouth at such a leisurely pace it was drugging. But I didn't want him to go any faster.
Several minutes later, our fingers were on a quest for buttons, zippers, pushing and peeling fabric from each other's bodies to expose skin.
Excerpts. © Reprinted by permission. All rights reserved.


Book Info:
Can a one-night stand turn into forever?
From Moni Boyce comes a fling to forever romance packed with redemption, heat and happily ever after.
Her whole life, Lexie Campbell has played by the rules and lived up to everyone else's expectations, never once stepping out of her comfort zone or putting her needs or wants first.
Divorced and ready for a little excitement in her life, she makes a playful bet to kiss the next guy who walks into the bar where she's out on the town with her girlfriends. She wasn't expecting that guy to be bad boy Erza Benedict himself.
Ezra has a reputation. Growing up on the wrong side of the tracks, he's never been able to outrun his troublesome past no matter how hard he works to redeem himself.
As far as relationships go? Lexie is so far out of his league, but that doesn't stop him from wanting more than one kiss or a one-night stand.
When Lexie comes back into his life by grand design and hires him to landscape the homes she has listed on the market, Ezra knows this is his shot. Unlike their one night together before, Ezra won't settle for hiding their relationship for long.
Together they'll have to learn to forget everyone else's expectations and live (and love) for themselves.
Welcome to Oak Bend, where these blue-collar hotties work hard and love even harder, especially when it comes to landing their happily ever after.
Book Links: Amazon | B& N | iTunes | Google |


Meet the Author:
Moni Boyce is a USA Today Bestselling author of contemporary and paranormal romance, a filmmaker and a poet. After working in the film industry for fifteen years, helping others bring their visions to life, she now creates characters and worlds of her own, full of diverse characters with heat, heart and happily ever afters. She considers herself a bookworm, film buff, foodie, music lover and an avid world traveler having visited 34 countries and counting. She currently lives in Virginia but considers Los Angeles her hometown.
Website | Facebook | Twitter | Instagram | Goodreads |