Today it is my pleasure to Welcome author
Laurie Benson
to HJ!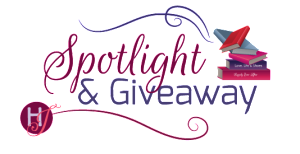 Hi Laurie and welcome to HJ! We're so excited to chat with you about your new release, Mrs. Sommersby's Second Chance!

Hi Sara, Thanks for having me on your blog again. I'm happy to be here.

Tell us about the book with this fun little challenge using the title of the book: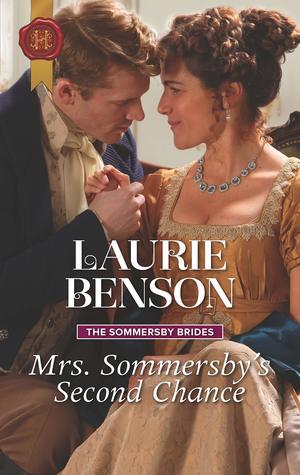 M (RS) – Matchmaking goes awry in this Regency romance.
S (ommersby's) – It's a Seasoned romance between an older heroine and younger hero.
S (econd) – The Setting for this story is the spa town of Bath, England.
C (hance)- Can two people that Society would say are wrong for each other actually be a perfect match?
Please share the opening lines of this book:
It wasn't as if a small sip of water was capable of changing one's life. In all the years Clara Sommersby had stood in the Pump Room to have a daily drink, she had never witnessed anyone perform such an intense inspection of a glass of the spa's mineral water. She had seen the tall blond-haired gentleman accept the empty glass from the attendant and approach the fountain out of the corner of her eye.
Please tell us a little about the characters in your book.
MRS. SOMMERSBY'S SECOND CHANCE is my first Seasoned Regency romance, which means both my hero and heroine are over the age of thirty-five. Clara Sommersby is a widow who secretly owns a successful hotel in Bath, England. She is devoted to her friends and family and treasures the financial stability the hotel gives her. Mr. William Lane was raised in London's Foundling Hospital after his unwed mother left him there shortly after his birth. Determined never to be beholden to anyone ever again, he utilizes his keen sense in investing and becomes a successful businessman. He is in Bath because he has purchased a coffee house there as one of his ventures and needs to buy the hotel next door in order to be able to turn the coffee house into a spa. Little does he know that the woman he is taken with, is the owner of the hotel and she would never dream of selling it.
Please share a few Fun facts about this book…
MRS. SOMMERSBY'S SECOND CHANCE is a Friends- to-Lovers Regency romance that was inspired by the movie You've Got Mail. The story revolves around a bit of matchmaking that goes awry when matchmaker Mrs. Clara Sommersby meets her unlikely match in Mr. William Lane, the younger man she is trying to fix up with her friend Harriet.
What first attracts your Hero to the Heroine and vice versa?
Their initial attraction is purely a physical one, but soon they begin to run into each other in town and with each encounter a friendship begins to develop between this outgoing widow and this emotionally distant businessman. That friendship is based on a mutual respect and shared sense of humor that takes both of them by surprise.
The First Kiss…
The first kiss is something that, as a reader, I look forward to in a romance story. As a writer, I never like to give away how it happens to someone who has yet to read the book. In this story, there is a scene between Clara and Lane that happens not long before their first kiss that creates a bit of a build up to that romantic moment. It occurs during a ball.
She was in green satin. Lane had wondered what color Mrs. Sommersby would be wearing while he walked over to the Upper Assembly Rooms. What someone was going to wear had never been any of his concern before, but tonight he kept trying to imagine what colour silk or satin would be against her skin.

When he entered the building, he was hoping he wouldn't find her in the ballroom. It would have been easier if she were in the card room. No one danced in there and he was fairly skilled at cards. But when he spied her on the dance floor with the impeccably groomed, middle-aged gentleman, he was not surprised. Mrs. Sommersby would indeed be a woman who danced. And once he spotted her, he didn't want to look away.

The desire to kiss her deeply and passionately while holding her in his arms had not diminished. If anything, in that gown and under the glow of the candlelight, he wanted her even more.

How she managed to spot him in the middle of the dance was a mystery. Lane thought he had blended in completely with every other man in the room dressed in fine black evening wear. Yet somehow during one particular sequence of the dance, she had turned her head and looked directly at him. And in her eyes, at that distance, he saw the spark of recognition and then a flash of excitement before she was forced to turn away with the movement of the dance.

Not wanting to distract her and risk her stumbling, he backed further into the crowd and was rewarded for the kind gesture by the fact that he saw her searching for him a few more times before the dance ended. When she gracefully lowered herself into the final curtsy of the minuet, Lane had the strongest urge to walk up to her, grab her hand and pull her out of the room to some secluded area in the building. He wasn't joking when he had told her he was going to kiss her the next time he saw her. He'd thought about it for most of the day.

As she walked off the dance floor with her partner, she flicked open her fan and surreptitiously scanned the room once more as they slipped into the crowd. Lane had no idea who the gentleman was. He had appeared to be very attentive to her, although he did notice that the gentleman had said something to her that had angered her. A protective instinct welled up inside him and he had to stop himself from going over there and demanding the man apologise.
He couldn't recall the last time he'd followed a woman around at a ball. There was a very real possibility that he never had. After leaving the Foundling Hospital his life had always been consumed with work. Entertainments such as this were infrequent and he usually spent them in the card room. But tonight, skulking through the crowd to watch her was his preferred way to spend the evening. Hell, she was the only reason he was here.

Somehow her eyes found him through the crowd when he got about twenty feet away from her. Something intense flared between them and he didn't miss when her tongue peeked out and briefly touched the dip in her top lip. He wanted to taste that lip and the plump one below it. He wanted to savor the feel of her lips against his and slide his tongue over hers to see how she would respond.

Two gentlemen came around from behind him and blocked Lane's view of her as they walked in her direction. When she came back into view, she was standing in the very spot she had been in, looking stunning in her green-satin gown with her white-silk gloves that had fallen below her elbows. But now she was all alone. The gentleman she had been dancing with was no longer by her side. Whether it was intentional or not, he couldn't tell, but her gaze slid slowly down his body and it became impossible to swallow.
If your book was optioned for a movie, what scene would you use for the audition of the main characters and why?
I would use the first scene where they are alone together. Lane finds Clara stuck behind a hedgerow in a park with her dog, the day after they first encounter each other a the Pump Room in the King's Spa in Bath.
It was bad enough Clara was in the predicament she was in. Did she really need to be stuck like this in front of the handsome gentleman from the Pump Room?

Humphrey's leash had got tangled in the privet hedge and, if that wasn't annoying enough, when she went to try to untangle it the back of her dress had got caught on a branch as well. She had tried to release it, but that particular section of lace was at a point of her back that she couldn't reach.

When the gentleman called out to her through the hedgerow, she hesitated at first to answer. A scoundrel could take advantage of her very precarious predicament. She could be robbed, or worse. Hoping that if he tried anything, her small puppy would bite his ankles and scare him off, she accepted his invitation of assistance. Only now her puppy had disappeared into the hedge and the possible scoundrel turned out to be the man the Dowager suggested she should introduce to her neighbor.

'How can I help?' he asked, tilting his head a bit as he looked at her with a furrowed brow.

'I'm stuck.'

'Pardon?'

'On the hedge.' She motioned to her back with her gloved hand. 'The lace on my dress is caught on a branch and I can't move. Would you be so kind as to release me?'

He glanced around the small wooded area she was in and even appeared to peer over a few of the lower hedges as he made his way closer to her. When he stood a few feet away, the faintest scent of his cologne drifted across her nose as it travelled on the soft breeze.

Clara was petite in stature and had to look up at him as he stood less than two feet from her. Facing him, without the busyness of the Pump Room, she was able to get a better look at him. His firm and sensual lips rose a fraction in the right corner, softening the angles of his square jaw. Although he was clean shaven, there was a hint of stubble on that jaw and on his cheeks. She appreciated impeccably groomed men so it was surprising that she had the urge to brush her fingers against his skin to see what that stubble felt like.

He leaned over her and her breath caught as his lips drew closer to her eyelids. His finely made arms, defined through the linen of his blue coat, came around hers. He could have easily stood to the side of her to free the bit of fabric, but being surrounded by all his quiet masculine presence, she was glad he had decided not to.

'You truly have got yourself caught.'

He looked down at her and flecks of gold were visible in his blue eyes. 'I know I haven't spent much time in your presence, however, this is the quietest I think I have seen you,' he said with a slight smile.

'I don't want to distract you.'

'You already have.'

She lifted her chin and now their mouths were a few inches apart. The warm air of his breath brushed across her lips. The last time she had kissed a man was ten years ago. And even then, she couldn't ever recall her pulse beating like this at the thought of kissing her husband.

Just a few more inches and their lips would be touching. Just a few more inches and she would wrap her arms around his neck and let herself sink into his embrace. His arms tightened around hers and she felt the tugging of the back of her dress.

'I think I have it,' he said, his breath caressing her lips.

So close, their lips were so close.

A loud yapping broke the moment and the gentleman she was thinking of kissing reeled back and it was then that she realised she was free. Free of the shrub and the spell that had been cast over her. Free of desires that left her forgetting where she was or the fact that she didn't know who she was with. She was a respectable widow and respectable women did not go around kissing gentlemen behind some shrubbery in a public park.

Humphrey's small black and brown body was hidden within the bottom branches of the thick hedge beside her, but his small black head and brown ears were visible. He continued to bark at the gentleman who had come to her aid.

'Where did you come from?' He looked between her small dog and Clara. 'You might want to step away. It doesn't appear very friendly.'

'It's fine. He's fine. He belongs to me.' She looked down at Humphrey. 'Now hush. The nice gentleman was helping me,' she said to the creature who was responsible for this awkward encounter.

'I don't think he likes me.'

'He just wants to get out from under the bush.'

The gentleman lowered himself to the heels of his top boots. The muscles of his thighs flexed in his cream-coloured breeches when his coat parted with his movement. He held his gloved hand out to Humphrey, but didn't say a word, giving the dog the opportunity to sniff him.

'He won't go to you. He's stuck in the bushes.'

'He's stuck, too?'

Clara held up the loop of Humphrey's leash that was wrapped around her wrist and the bit of the red cord that was free of the tangled mess for him to see and gave a slight tug. Humphrey let out a series of barks as if he was trying to explain to the gentleman how it happened.

'First your dress and now your dog's leash? You two are quite a pair.'

'If we are being precise, it was his leash first and then my dress.'

He stood up and strode towards her. 'Can you untangle it?'

'I had been trying to when my dress got caught. I wasn't having much luck.'

'Let me see if I can help.' He squatted just out of Humphrey's reach and then held out his hand to the puppy. 'What have you done to yourself, little one?'

Instead of sniffing the gentleman's hand, Humphrey appeared to try to explain how it had happened before lowering his head to his paws.

'I see. Well, let's free you from this mess so you and your mistress do not have to spend the night here.' Humphrey looked up at him as he traced the red cord from the dog's collar into the hedge and moved some of the branches around to study the tangled mess. 'How did he do this?' he asked, his attention still focused on untangling the cord.

'I'm not sure. He was chasing a butterfly and the next thing I knew I was pulled practically into the bush.'

'Your leash is too long. You need a shorter one.' He motioned for her to hand him her end and then he worked it through the branches.

Not wanting to inadvertently get caught in the bushes again, Clara adjusted her blue shawl around her shoulders. 'Do you think you will be able to free him or should we just untie the leash from his collar?'

'I think I've got it. Just a few more twists… There, he is free.'

He handed her the end of the leash just as Humphrey let out a few barks before charging the gentleman's leg and resting his paws on his knee. He was rewarded with some scratching behind his ears and Humphrey whipped his head around and licked the man's hand.

'No more chasing butterflies for you, young man.'

Humphrey gave an excited bark as if to say he agreed the adventure had not been worth it.
If your hero had a sexy-times play list, what song(s) would have to be on it?
I'm not sure if I would consider this a sexy-times song, but while I was writing this book I kept listening to 'Happier' by Marshmello, featuring Bastille.
If you could have given your characters one piece of advice before the opening pages of the book, what – would it be and why?
I would remind them that you can find love in the most unexpected places and that it can happen, even after you turn forty.
What are you currently working on? What are your up-coming releases?*
I'm currently writing an American set historical but since there is a lot of research involved, I have no idea when it will be released.


Thanks for blogging at HJ!
Giveaway:

I am giving away one copy of ONE WEEK TO WED, which is the first book in The Sommersby Brides series. This giveaway is open internationally to people over the age of 18. Void where prohibited by law.
To enter Giveaway: Please complete the Rafflecopter form and Post a comment to this Q:

MRS. SOMMERSBY'S SECOND CHANCE takes place in the spa town of Bath. If you were going to a spa, which spa service would you book and why? I sit at my desk a lot, so I think a massage would feel wonderful.
Excerpt from Mrs. Sommersby's Second Chance:
Lane turned away from the wooden banister and began to walk to the front door. He didn't even care if he left his hat and walking stick behind at Clara's house. He could afford new ones.

As he stepped outside, a cool breeze hit his face. The moon, high in the night sky, was casting blue light on to the grassy lawn before him. It would be a long walk home and he knew he needed the physical exertion if he had any chance of falling asleep tonight. Tomorrow he would make final notes to leave for Mr Sanderson. Then he would pack his things for his return to London. He didn't need to spend more time in Bath than was necessary.

He turned to his left to walk down the pavement along the Crescent, when the door to Clara's house suddenly opened and she hurried outside.

'Where are you going?' she asked, running up to him.

'I thought I would save us both the awkwardness of my saying goodbye, especially in a house full of your guests.'

'But you told us you could sing.'

'It's best if I go.'

'But I don't want you to. I want you to stay.'

How he wished she meant that. A thought flashed through his mind that he wished she wanted that for ever. 'There is no need to do this out of politeness, Clara. You know what I am now. I don't belong in there.'

'I determine who belongs in my home. Now come back inside with me.'

Was she going to make him explain it all to her? Did he have to tell her and see the look in her eyes when he did? When he didn't move, she placed her hands on her hips and raised her chin, looking like a warrior preparing for battle.

'You will leave then, before you and I have had a chance to talk about any of this or say our goodbyes…since it appears you are determined to go. I never took you for a man who walked away when life becomes difficult, but it appears I was wrong. If that truly is the type of man you are, then I do believe it is best that you leave. However, I have proper manners and will wish you Godspeed and not simply disappear.'

Her words made his blood run cold. He was not a man who walked away from his problems. He never was and never would be. As she spun around and stormed back to the house, his opportunity to let her know that was slipping away.

'I am not running away,' he insisted, catching up to her before she reached her door.

She stopped in her tracks and turned to him, vexation shone in her eyes. 'Then prove that to be true and talk to me.'

'You have guests. This is not a conversation fit for anyone else's ears but your own. I owe the Collingswoods no explanation of my origins.'

'Then talk to me,' she said, poking herself in the chest so hard it had to have hurt. 'Go in that house and talk to me. There are many places we can have a private discussion.'

If it didn't bother her that she was being negligent to her guests and hosting a bastard, then it damned well wasn't going to bother him. 'Fine. After you.' He tossed his hand towards her door and followed her inside.

The sound of voices travelled down the staircase, but she took him by the hand and practically dragged him into the parlour where they had started the evening. He watched her first close the door that led to the dining room, ensuring that any servants that were in there cleaning up did not have the opportunity to see or hear them. And then she marched passed him and closed the door they had just walked through. The fact she was leaning against it and had not offered him a seat was telling him what she thought of having him in her house.

He would make this brief. 'There is nothing for us to discuss,' he said, planting his feet firmly on the ground, not about to allow her to make him feel small for what he was.

'I beg to differ and I will stand in front of this door until we are finished so there is no possibility of you leaving.'

That was why she was standing there?

'I will not leave, but when I finish telling you all of it, you may wish you had let me go the first time.'

'Whatever it is that you need to tell me, I will listen. It is better that we have a clear understanding of each other than be cowards and slip away into the night without a word.'

Her words pierced his pride, but he could not deny she was right in what she said. 'I was trying to avoid creating a spectacle in front of your guests, a number of whom I am sure are grateful I left.'

'Do not concern yourself with my guests. That is my responsibility and I couldn't give a fig what any of them think right now. I thought we had come to mean something to each other. I thought we were friends. And then you leave like that without a word?'

'Clara, you're the granddaughter of a baron. Your husband was the brother of an earl. I grew up in a Foundling Hospital. Do you know what that makes me? Do you know what that means? I am not just an orphan whose parents have died. I am a bastard—a by-blow of some man who couldn't be bothered to marry my mother. Or was married already when he took her. The only children who are taken in by the Foundling Hospital are bastards. Don't you see? I don't even know on what day I was born or what my real name is—if I was even given one. I am not William Lane. It's the name the Hospital gave me when they took me in. For all I know, my mother didn't even give me a name. For all I know, she never bothered because she couldn't wait to give me away. So, you see, every day my name is a constant reminder that I was discarded and unwanted in the event I ever forget.'

She walked up to him and took his hand into her two delicate ones. The gesture held him in place when in truth he wished he was the type of man to run.

'Is that why you didn't want me to call you William?'

'There is no reason I should have two false names. One is a sufficient enough reminder.'

In her eyes, instead of pity, he saw compassion. Which one was worse he couldn't say, because right now instead of running he wanted to stay with her for ever. And that very thought scared the hell out of him.
Excerpts. © Reprinted by permission. All rights reserved.


Book Info:
She's played Cupid for others
Now she's met her own unlikely match!
Widowed society matchmaker Mrs. Clara Sommersby thinks self-made businessman William Lane is just the man for her neighbor's overlooked daughter. He's successful and confident, if emotionally distant, until suddenly—shockingly—his attention turns to Clara herself! She thought her days of romance were over, but is this younger man intent on giving her a second chance?
Book Links: Amazon | B& N | iTunes | Google |


Meet the Author: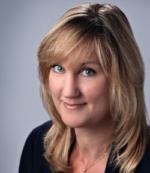 Laurie Benson is an award-winning, internationally published author who writes flirty and frisky Regency romances for divisions of Harper Collins. She began her writing career as an advertising copywriter, where she learned more than you could ever want to know about hot dogs and credit score reports. Now, she enjoys taking readers with her on romantic adventures. In 2017, her book AN UNEXPECTED COUNTESS was voted Harlequin's Hero of the Year by readers.
When she isn't at her laptop avoiding laundry, Laurie can be found browsing antique shops, going on ridiculously long hikes, or sitting in her car on the school pickup line. She lives with her husband and two sons in a house filled with testosterone—even her bunny is a boy.
Website | Facebook | Twitter |  Goodreads |