Today it is my pleasure to Welcome author
Karen Rose Smith
to HJ!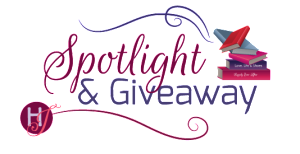 Hi Karen and welcome to HJ! We're so excited to chat with you about your new release, Murder With Oolong Tea!

Hi Everyone! It's so good to be here again to spotlight the release of Murder With Oolong Tea, the sixth book in my Daisy's Tea Garden Cozy Mystery series.

To start off, can you please tell us a little bit about this book?: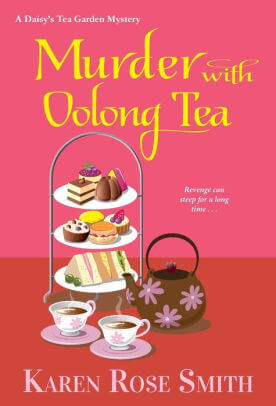 Murder With Oolong Tea spotlights an English teacher, a farm and secrets to keep. Add a touch of Shakespeare, and my sleuth Daisy finds herself in danger when she puts all the clues together to solve the teacher's murder.

Please share your favorite lines or quote(s) from this book:
"I know you can't forget what that woman said, but remember it was all about appearance. She wasn't saying anything about you as a person or what's in your heart, right?"

"If you can't trust me, then you have more than forgiveness to think about."
What inspired this book?
My former career as an English teacher
My love of Shakespeare
How brewing tea can bring people together
How did you 'get to know' your main characters? Did they ever surprise you?
Before I write a book, I put together the qualities I want in my main characters. Since I plot my books carefully from the start, my characters didn't really surprise me.
What was your favorite scene to write?
My favorite scene to write was the Children's Tea at Daisy's Tea Garden.
Snippet:
As the servers quickly set out tiered trays with tiny sandwiches, mini-cookies, and little whoopie pies, all her tea guests nibbled. When Gavin sang a silly song, making it up as he went, taking lines from those shouted out from the guests, everyone giggled and laughed. It was such a fun time that Daisy found herself forgetting about everything else for a change.

When Gavin motioned to her to join him, Daisy went to his side and sang along to "Twinkle, Twinkle Little Star." Soon he was making up a song about the planets and asked the kids for unusual names if they named their own planet.
What was the most difficult scene to write?
Daisy and her guy Jonas almost break up over something Daisy did.
Snippet:
He beat her to her office. It wasn't that he rushed, but his strides were longer. Today she wasn't sure she wanted to keep up. She wasn't sure if she wished she could veer off to the right into the kitchen instead of into her office. However, she was the one who had prompted this confrontation. She was the one who had forced this subject out in the open where Jonas and Zeke didn't want it.

He paced back and forth before he said anything, as if he was debating with himself about each of the words he might utter.

She closed the door.

"What were you thinking?" His voice was even but his green eyes blazed. She didn't think she'd ever seen Jonas this upset. Maybe she had done the wrong thing. Maybe interfering was the last action he'd expected from her. Maybe Detective Rappaport had been all wrong and she had no influence at all.
Would you say this book showcases your writing style or is it a departure for you?
This book showcases my writing style, combining mystery and romance.
What do you want people to take away from reading this book?
Trust and forgiveness are the most important qualities in a lasting relationship.
What are you currently working on? What other releases do you have planned?
I am currently working on book eight in my Daisy's Tea Garden series–Murder With Darjeeling Tea. My next release will be Murder With Orange Pekoe in September 2021.
Thanks for blogging at HJ!
Giveaway:

A $10 Amazon e-card
To enter Giveaway: Please complete the Rafflecopter form and Post a comment to this Q:

Do you prefer a romance with mystery or a mystery with romance?
Excerpt from Murder With Oolong Tea:
Hoping to soften Jonas's attitude, she took a step closer to him, took in the spicy scent of his after-shave, wanted to touch his jaw that was so set. But the look in his eyes made her heart practically stop. He was so offended, so resentful, so…betrayed. Now she took a step back too, knowing she couldn't approach him…she couldn't explain…she couldn't do anything but listen.
Still, she offered, "I never intended to upset you like this. I never intended to break your trust in me." Her voice caught on the last word, and she felt as if she couldn't swallow.

He had to see how much she cared about him. He had to see in her eyes that she loved him. He had to see that she was only trying to make things better.

Apparently he didn't. After another long look at her, he shook his head and then left her office. She wanted to run after him. She wanted to say she was sorry. Hadn't she said that? She should have.

As he strode through the tearoom then out the door, she sagged against the doorframe to her office trying to breathe in a gulp of air…trying not to cry.

Just what had she done?
Excerpt. © Reprinted by permission. All rights reserved.


Book Info:
In bestselling author Karen Rose Smith's sixth delightfully devious Daisy's Tea Garden Mystery, Pennsylvania Amish country's favorite tea house proprietor, Daisy Swanson, finds herself going back to school expecting to serve tea–only to get a crash course in criminal justice!
The faculty of Willow Creek High School are having a get-together after the spring concert with refreshments provided, courtesy of Daisy's Tea Garden. Oolong tea and chocolate biscuits are just what the staff needs to help them unwind from Althea Higgins' demanding curriculum. Her lessons on such controversial subjects as school uniforms and under qualified substitute teachers are earning her an F from her colleagues.
But a failing grade was preferable to Althea falling victim to foul play. Daisy was there when her body was discovered in the school swimming pool, murdered by strangulation. Althea was certainly a strict, opinionated taskmaster, unliked by both teachers and students, but would any of them actually want to kill her? As Daisy starts asking questions, she gets a real education in Althea's history, discovering more than enough enemies with more than enough motives to cancel her classes permanently…
Book Links: Amazon | B&N | iTunes | Kobo | Google |


Meet the Author:
Hi! I'm Karen Rose Smith. I write mystery, romance and women's fiction. MURDER WITH OOLONG TEA is my 105th novel. Besides writing, my passion is caring for our seven rescued cats. An only child, I delved into books at an early age. I learned about kindred spirits from Anne of Green Gables, solved mysteries with Nancy Drew, and wished I could have been the rider on The Black Stallion. Yet even though I escaped often into story worlds, I had many aunts, uncles and cousins around me on weekends. My sense of family and relationships began there. Maybe that's why families are a strong theme in my novels, whether mysteries or romance. One of the highlights of my career was to see my romance turned into a movie—A Very Country Christmas—that is available on the UPTV network and Netflix this season. Readers often ask me about my pastimes. I have herb, flower and vegetable gardens that help me relax. In the winter, I cook rather than garden! And year round I spend most of my time with my husband, as well as my cats who are my constant companions. They chase rainbows from sun catchers, reminding me life isn't all about work, awards and bestseller lists. Everyone needs that rainbow to chase.
Website | Facebook | Twitter | Instagram | GoodReads |