Scandal in the VIP Suite by Nadine Gonzalez is the first in her Miami Famous series and features a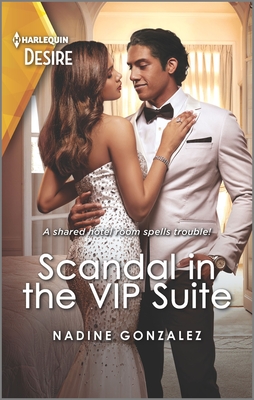 writer and Hollywood bad boy who end up in the same suite at a luxury hotel and turn their experience into a permanent arrangement.
Nina Taylor is honoring her late mother's wish by staying at Miami's Sand Castle resort's top floor suite, a place her mother had always dreamed of staying and never got the chance. Nina is hoping that staying there will help break her writer's block. But there's a snag when it turns out that the room has been given to a more important guest, Hollywood actor Julian Leroy 'JL' Knight.
Because of the last minute change, Nina's valet brings her to her original room and she's not about to correct him. Thus Julian finds Nina taking a selfie in the infamous bedroom of the suite. When Julian finds out that the hotel management has kicked Nina out of the room so he could have it and that the room she was supposed to get instead is also rented out, he proposes a compromise – they could share the suite. After all, there is enough room for them both. And when Julian finds out that Nina is a writer, he wonders if she can help him in return. He's trying to rehabilitate his image with a new film that he wants to produce and he needs help with the screenplay. Nina agrees and what starts out as a working relationship leads to a steamy affair. But when intimate details of their lives turn up in the tabloids, will they weather the scandal or call it quits?
I loved this story! The setting is well described, the opulence and sunny tropical locale of Miami's Ocean Drive and the boutique Sand Castle hotel sound inviting and luxurious. Nina is most famous for a memoir she wrote of her experience growing up with a famous mother through entries in her diaries and to this day she still records her daily life in journals. Although she'd thought of making another book from her writings, the idea of writing a screenplay and getting a different kind of recognition is appealing.
Julian is well known for the role he played in a TV series as a paramedic and then as an action star but his career has been on the rocks lately with the way his characters interact with women and after a very public split with his last girlfriend. He's still followed around by the paparazzi of course, and when they spot him and Nina together it causes a stir. I really enjoyed how they met, how their relationship both professionally and personally progresses and how Julian is able to turn around his reputation with Nina's advice and help. I thought the backstage view of an actor's life was also interesting. Of course, there are some bumps on the road to their happy ending, but it all ends in a very satisfying way. I'm looking forward to reading more from this author!

Book Info:

Publication: Jan 01, 2021 | Harlequin Desire | Miami Famous #1
Two strangers. One bed.
And a kiss as scorching as the Miami heat!
When Nina Taylor peeks into the luxury hotel suite that should have been hers, she's caught by the room's occupant, Julian Knight. The Hollywood bad boy quickly offers a compromise: why not share? Soon, the paparazzi is jumping to scandalous conclusions–and Julian and Nina share an incredible kiss. Good thing they're only booked for a week…because, boy, is she in trouble!