Today, HJ is pleased to share with you

Julie Moffett's

new release: 

No Questions Asked

One last fling (with danger) before the ring? Nothing's that simple when you're a geek girl. Julie Moffett's beloved Lexi Carmichael mystery series returns with No Questions Asked.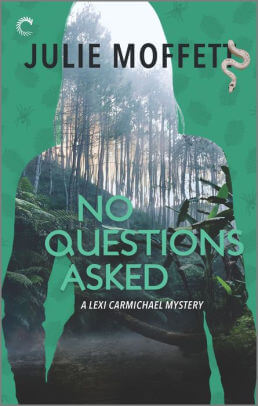 Lexi Carmichael: saving scientists one snake at a time.

Weddings aren't my thing—never have been. But eloping would break my mother's heart, especially since the president of the United States put in a good word for me with his daughter's wedding planner. I'm going to have the wedding of the year…whether I like it or not.

Before we can say I do, Slash and I are flying off to the Brazilian rain forest. Our mission: stop hackers from stealing a vaccine that could save millions of lives. I thought it'd be easy, but from the moment we step off the plane, I'm up to my neck in trouble.

After an attack by drug-runners, being kidnapped and discovering that the bad guy is even worse than we'd imagined, I'm pretty sure someone in our group is working for the enemy. And they're succeeding. I'll have to use all my geek skills to stop the bad guys if I'm going to make it home in time to tie that knot.

And don't miss the rest of Julie Moffett's Lexi Carmichael Mysteries, available now from Carina Press: No Stone Unturned, No One Lives Twice, No One to Trust, No Money Down, No Place Like Rome, No Biz Like Showbiz, No Test for the Wicked, No Woman Left Behind, No Room for Error, No Strings Attached, No Living Soul and No Regrets.
Enjoy an exclusive excerpt from No Questions Asked 
Lexi
There's been a long-running debate in Geekdom as to the geekiest president of the United States. Is it Abraham Lincoln, known for his tall, gangly appearance and awkward social skills, yet possessing a brilliant mind and the ability to sway people to his point of view? Or perhaps John Quincy Adams, whose legal theories and philosophical musings are so complex that scholars today are still trying to figure them out. Others say it should be Woodrow Wilson, the only president to have ever earned a doctorate. My fiancé, Slash, however, insists the significance of Thomas Jefferson's scientific and agricul¬tural discoveries make him the geekiest.
In my opinion, it's definitely Lincoln. I mean, the guy had an eidetic memory, giving him instant recall on a huge number of facts, and he also managed to keep the country together during a civil war. Plus, we tall, gangly people with photographic memories and awkward social skills have to stick together. So, it's unfortunate that Slash refuses to be brought around to my point of view. It's turned out to be such an intense debate between us—two geeks arguing about presidential geeks—that
it's already resulted in a twenty-four-hour cooling-off period where we barely spoke to each other.
It may seem like a strange argument, but we can be stubborn, and perhaps a bit obsessive, when it comes to our beliefs. It's a geek thing.
My name is Lexi Carmichael and I'm a twenty-six-year-old woman working in the largely male-dominated field of information technology. I'm a former employee of the National Security Agency, but now work for a pri¬vate, cutting-edge cyber-intelligence firm called X-Corp in the suburbs of Washington, D.C. I double-majored in mathematics and computer science at Georgetown Uni¬versity with a specialty in cybersecurity. I'm a hacker, gamer, coder, book nerd and fangirl. I'm in love with a man who's a seriously good-looking Italian-American, a hacking wizard, and all-around good guy despite his misguided belief that Thomas Jefferson is the geekiest president. It's something I'm willing to overlook because other than that, he's been a great boyfriend, and his Ital¬ian grandmother, Nonna, is the best cook I've ever met. That combination ensures I'll be both happy and well fed for the rest of my life. How could anyone pass that up?
I had the memory of our fight over U.S. presidents on my mind because at that moment I was sitting in the back of an official government limousine with Slash, head¬ing for the White House and a private meeting with the current U.S. president. We'd been summoned unexpect¬edly, and I had no idea why. It wasn't unusual for Slash, who's the current Director of the Information Assurance Directorate at the NSA, to be summoned. But why had the president specifically asked for me to be included?
"I just don't get it," I muttered to Slash. "Why do I have to be there?" He glanced down, to where my fingers tapped on an imaginary keyboard. It was a nervous, reflexive gesture. I hated surprises almost as much as I hated meeting people, even if they were the president of the United States.
"I've already told you, cara," Slash said patiently. "I don't know why he asked specifically for you. We'll find out soon enough."
I stared at him, wondering if he knew but wasn't telling me because we weren't in a secure location. He seemed calm while he looked out the window, but I knew he was expertly scanning the traffic and environment.
When it comes to us, there are always ever-present threats.
I used to be an ordinary geek girl who worked at the NSA, liked crossword puzzles, chocolate eclairs, Doctor Who, and living my life online. But a series of events and people over the past year had changed all that. I made friends, found a new life outside my virtual one, got a boyfriend and then got engaged, saved the world a couple of times, and became tight with a little black cloud of trouble that wouldn't seem to leave me alone. A summons from the president seemed ominous. Frankly, Slash and I needed a break from ominous.
After going through several security checkpoints, and having our IDs and retinas scanned and finger¬prints logged, we were ushered inside to an internal se¬curity area where a guard checked our identification yet again and asked us to sign in on an electronic pad. A Secret Service agent led us through the halls of the White House, past more static agents, and through a couple of biometrically guarded entrances until we were ushered into the Oval Office.
It was pretty cool to walk into America's center of power. I took a minute to marvel at the furniture, the heavy velvet curtains, the presidential rug, and the detailed, historic paintings, making sure I could recount every detail to my friends, Basia, Elvis, Xavier and Finn when they asked me about it later.
President Jack Paulson rose from behind his desk and came to greet us. General Norton, who was sitting in a visitor chair, also stood. Both men were smiling and seemed completely at ease. In fact, everyone looked so happy, it immediately made me suspicious. I'd never been to the Oval Office before, but somehow I'd expected it to be a somber occasion if I were ever invited—exactly the opposite of the vibe I was getting. Not that I was good at getting vibes, but even Slash seemed puzzled by their upbeat demeanor.
"Slash, Miss Carmichael, thank you both for coming." The president shook our hands firmly, making eye contact and ensuring we felt as if we were the most im¬portant people in the world.
The president was obviously good at making people feel at ease in his presence—not surprising since he was a politician—but today his blue eyes were sparkling with good humor. While I wasn't a people person by any stretch of the imagination, his favorable mood seemed genuine, which baffled me even more.
"I appreciate you taking time out of your busy schedules to meet with me," he said.
Right. Like we were busy in comparison to the pres¬ident of the United States. However, I appreciated he was trying to put us at ease. He ushered us to a set of chairs near General Norton, who also shook hands with us. Slash and I sat and waited to see what would unfold.
President Paulson pulled a chair over, joining us. He sat back, crossing his legs and putting his hands on the armrests. I'd never been this close to him. I could see the gray streaks running through his hair, something that was hard to distinguish on television. But no question, he was just as handsome in person as he was on television.
"I'm sure you're both wondering why I've asked you here," he said, spreading his hands. "I recently had a conversation with the pope and your names came up."
Excerpt. ©Julie Moffett. Posted by arrangement with the publisher. All rights reserved.
Giveaway:

One (1) ebook copy of NO QUESTIONS ASKED by Julie Moffett (open internationally)
To enter Giveaway: Please complete the Rafflecopter form and post a comment to this Q:

What did you think of the excerpt spotlighted here? Leave a comment with your thoughts on the book…
Meet the Author:
Julie Moffett is a bestselling author and writes in the genres of mystery, young adult, historical romance and paranormal romance. She has won numerous awards, including the 2015 Award of Excellence, 2014 Mystery & Mayhem Award for Best YA/New Adult Mystery, the prestigious 2014 HOLT Award for Best Novel with Romantic Elements, a HOLT Merit Award for Best Novel by a Virginia Author, the 2016 Award of Excellence, a PRISM Award for Best Romantic Time-Travel AND Best of the Best Paranormal Books of 2002, and the 2011 EPIC Award for Best Action/Adventure Novel. She has also garnered additional nominations for the Bookseller's Best Award, the Daphne du Maurier Award and the Gayle Wilson Award of Excellence. Her book A Double-Edged Blade was an Amazon #1 Best-Selling Novel.
Julie is a military brat (Air Force) and has traveled extensively. Her more exciting exploits include attending high school in Okinawa, Japan; backpacking around Europe and Scandinavia for several months; a year-long college graduate study in Warsaw, Poland; and a wonderful trip to Scotland and Ireland where she fell in love with castles, kilts and brogues.
Julie has a B.A. in Political Science and Russian Language from Colorado College, a M.A. in International Affairs from The George Washington University in Washington, D.C. and an M.Ed from Liberty University. She has worked as a proposal writer, journalist, teacher, librarian and researcher. Julie speaks Russian and Polish and has two sons.

Connect with Julie
Website: https://www.juliemoffett.com/index.html
Facebook: https://www.facebook.com/JulieMoffettAuthor
Twitter: https://twitter.com/JMoffettAuthor
Instagram: https://instagram.com/julie_moffett/
Goodreads: https://www.goodreads.com/author/show/190485.Julie_Moffett

Buy Links
Amazon: https://www.amazon.com/dp/1335500065
B&N: https://www.barnesandnoble.com/w/no-questions-asked-julie-moffett/1133500059
iTunes: https://books.apple.com/us/book/no-questions-asked/id1479851141
Kobo: https://www.kobo.com/us/en/ebook/no-questions-asked-10
Google: https://play.google.com/store/books/details/Julie_Moffett_No_Questions_Asked?id=ICKvDwAAQBAJ