Today it is my pleasure to Welcome author
Tabitha Webb
to HJ!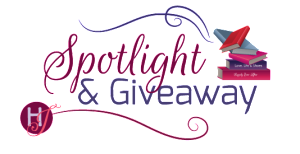 Hi Tabitha and welcome to HJ! We're so excited to chat with you about your new release, No Regrets!
Please summarize the book for the readers here: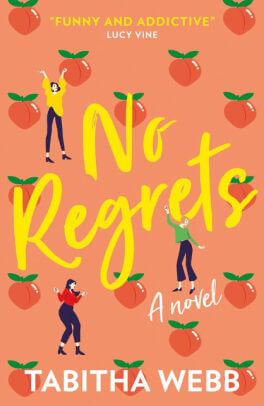 First of all I think I should admit the book is quite naughty. I have been practicing writing sex scenes since I was a teenager which has finally proved to be useful! The story follows Stella, Ana and Dixie, three best friends in their forties who need a serious love life shake up. Stella loves her kids but can't remember the last time she had sex. Ana is gutted to have let the best sex of her life get away, despite the fact he was definitely a player, and Dixie has reset her Tinder age again in the hope of a dating life spring clean, even though has no interest in getting attached.
The women are all at different stages in their lives, juggling careers and kids, and they are all about to find out that life doesn't stop in your forties – in fact it's only just begun. I hope you will find it fresh, fearless and hilariously honest. The fact is, you should never ever settle for second best.

Please share the opening lines of this book:
'Shit! Shit!' Stella cursed under her breath as she struggled to wrangle her two-year-old, Rory, into the lurid orange foldaway seat of the supermarket trolley. One of his legs was wrapped over the handle and a pudgy arm was trapped beneath; a second arm was caught in the brake handle; a second leg was wedged into the seat mechanism. There seemed to be a final additional limb she couldn't account for; in it he gripped a long-melted and now leaking bag of gold chocolate coins.
Please share a few Fun facts about this book…
I had wanted to call the book No Regrets from day one, as it is a motto I live my life by, so I was incredibly relieved when the publishers said it was available to use. I have always aimed to live my life to the fullest, saying yes to everything and figuring out how to do it later, and I wanted all three of my leading ladies to live the same way, so it just seemed the perfect title.
I have a total passion for country music and hot country stars (!) so that was definitely part of the inspiration for Joel. In my head he really is very attractive – I think part of the fun of writing is creating your dream men! I often had bluegrass music playing in the background as I wrote, as well as of course Dolly Parton and Kenny Rogers, the music my father always played in the car when I was growing up.
I definitely fell in love with Freddie while I was writing the book too. As did a lot of my friends! The charming, clever and unexpected one we all hope we will find one day!
I grew up in Chicago, and spent many of my teenage years in Florida, so it was really important to me to have the American influence in there. I knew from the start I wanted to weave America into the story line somehow, as I consider both the UK and America home. I did have Miami in the storyline as well as New York in the first draft, but it was scrapped along the way.
I always write in the morning, and in my dreams I sat peacefully in the garden sipping the perfect flat white while I wrote thousands of words. That literally never happened.
I had massive white boards all over my house with my story boards and research on them. While we were away on holiday my father house sat for us, and I had left out one of the boards with a lot of the sexual research on it….he has been totally traumatized ever since and refused to read the book
My biggest influence? Well it has to be Jilly Cooper. What a legend!
All of my female friends think one of the characters is based on them – this is totally not true, but in my head all three of the characters are a mixture of five of my closest friends, and myself. But I will never admit that to them!
Please tell us a little about the characters in your book. As you wrote your protagonist was there anything about them that surprised you?
No Regrets has three protagonists, and I think the thing that surprised me the most is how much I missed them once I had finished writing the book. I had got to know them all so well, I loved them, I wanted to hang out with them! As their characters developed, they all took slightly different journeys to what I had planned for them, but that is the wonder of writing – you never know quite where you are going to end up.
If your book was optioned for a movie, what scene would you use for the audition of the main characters and why?
I think it would have to be the scene in New York where the three girls turn up for a yoga class, feeling a mixture of hungover, anxious and over excited. Xavier, 'a gift from the gods' with 'linen trousers wafting in the wind', arrives to teach them sending each one of them into a frenzy of hysteria and sexual excitement. I loved writing this scene and it often made me laugh out loud – I wish it was a scene from a movie! It's a scene that clearly illustrates all the girls' personalities, with Dixie wondering if she can remain faithful, Stella flirting outrageously, and Ana the only one behaving even slightly like a grown up. It would be the perfect way to cast the girls.
What do you want people to take away from reading this book?
That anything is possible and it is never too late to take a risk. So often people worry about taking a chance in case they fail, but I want them to walk away from this book and say hell yes, I am going to take that risk because if it pays off it might be the best thing I have ever done! Life is short and we all deserve to be happy, and none of us want to have regrets. Follow your heart – life is way too precious to waste it on simply living. You need to go where life takes you, and by saying yes, it's a great way to start a new adventure.
What are you currently working on? What other releases do you have planned?
I am currently working on my second novel which is all about a hot farmer and a girl who moves out of the city to take on country life. I am really loving the writing process it as it is such an escape from the challenges we all face at the moment – I even took myself off to a tractor ploughing competition the other day! One of the things my husband finds so annoying about my writing habits is that I make myself laugh a lot, but I think one of the greatest pleasures in life is laughing at your own jokes. Who doesn't enjoy losing themselves in a fantasy world of romance and sex whenever they can?

Thanks for blogging at HJ!
Giveaway:

3 Finished copies of No Regrets (US only)
To enter Giveaway: Please complete the Rafflecopter form and Post a comment to this Q:

Do you think you let the love of your life get away, and if so, do you regret it?
Excerpt from No Regrets:
Rory was sitting upright in the Victorian bath, naked. She'd removed his clothes, showered and dried him and left him sitting there. It was literally the only safe space in the house. He could neither escape nor cause havoc. But he was not happy and he scowled as he watched her wet-wipe her face, arms and most of the brown graffiti from the front of her Pineapple sweatshirt. (Olivia was not the only victim of his chocolatey two-year-old wandering hands.) She tried to make her hair behave, primped, flatten, teased, but the humidity and infrequency of conditioning limited her ability to control it. Her phone rang – Number Withheld – but she knew who it was.
'God damn you people, can't you leave a message?'
Leaning closer to the mirror, she plucked a single black hair that persistently re-appeared on her cheek. It was thicker than any hair she'd ever seen and reappeared overnight every two weeks. She was certain that each time it surfaced, it was a little stiffer, a little broader. Like her. It used to be funny, but Jake didn't laugh much any more. Neither of them did. A ping from her phone told her there was another voicemail. How could this Barclaycard problem be connected to Jake's extended absences, sullenness and quick temper? Or his unwillingness to discuss a vacation and his insistence that she didn't need a nanny anymore? He was a partner in a law firm, not a very big one, but a partner, and their mortgage was big, but not unmanageable. She wanted a nanny. A nanny like Coco, who could mesmerise her volatile little terror, who had hair that shone like a gemstone, and skin that smelled of the tropics.
A nanny who could fold herself in half without slipping a disc.
She deserved it, didn't she?
'Do I?' she asked the mirror. 'Am I worth it?'
She doubted herself.
The phone rang again.
'What?' she spat. It was Jake.
'Love you too, babe.'
'Sorry. I'm having an existential crisis. Listen, Barclaycard keep calling. Do you know—'
'Barclaycard. Oh that. Yes, of course. Don't worry, I'll sort it out.'
'Good, but I can—'
'Don't… I'll call them, OK? But, yes, the reason I called. New client. Late night. Etc etc. I'm sorry, babe. Not my call. Got it?'
'You utter shit. Again? Didn't we agree to have Jenny and Tim around for a drink? Actually, not we, didn't you? When you spent the whole of Sunday afternoon cleaning the useless motorbike you never ride?'
'I know. I'm sorry. There's how I wish things were and how they are, and I have to be here. I'll make it up to you. We can watch The X Factor together on Friday night. The whole show. Without interruption, mockery or general disparagement.'
'Not possible. You hate The X Factor.'
'I promise. Not a bad word. Concentrated silence and focused attention.'
'You'll control the kids?'
'I'll even control the kids.'
'OK. But I might cancel Jenny and Tim. They're our neighbours not our friends. I've enough friends.' Stuck into the side of the mirror she had a framed photo of Dixie and Ana posing ridiculously as if applying make-up. Now that had been a fun night. 'I don't want any more, especially hangers-on. All that Jenny wants to do is social climb. She's convinced I'm some kind of conduit to celebrities. I was a fashion journalist, not a society hostess. I was—'
'I know. I'm sorry. I'll be home late. And I'll call Barclaycard. I'll deal with it.' And he was gone.
A spiralling conviction grew within her that something wasn't right. Jake hated The X Factor. He hated all reality TV. He called it a virus. Whatever she tried to watch, he wrecked with smart-arse comments and satirical impersonations. It was impossible to enjoy TV with him around. She regretted being bought off with the offer to share something Jake could only destroy. Marriage was a mystery, she thought. You fall in love with someone for all their differences and then you come to despise those same idiosyncrasies. It was a freaking paradox.
Excerpt. © Reprinted by permission. All rights reserved.


Book Info:
For fans of Bridget Jones, Sex and the City and Dawn O'Porter!
Best friends Stella, Ana and Dixie have always lived life to the full. But now they're approaching their forties, reality is starting to kill the mood…
Stella loves her children, but misses her glittering career. Plus she can't even remember the last time she had sex.
Ana is trying for a baby with her partner Rex. So why can't she stop thinking about the one that got away?
Dixie is the wildest of them all. A Tinder addict who'll never settle down. But has she accidentally found Mr Right…?
It's time for the friends to shake things up and start having some fun. Because you only regret the things you don't do, right?
Book Links: Amazon | B&N | iTunes | Kobo | Google |


Meet the Author:
Tabitha Webb was born in Ireland and grew up in Chicago, before being sent back to boarding school for her teenage years. She survived one term at university before packing her bags and chasing a hot surfer to America. During this period she was a rollerblading extra in the Robin Williams film The Birdcage, a dancer in a German pop video, and got held up at gunpoint.
After careers in TV and advertising, she made her first foray into fashion and now runs her eponymous fashion label, is happily married to a patient South African man and has two daughters.
Tabitha is loyal, outspoken, and completely fascinated by other people's lives. Her debut novel No Regrets was inspired by the love lives of women around the globe, coupled with a vivid imagination, and she can't wait to shock and delight readers everywhere.
Website | Facebook | Twitter | Instagram | GoodReads |