Matchmaker and the Manhattan Millionaire by Cara Colter: Krissy Clark is devastated when her beloved aunt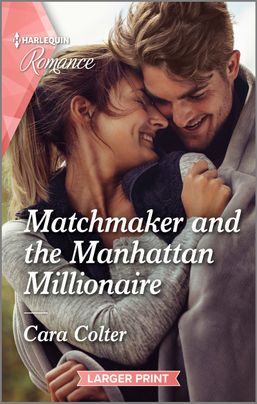 dies. Her aunt had been her safe harbor from the "war zone" of her immediate family. Her aunt had a business called Match Made In Heaven and Krissy is trying to get in touch with clients to tell them the sad news and refund any fees they had paid. She is very scared when she is at the business late one night and there is pounding on the door. Despite her fear, she decides to open the door.
Jonas Boyden is there and claims he had a 10PM appointment. Callie tries to tell him she can't help him and will give his money back. He says he was promised a fake mate/fiance' for his upcoming huge family reunion. Jonas finally convinces Krissy that she will be able to fool his family and he can win a bet so he can keep his classic car.
They have some fun getting to know you times together and Jason even buys Krissy a lovely engagement ring to seal the deal with his family. As the two of them become closer, will they be able to walk away after the family weekend?
Krissy is not the sort to do things out of her comfort zone. Her background has her wanting a quiet life. You can truly feel her grief at her loss. It seems she doesn't want to let herself have fun and just let loose. Jonas helps her look at life differently. I liked how Krissy's aunt described Jonas's previous dating life as going out with bimbos. Even with all his money he needed help finding an acceptable fiance'. It looked like Krissy and Jonas were destined to be matched, even before the aunt's death.
I loved Jonas' loving, rambunctious family. Even if you don't have one like that, it makes you wish you did. When the outside world is harsh, it's good to have such deep love. You have to love Jonas' sister who accepted Krissy completely from the start.
Matchmaker and the Manhattan Millionaire is a heartfelt tale that is sure to engage you from the beginning.
Book Info:

Publication: March 1, 2021 | Harlequin Romance |
Bride for the weekend
Or a forever vow?
Committed bachelor Jonas Boyden needs a temporary fiancée to fool his family—fast! Turning to matchmaking business owner Krissy Clark fits the bill perfectly. After he entices buttoned-up Krissy out of her comfort zone, she agrees to wear his ring for the weekend. But as Jonas spends time with her, his feelings blur from make-believe to something more. Will he be tempted to say "I do"…for real?