Today, HJ is pleased to share with you

Therese Beharrie's

new release: 

One Last Chance

Of all the charity events in all of Cape Town, Zoey Roux had to bump into her husband at this one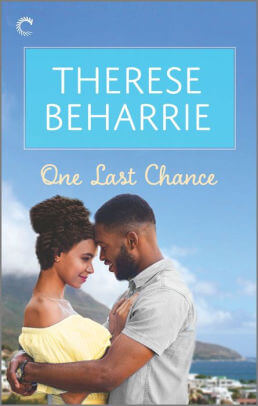 Six years ago, Zoey Roux secretly married her best friend Sawyer. But all that did was destroy the best relationship she's ever had. They went their separate ways, but Zoey never could go through with a divorce. Seeing him again at her sister's charity event is a shock, but also enlightening: no matter how much she still loves him, it's time to let him go.
Zoey was Sawyer Wilson's first love. She broke his heart, but his feelings never died. Love was never their issue—only timing. Seeing her again is a shock: in a perfect world, she would run back into his arms. Instead, she's asking for a divorce.
But a lot can happen in twenty-four hours: old wounds can heal, first loves can be reunited. And a second chance might just lead to happily ever after.
Enjoy an exclusive excerpt from One Last Chance 
This was even better than his fantasies.
He'd never admit it out loud, but he'd thought about kissing Zoey for as long as he could remember. Of course, he knew what it was like to have her lips on his. They'd shared polite kisses before. On cheeks after a long period of not seeing one another. On lips when Zoey got overexcited and smacked hers against his.
There was only one time those kisses had felt like more than what they were. It had been during their first year at university, at a party where someone had asked about their relationship. They were both used to that—had been plagued by questions of what was really happening between them since forever—but that night, their acquaintances had refused to believe it. Zoey had kissed him to prove that there was nothing going on.
There was a moment there, as she pulled away, that their eyes met and he thought she felt something. But then she'd gone on as if nothing happened. People had got bored by their lack of passion and moved on. So had they.
Until now. This kiss was definitely more.
When her lips touched his, he felt as if he were sinking into his bed after a long day. Her mouth was soft, familiar, comforting. But the movement of it spoke of other things done in bed after a long day. Heat, passion, desire. And all of it for him. From Zoey.
She gave a breathy moan into his mouth, and his hands tightened at the start of her hips. At first, he settled them there to steady her. She pressed against his body so fast he hadn't had a moment to think. Not until she looked into his eyes, lifted to her tiptoes, and asked the question he'd fantasised about for years. Now, his hands felt the plush flesh there. His fingers pressed into it, and he was rewarded with another tiny moan. It made him wonder if he was thinking too much during this kiss. And since he was wondering that, he figured he was and gave the reins to his instincts.
The first thing he did was pull Zoey closer. One arm encircled her waist, the other dipped to her butt. He left them there as he deepened the kiss, giving in to the urgency of tasting her. Of answering questions he'd had for much too long.
Yes, she tasted as sweet as he'd always imagined.
Yes, her lips felt like they'd been designed for kissing.
Yes, her tongue was as wicked in his mouth as it was when she spoke.
Yes, she wanted him, too.
He could tell by the way her hands roamed his body. He'd think she was marking him if he weren't already hers. Every laugh she'd given to one of the jokes he'd made for the sole purpose of entertaining her coated his skin. Every tear she'd cried because she was overwhelmed or heartbroken or grieving seared his heart. Now, every stroke of her tongue disarmed him. The defences he'd built to keep his feelings from stumbling out in front of her, pleading her to feel the same, crumbled. The fear of it almost overwhelmed him. Would have, if he didn't have her mouth against his, her hands on his body, his hands on hers.
If this was all he had, he would use it. The hand on her butt tightened, lowered until he could cup her, pressing her against the evidence of what he felt for her. She gasped, but didn't stop kissing him. Instead, she plastered her body against his even more. She pulled at his shirt. As soon as it was out of his pants, she slipped her hands beneath the material to touch his skin.
'Have these also been here?' she asked, her husky voice adding another layer of desire to the spell that surrounded them.
My muscles?' He chuckled when she nodded. Hissed when she gently scraped her nails over his abs. 'I believe so.'
'Impossible,' she purred. Her hands still caressed his skin. 'Surely I would have noticed.'
'You haven't,' he replied softly. She stilled. He brushed her forehead, her cheek with a kiss. Ran a thumb over her lips. 'But that's okay. You've noticed now.'
'I have,' she said, her eyes shining up at him. She leaned up, pressed a kiss to his neck, right where his pulse throbbed so erratically. 'I suppose we'll have to make up for lost time now.'
Excerpt. ©Therese Beharrie. Posted by arrangement with the publisher. All rights reserved.


Giveaway:

1 eBook copy of ONE LAST CHANCE by Therese Beharrie (open internationally)
To enter Giveaway: Please complete the Rafflecopter form and post a comment to this Q:

What did you think of the excerpt spotlighted here? Leave a comment with your thoughts on the book…
Meet the Author:
Being an author has always been Therese's dream. But it was only when the corporate world loomed during her final year at university that she realised how soon she wanted that dream to become a reality. So she got serious about her writing, entered the Harlequin So You Think You Can Write competition and got the attention of an editor. Now she writes books she wants to see in the world featuring people who look like her for a living. When she's not writing, she's spending time with her husband and dogs in Cape Town, South Africa.
You can find her on Twitter, Facebook, Instagram, and Bookbub, or catch up with her on her writing blog. You can also learn more about her in interviews featured on: Tygerburger, CapeTalk, and TimesLive.
She publishes with Harlequin Romance and Carina Press, and is represented by Courtney Miller-Callihan at Handspun Literary.
Connect with Therese Beharrie
Website: https://theresebeharrie.com/
Facebook: https://www.facebook.com/theresebeharrie/
Twitter: https://twitter.com/ThereseBeharrie/
Instagram: https://www.instagram.com/theresebeharrie/
Goodreads: https://www.goodreads.com/author/show/15524274.Therese_Beharrie

Buy ONE LAST CHANCE by Therese Beharrie
Amazon: https://www.amazon.com/dp/B07WN89N6C
B&N: https://www.barnesandnoble.com/w/one-last-chance-therese-beharrie/1133009435
iTunes: https://books.apple.com/us/book/one-last-chance/id1476929069
Kobo: https://www.kobo.com/us/en/ebook/one-last-chance-18
Google: https://play.google.com/store/books/details/Therese_Beharrie_One_Last_Chance?id=lNOpDwAAQBAJ