In One Eighty (Westover Prep #1) by Marie James, Piper Schofield's life has been made miserable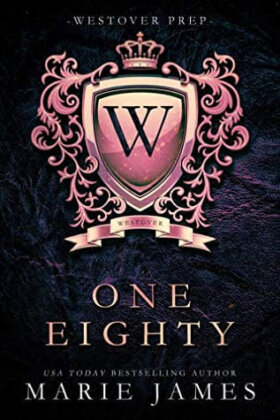 thanks to her neighbor Dalton Payne. One of the meanest, most vindictive bullies you could imagine, he loves nothing more than to torment her–even getting his numerous friends in on it. But one night changes everything. After a horrifying accident, Dalton loses his memories, to the point that he doesn't even remember Piper. Or his friends. Starting over with basically a clean slate, he doesn't understand why Piper is so afraid of him. And she doesn't know what to do with a kind, charming, almost gentle Dalton. As their complicated situation pushes them together, their attraction increases to where they cannot deny it any longer. But can a former bully and his unfortunate target reconcile–and possibly even fall in love?
'Trusting him or even believing that he has changed will only make things ten times worse when he reverts right back to the old Dalton.'
Wow. My head is still reeling after the ups and downs and complete personality turnaround we witnessed in One Eighty. Marie James took a "bully" romance and turned it on its head completely, making me sincerely like the former bad guy so much that I was cheering him on. An impressive feat to say the least.
"It's impossible knowing that I love her, knowing that she's meant for me, and I ruined everything in a past I can't even remember."
Trigger Warning: View Spoiler »Bullying, self-harm, infidelity. « Hide Spoiler
I'm pretty sure some readers might not be able to get past the first few chapters of this story, based on our hero Dalton's actions. He was, well…not a nice guy, to put it mildly. Even though there was a glimmer of an okay person while seeing things from his POV before the accident, he was still so harsh to our heroine Piper that it really did make me wary of giving him a chance. After the accident, though? That's where author Marie James worked her magic, because Dalton went from basically being evil incarnate to the perfect, likable hero.
I don't want to give too many details away about what happened right before, during, or after the accident as that's where all the drama stemmed from and what kept me on my toes. And I will admit that I got so swept away that it all truly had me feeling like an anxious ball of nerves waiting to see how Piper and Dalton would ever resolve their issues.
It was such an interesting idea, to see if Piper could forgive her almost life-long bully and base her decisions on the man Dalton became after the accident. I think Marie James delivered on that concept wonderfully. And I loved the personal growth *both* characters showed. Not just Dalton, who we expected to change based on losing his memory of his former self, but Piper also learned to stand up for herself and began to understand her own self-worth. Where this is the first book in the series, it did leave off at a HFN-type ending, but there were still a few things left up in the air for Piper and Dalton. I have a feeling we'll see a lot more of them in Catch Twenty-Two, which is Piper's BFF Frankie's book. Should be fun!
Note: One Eighty is considered a Young Adult novel but to me it reads like New Adult (late teens & up) as there was a fair amount of cursing and some explicitly detailed sexual situations.
One Eighty was an angsty, dramatic, thought-provoking story that took this reader on a wild ride and didn't let go. Full of emotional depth and a unique premise, this was one crazy-good start to the Westover Prep series.
Book Info:

Publication: Published February 10th 2020 | MJB Publishing | Westover Prep #1
He loves what he can't remember —she can't forget the truth…
PIPER
Arrogant, controlling, and an absolute jerk.
He's everything I loathe, and everything I want to forget.
But he doesn't remember a bit of it.
One accident, one misstep, changed everything.
Changed him.
Now, he's different and unbelievably sexy.
But I refuse to fall for a bully.
DALTON
Sexy, smart, feisty, and perfect.
She's everything I want, and nothing that I remember.
What she says I am, I refuse to believe.
For her, I will be anything.
I will do anything.
Even destroy the bully from before.
A standalone enemies-to-lovers romance.