Today, HJ is pleased to share with you

Marie Force's

new release: 

One Year Home

He came home a hero and lost the only woman he's ever loved…

John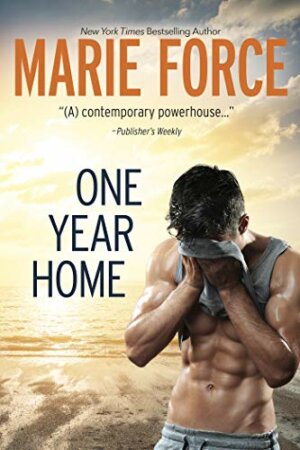 I have no idea how to survive without my beloved Ava. She had no choice but to move on with her life during my six-year deployment and has now married Eric. I hate him for taking her from me. I'd prefer to wallow in my depression and heartbreak, but the whole damned world wants a piece of the SEAL Team leader who helped capture the world's most-wanted terrorist. I need help handling the relentless requests, and when Ava sends her new sister-in-law to manage the media circus for me, I'm prepared to hate her on principle. Her brother took my Ava. What else do I need to know about her?

Julianne
It takes five seconds to realize Ava's ex is going to be the most complicated and difficult client I've ever had, but the opportunity to represent the most celebrated man in the world could make my career. I'm determined to do the job, even if I dislike John from the moment I meet him. And I like everyone. So much so that my brothers worry about me being exploited by those who would take advantage of my unwavering love for others. But John… He's in a class by himself, and his bitterness is a festering wound that I begin to wish I could somehow fix for him. The more time we spend together, the more our mutual disdain morphs into something that feels an awful lot like desire. There's no way I can want this man, or so I tell myself, and when Eric finds out I've developed feelings for the man causing trouble in his new marriage, well…
That's going to be a hot mess.
Enjoy an exclusive excerpt from One Year Home 
We take the elevator to the fifty-first floor, and the luggage guy talks to us the whole way up. I catch Jules's eyes and roll mine to let her know what I think of the star treatment. I can tell she wants to giggle, but she doesn't. She's a consummate professional, as always.
"Right this way, Captain West."
The man is wearing a uniform with brass buttons and flourishes that makes mine look shabby. Maybe I can get a job as a hotel bellman after I retire. I do like wearing a uniform.
He throws open the doors to a suite that defies description. I've never seen anything like it, certainly never stayed anywhere that could compare. I'm astounded by what have to be twelve-foot windows, the baby grand piano, luxurious furnishings and the view of the entire south half of Manhattan. As he gives us a tour of the terraces, a bedroom and deluxe bathroom with a tub that Jules says she could live in, I try not to think about recording Fallon later this afternoon. I'm following her advice to take things a minute at a time and try to enjoy the adventure.
"You're welcome to use it while we're here," I try not to picture her naked and covered by bubbles in my tub.
"I may take you up on that."
"I, um, I should get settled in my room." Jules grasps the handle of her suitcase. "We have to leave at four for the taping."
It's just after two now, time to take a nap or get in a workout. I'd rather have the workout, but I don't have time for that and a shower, and I don't want to go on national TV looking like shit. "Do you want to get some food?" In addition to my libido reawakening, I'm also actually hungry.
"We can order room service." Muncie grins like a loon. "It's on Uncle Sam."
"Sure." Jules gives a thumbs up.. "That sounds good."
"I'll find the menu."
Muncie leaves us alone in the huge bedroom that includes a king-size bed. I glance at it, wishing we had nothing but time and none of the complications that make the most exciting thing to happen to me in a long time also the most impossible thing.
All at once, Jules seems to realize where we are, what I'm thinking and that we're alone. "I should put my stuff in my room."
"Don't go."
She looks down, takes a deep breath and then seems to force herself to look at me. "Please don't. I just can't, John."
I hear her when she says she can't. But I see that she wants to.
Excerpt. ©Marie Force. Posted by arrangement with the publisher. All rights reserved.
Giveaway:

I've got a signed copy of ONE YEAR HOME up for grabs in the U.S.
To enter Giveaway: Please complete the Rafflecopter form and post a comment to this Q:

What did you think of the excerpt spotlighted here? Leave a comment with your thoughts on the book…
Meet the Author: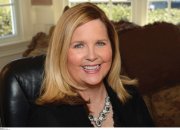 Marie Force is the New York Times bestselling author of contemporary romance, including the indie-published Gansett Island Series and the Fatal Series from Harlequin Books. In addition, she is the author of the Butler, Vermont Series, the Green Mountain Series and the erotic romance Quantum Series.
Her books have sold more than 8.5 million copies worldwide, have been translated into more than a dozen languages and have appeared on the New York Times bestseller list 30 times. She is also a USA Today and Wall Street Journal bestseller, a Speigel bestseller in Germany, a frequent speaker and publishing workshop presenter as well as a publisher through her Jack's House Publishing romance imprint. She is a three-time nominee for the Romance Writers of America's RITA® award for romance fiction.
Check out all of Marie's books at marieforce.com/books and her Kindle Unlimited titles at marieforce.com/ku.
Her goals in life are simple—to finish raising two happy, healthy, productive young adults, to keep writing books for as long as she possibly can and to never be on a flight that makes the news.
Join Marie's mailing list on her website at marieforce.com for news about new books and upcoming appearances in your area. Follow her on Facebook at www.Facebook.com/MarieForceAuthor, on Twitter @marieforce and on Instagram at www.instagram.com/marieforceauthor/. Contact Marie at marie@marieforce.com.