In Falling for the Italian Billionaire (London Heroes) by Annie Claydon, Bodyguard Clara Holt has met her biggest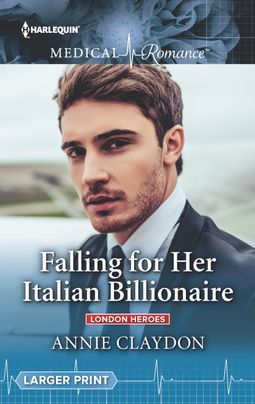 challenge yet in protecting Dr. Gabriel DeMarco from a threat to his family. Anytime she orders him to do something, he's determined to do the opposite. Still, she'll do everything she can to keep him safe. Yet, the more time she spends with Gabriel, the more she finds herself doing the one thing she should never do and that's falling for her charge. Will Clara find a way to keep Gabriel safe and get her man or will Clara find herself with a broken heart?
"I'll be needing my wits about me, then. Just in case you decide to slip away under the cover of the night." Her smile told him that she was only half joking.
"Yeah…Look, I'm sorry about this afternoon, Clara. I didn't think."
She turned to him, eyeing him coolly. "You didn't think? I reckon that thinking is exactly what you did do."
Gotcha. He was caught in the web of her gaze, and it was impossible to make anything more than a half-hearted effort to free himself. "Maybe…"
Ms. Claydon is becoming one of my go-to authors for Harlequin medical romances and this duet, which encompasses friends Gabriel and Alistair and their determination to help as many people as possible through their medical charity was absolutely captivating, fast-paced and a story I couldn't put down. Really, the main characters are memorable because of their strong chemistry; the dialogue was engrossing and had me loving the main characters back stories and every interaction between them; and the threat to the hero just had me wanting to see what this pair would be up against and whether Clara would be able to keep Gabriel safe.
With the main characters, I loved how they tested each other. Would Gabriel make things easy for Clara? Will she be able to make Gabriel see how serious the threat is? Moreover, the heroine is resilient, courageous and I liked her determination to make Gabriel see things her way. I also liked that she didn't back down whenever Gabriel made things difficult for her and that she stood up to him because she doesn't want anything to happen to him. While the hero, he's kind, caring, a good doctor that will do anything to help his patients and I liked that he gave Clara a chance despite everything that's happened in his life that's made him wary of relationships.
"You – as the sun – are both brilliant and have an irresistible gravitational pull. Whereas I – as a minor third planet – can only revolve around you. Spinning helplessly."
Right. And this had nothing to do with romance. In that case, hard science was unexpectedly thrilling.
"When my back's to you, it's cold and dark. When I face you, I'm blinded.." He shaded his eyes and Clara laughed.
"Okay, I'm overawed with your demonstration, even though I already knew that bit. What's it got to do with a red sunset?"
Overall, Ms. Claydon has delivered a delightful and well-written read in this book where the chemistry between this couple was strong and convincing from the very beginning; the romance was wonderful and well worth the wait once Clara decides to take a chance; and the ending had me loving the hero's determination to win Clara's heart. I would recommend Falling for the Italian Billionaire by Annie Claydon, if you enjoy medical romances, bodyguard romances or books by authors Sue Mackay, Charlotte Hawkes, Kate Hardy and Louisa George.
Book Info:

Publication: May 21st, 2019 | Harlequin Medical | London Heroes #1
Hired to protect him…now she's falling for him!
In this London Heroes story, protecting Dr. Gabriel DeMarco from a threat against his family is no-nonsense bodyguard Clara Holt's most challenging assignment yet. The Italian billionaire is distractingly gorgeous and determined to put his patients before his own safety! Clara vowed never again to risk mixing her career with romance. Only, while she's busy protecting him, Gabriel's busy breaking down the walls around her heart…