Today, HJ is pleased to share with you

Addison Cole's

new release: 

Promise of a New Beginning (Sweet with Heat: Weston Bradens)

Thank you so much for featuring PROMISE OF A NEW BEGINNING!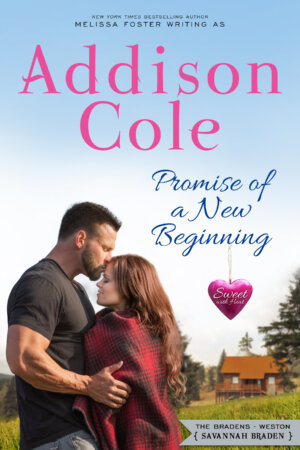 After having her heart broken by a country music star, Savannah Braden has sworn off men. She takes a break from her fast-paced Manhattan lifestyle for a weekend at a survivor camp to rebuild her confidence and readjust her priorities. But when she meets the handsome guide, Jack Remington, she's drawn to everything about him—from his powerful physique to his brooding stare—despite the big chip on his shoulder. Powerless to ignore the heated glances and mounting attraction, Savannah begins to reassess her hasty decision.

After losing his wife in a tragic accident, Jack Remington found solace in the Colorado Mountains. This solitary existence allows him to wallow in his guilt and punish himself for having made a decision that he believes cost his wife her life. He never expected to want to return to the life he once knew—but then again, he never expected to meet gorgeous, stubborn, and competitive Savannah Braden.

One passionate kiss is all it takes to crack the walls the two have built to protect themselves, and allow love to slip in. While Jack fights his way through his guilt, and struggles to get back into the lives of those he left behind, Savannah is there to help him heal, and together they nurture hope that they've finally found their forever loves.

Promise of a New Beginning is a Sweet with Heat novel and conveys all of the passion you'd expect to find between two people in love without any graphic scenes or harsh language. If you're looking for a more explicit romance, pick up the steamy edition, Bursting with Love, written by New York Times bestselling author Melissa Foster. Addison Cole is Melissa's sweet-romance pen name.
Enjoy an exclusive excerpt from Promise of a New Beginning (Sweet with Heat: Weston Bradens) 
Where in the blazes was the woman who'd called and signed up three days ago? The pushy one who wouldn't take no for an answer when he'd said registration had already closed. He saw boots land on the ground on the other side of the plane. She was taking her own sweet time, and they had work to do. She'd better not be a Manhattan prima donna. He'd had enough of those whiny women to last a lifetime, and he never understood why they enrolled in the weekend courses anyway. He forced the thought away. The students paid for a guide, not a critic.
He planted his boot-clad feet in the dirt and opened his arms. "Welcome to survivor camp. You'll notice that there is no formal name for my program, and that's because emergencies don't come packaged neat and tidy with cute little names. We're preparing for survival. I've spoken to each of—"
"I'm sorry. The landing was a little nerve-rack—"
The woman from the airport made her way around the plane, cutting him off midsentence. As she flashed a broad smile at the others, he remembered her name. Savannah. Savannah Braden.
She glanced at Jack, and their eyes caught. Her smile faded; her green eyes narrowed. She was taller, curvier, and even more beautiful than he'd realized when he'd run into her at the airport.
Jack clenched his jaw. He cleared his throat and looked away, then continued.
"I'm Jack Remington, and I live on this land." His eyes drifted toward Savannah and he paused, then looked away and began again. "I served eight years as a Special Forces officer with the United States Army. I can get you in and out of here alive if you listen and work together. Let's keep the land clean and the attitudes friendly."
His eyes swept over Savannah in one quick breath—a breath that carried hope rather than the breath that had carried the pain of loss when he'd left his home earlier that morning. She was tall and slim with auburn hair and a killer body. Too darn pretty. It took all his focus not to stare, and out of his peripheral vision, he watched her brush dirt from her jeans. He allowed his eyes to follow her hands as they stroked her lean thighs, and when she glanced up, he dropped his eyes to the ground. Cowgirl boots? He shifted his gaze back to the rest of the group, silently chiding himself for looking at her in the first place. How on earth was he going to keep himself from looking at that gorgeous woman? I must be losing my mind.
"Let's get your bags. Then we're going to hike up the mountain to base camp. If you need to go to the bathroom, the forest is your toilet." He ran his eyes across the group, stopping short of Savannah to avoid getting lost in her again.
"Cool," Aiden said.
"I think so." Jack smiled at the wide-eyed boy. "I assume you all met on the plane? Got to know one another?"
"Yes, we introduced ourselves." Lou pushed a wayward dreadlock from his shoulder. "Well, most of us, anyway." He shot a look at Pratt.
Pratt stood with his hands in his jeans pockets, looking away from the group. Great. Another prick. Even as the words ran through his mind, he knew he shouldn't be too quick to judge. Some people would consider Jack a jerk, too, and they'd be right. Some broken men were jerks, and that's just the way it was. He made a mental note to try to talk to Pratt, but for now, he had to nip this crap in the bud.
He narrowed his gaze and spoke in his favorite cold voice—the one he usually reserved for beautiful women. He didn't have time for them any more than he had time for a kid with a bad attitude.
"See those woods behind me?" He turned sideways, as if clearing a path for Pratt's eyes to follow—which they didn't. "There are bears, snakes, poisonous plants, and all sorts of scary stuff out there. You may find yourself in need of someone's help, and if you're a di—unkind—to the group, no one's going to rescue you." He crossed his arms. "I suggest you introduce yourself."
Elizabeth and Lou exchanged a guarded glance. Then they each put a hand on Aiden's shoulder.
Jack hadn't caught his poor choice of words quickly enough. He knew he was being harsh, but bad attitudes caused accidents, and there was no room for accidents in his camp.
Pratt clenched his jaw and held Jack's stare. His tall, lanky body was no match for six-four, two-hundred-thirty-pound Jack Remington, but the hurt and anger in Pratt's eyes looked familiar, and Jack knew he wasn't contemplating anything physical. A spear of guilt ran through him. There was no turning back now. He'd taken a hard line, and backing down would leave him in a position of lesser authority.
Savannah touched Pratt's shoulder. She narrowed her beautiful green eyes and set them on Jack. Her smile remained on her lips, but behind the facade, he saw a challenge. His pulse sped up.
"Why don't we just call him John for now?" she suggested in a firm, nonnegotiable tone.
What the heck are you doing and why? As he pondered her motives, he couldn't help but notice the way her jeans clung to her lean legs and curved over her hips, then dipped in at the waist. And the blasted tank top she wore was now spotted with perspiration and clinging to her chest.
Look away. Look. Away.
His eyes would not listen to his mind, and he stared right back. "This is my show and I run it my way. He's part of the team or he's out," Jack said.
Savannah took a step forward and pulled her shoulders back. "What are you going to do? Fly us all back to the airport and return our money?"
He met the challenge in her eyes with his own heated stare. "Yes."
Excerpt. ©Addison Cole. Posted by arrangement with the publisher. All rights reserved.


Giveaway:

Enter to win 1 of 5 digital copies of A LOVE SO SWEET (Book One in the Sweet with Heat: Weston Bradens)
To enter Giveaway: Please complete the Rafflecopter form and post a comment to this Q:

What did you think of the excerpt spotlighted here? Leave a comment with your thoughts on the book…
Meet the Author: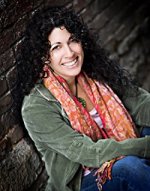 Addison Cole is the sweet-romance pen name of New York Times and USA Today bestselling and award-winning author Melissa Foster. She writes humorous and emotional sweet contemporary romance. Her books do not include explicit sex scenes or harsh language.
Addison spends her summers on Cape Cod, where she dreams up wonderful love stories in her house overlooking Cape Cod Bay.
Visit Addison on her website or chat with her on social media. Addison enjoys discussing her books with book clubs and reader groups and welcomes an invitation to your event.

Buy Links:
➜KINDLE: https://www.amazon.com/Promise-New-Beginning-Sweet-Heat-ebook/dp/B07QNS3B8R/
➜APPLE: https://books.apple.com/us/book/promise-of-a-new-beginning/id1459998906
➜KOBO: https://www.kobo.com/us/en/ebook/promise-of-a-new-beginning
➜NOOK: https://www.barnesandnoble.com/w/promise-of-a-new-beginning-addison-cole/1131275488?ean=2940161236307
➜GPLAY: https://play.google.com/store/books/details/Promise_of_a_New_Beginning?id=p5qSDwAAQBAJ
➜PAPERBACK: https://www.amazon.com/Promise-New-Beginning-Sweet-Heat/dp/1948868199/