Today it is my pleasure to Welcome author
Karen Rock
to HJ!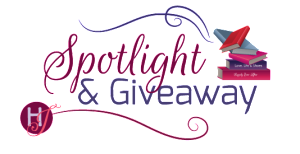 Hi Karen and welcome to HJ! We're so excited to chat with you about your new release, Reckless Deceptions (Dallas After Dark, Book 3)!

Hi, everyone! Thanks so much for having me here.

Please summarize the book for the readers here: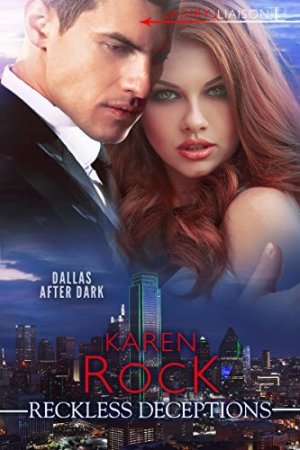 Reckless Deceptions is an action-packed, sexy, thrill-ride of a romance between a rogue ex-CIA agent, Erica Keely, who's determined to prove herself by taking down the terrorist organization she'd nearly stopped prior to being fired for her impulsive, take-no-prisoners approach and her former lover and boss, Ryan Arnell, a by-the-books CIA counter-terrorist expert whose duty to report her for breaking rules led to the end of their red-hot affair as well as her career. When Erica uncovers a terrorist threat while working as a bartender and silks performer, her cover while she's been pursuing her long-time terrorist foes, she and Ryan must reunite to stop a twisted and deadly massive terrorist plot. Sparks fly while both work hard to ignore their returning feelings as their mission grows more and more treacherous with shocking discoveries and nail-biting escapades, chases and shoot-outs. Yet to thwart this threat to national security, they must learn to trust each other again… and maybe even fall in love along the way if they're willing to risk their hearts as easily as they risk their lives.

Please share your favorite line(s) or quote from this book:
Ryan had come damn close to kissing her senseless. Swathed in nothing but his old Star Trek T-shirt, her hair rumpled, her face makeup free, she'd been even more tempting, soft and warm and tart, the way he liked his cherry pie and his women….
Woman.
No one had ever measured up to Erica, not before or since.
Please share a few Fun facts about this book…
I got to research all kinds of stuff that probably has me on the FBIs watch list like different kinds of bombs, truth serum, "black houses", middle eastern terrorist groups and soft targets in America. (Okay- maybe that's not so funny)
When researching for Erica's cover as an aerial silks performer and exotic belly dancer, I attended classes, failed miserably, probably looked ridiculous while nearly breaking my neck and a hip, but I learned a lot that helped those scenes sizzle on the page.
Erica's stray cat is actually modeled after a stray cat I took in while writing this book.
What first attracts your Hero to the Heroine and vice versa?
My hero is attracted to my heroine because she's his opposite in nearly every way. She hates authority, chafes at rules, does as she pleases and speaks her mind and her heart, something Ryan's rigid upbringing taught him never to do. She's passionate, ruthless, cunning and has an irreverent sense of humor and a fearless heart that gets him to open up. My heroine is attracted to my hero because–hello?–he's a gorgeous, dangerous, genius of a CIA agent who speaks five languages but is so buttoned up he never speaks his heart. His iron control tempts her to make him come undone and when he does, he's an incredibly passionate, explosive lover who has her back, treats her like a partner and equal and fiercely defends and protects her through their dangerous exploits.
If your book was optioned for a movie, what scene would you use for the audition of the main characters and why?
I'd want to see them in one of the actions scenes to see how they handle this level of intensity together and work as a team. Here's the one I'd have them audition:
"Over here!"
At Ryan's shout, Erica turned and spotted his bent back as he hot-wired a black Alfa 4C Spider convertible. She'd barely slid into the butter-soft leather seat before the engine roared to life. The thinly disguised race car peeled off the curb in a rush, zero to seventy-five in less than ten seconds.
"This is an upgrade," she shouted around a mouthful of whipping hair.
Ryan nodded grimly but kept his eyes on the black SUV swerving onto a side street a block ahead. "Hold on," he hollered before yanking the car in a tight stomach-churning turn. Up ahead, the SUV's taillights flashed then disappeared as it headed onto the LBJ Freeway.
"We're losing them!" She fumbled for her seat belt, but the rocketing car made her fingers slip off the metal. They veered around a slow-moving truck then cut in front of it, hitting the entrance ramp. Three cabs drove right ahead of them and a whole slew of cars merged onto the interstate despite the hour.
Ryan gunned the engine, and the needle vibrated at ninety-five as he expertly weaved in and out of traffic. Leaning forward in her seat, Erica shoved back her blinding tangle of hair and peered out the windshield. Her heart tripped. The SUV was within range. She raised her Glock and angled slightly out the window, sighting its tires.
"Hold your fire," Ryan shouted. "Wait until we're clear of traffic."
Words of objection bulged her cheeks, and her gun shook slightly at the end of her arm. Ryan and his waiting games! Just then, a toddler waving a teddy bear caught her eye. His curly head bobbed in the rear window of a station wagon cruising beside the SUV. Never mind that the child shouldn't be up at this hour. Or out of his car seat restraint. The blood drained from her face, and she lowered her Glock. Ryan wanted her to think before she acted; if she'd gone ahead and fired, the van might have careened into the station wagon and killed the little boy.
"They're going to exit!" She pointed to the upcoming ramp the SUV rocketed toward.
Ryan wrenched the steering wheel right. A horn blared. Tires squealed. He slammed on the brakes, whipping her sideways as he narrowly avoided clipping the back of a delivery truck. A series of quick maneuvers later, only two cars remained between them and the terrorists.
"Call the dispatcher," Ryan ordered.
She swapped her gun for her cell, dialed the number, and relayed their coordinates, ending with, "We're in hot pursuit and requesting backup."
"Roger that. We've got eyes in the sky and several units are responding," the operator assured her.
A second later, they were on the exit ramp, flying down the road. The Spider fishtailed as Ryan hung a quick left, and she shrieked, grabbing the door handle to keep from being ejected. Ryan shot her a quick concerned look before facing forward again, his expression fierce. Then the sleek vehicle bulleted forward as he rammed the gas pedal all the way to the floor. They hit a narrow two-lane stretch of private road at breakneck speed.
In that instant, she knew, knew down deep, Ryan would catch these bastards. That he'd do whatever it took, break whatever law necessary, shred every protocol in his rule book to catch them. He didn't appear to be thinking at all; in fact, he was responding to the SUV's every move with blink-fast reactions she doubted she could execute. Unchained, Ryan was a sight to behold. A dark, avenging angel breathing hellfire.
Without warning, the SUV jogged into the left lane, slowed, and opened fire when the Spider drew abreast. Her heart leapt as she ducked, bullets raining down on them. They were fish in a fucking barrel. A scream built in her throat. Her muscles tensed, her body preparing for massive injury or worse.
Like a pro, Ryan cranked the wheel and smashed into the side of the SUV with a head-snapping jolt. The shooter's gun tumbled from his fingers on impact and spun onto the asphalt. She could have kissed calm, cool, level-headed Ryan right there…if there was time. Which there most definitely wasn't.
Her eyes met Ryan's, and in that second, she glimpsed every emotion, every feeling she'd wanted him to speak. He loved her. What were words when a man looked at you the way Ryan did, as if you were all that mattered in the world?
Taking advantage of the brief reprieve—surely the terrorists had more than one weapon—Erica rose up in her seat. She braced her swaying body with one hand wrapped around the top of the windshield while firing with the other. The SUV's front tire blew, and it swerved. Two wheels went off the road, crunching over dirt, as it careened into a utility pole and flipped.
The impact was deafening.
Metal crumpled and gave way to an explosion of glass shards. Erica and Ryan vaulted from the Spider as soon as Ryan jerked it to a halt, racing to the now upside-down SUV. A blast of heat smacked her in the face. Flames began curling from the hood. Dread licked an icy tongue along her spine, making her shiver despite the scorching air.
"We need to get them out of there and see who it is," she panted.
"Grab the driver. I've got the shooter." Ryan ducked and peered inside the smoke-filled vehicle. Gasping and choking, Erica reached through the shattered window on the opposite side, felt someone's arm and yanked with all her might. She managed to drag the limp body halfway outside. Fire roared in her ears, and the heat felt hot enough to peel the flesh from her face.
"Back off!" Ryan shouted. "It's going to explode!"
Readers should read this book….
…if they love second-chance love stories, lots of sexy-hot love scenes and high-octane action as well as a suspenseful plot with lots of twists and turns to keep you turning pages and guessing until the end!
What are you currently working on? What other releases do you have in the works?
I'm currently working on TO CATCH A COWBOY, Book 7 in my Rocky Mountain Cowboys series with Harlequin Heartwarming. I have Jewel Cade and Heath Loveland's love story, WINNING THE COWBOY'S HEART (Rocky Mountain Cowboys, Book 5) coming out in February 2019 and Daryl Loveland's romance, A RANCHER TO REMEMBER (Rocky Mountain Cowboys, Book 6) coming out in April 2019.

Thanks for blogging at HJ!
Giveaway:

Three winners will win a digital copy of RECKLESS DECEPTIONS! This contest is open to US & INT.
To enter Giveaway: Please complete the Rafflecopter form and Post a comment to this Q:

What's your favorite CIA or FBI suspense-thriller show or movie?
Excerpt from Reckless Deceptions (Dallas After Dark, Book 3):
A growl built in the back of Ryan's throat at the group of jostling men thronging the stage. They practically salivated, reaching across the polished wooden surface toward Erica the moment she touched ground.
His back teeth clamped together.
Not fucking happening.
He grabbed two catcalling guys by the collar and shoved them backward. When a third grabbed for her foot, Ryan smacked it away. On the job, Erica had swathed herself in conservative garb or fatigues, but this…this blatant sexual side that'd once been a feast for his eyes only…played serious games with his already fucked-up mind.
He still wanted Erica.
An undisputable truth.
Leave.
He hustled to the stage exit instead, pushed aside another admirer, and leapt after her.
"No patrons backstage," announced a burly bouncer. Ahead, Erica flicked her long hair over her shoulder and accepted a stagehand's offered water.
"I'm not a customer." Ryan glowered down at the meathead. He didn't need this asshole's permission. "Erica!"
She paused and peered backward. Her eyes popped when they landed on him, and her body stiffened. "You!"
"Okay, dude." The bouncer grabbed Ryan's arm. "Outta here."
"No." Ryan flung off the man's grip without tearing his gaze from Erica. Her eyes were bright and angry now, and a hectic red flooded her cheeks. It didn't take Jason Bourne to figure out he wasn't the agent she'd expected. "I'm a—a—"
"An asshole?" All the air left his body at her familiar, taunting-feisty voice. It was the kind of voice in which every other sentence seemed to end with a silent "in your face." Every fourth sentence with a "fuck off."
The bouncer's square head swiveled between him and Erica as they locked eyes. "You know this guy?"
"Unfortunately." She grabbed a robe from the gaping stagehand, shoved it on, and belted it tight before striding close. His heart thumped, and his palms slicked as he peered into her familiar, refined features. Erica Keely was more beautiful than any woman had a right to be.
"What is he—a stalker?"
"Worse," she spat. "He's my ex."
"Now you're really outta here!" The bouncer lunged, stumbling when Ryan easily sidestepped the oaf.
"Wait!" Erica grabbed the bouncer's raised arm when he whirled. "I don't want you to get hurt."
"I won't hurt him," Ryan observed, dry. "Much."
"You think I'm afraid of him?" The huffing bouncer struggled to free himself. Since Erica strategically placed her fingers on his pressure points, though, it was a losing battle.
"You should be." Erica eyed Ryan, then sighed. "Much as I'd like to see you beat the crap out of him, you'd never land the first punch. He's killed some serious motherfuckers."
"Seriously?" The bouncer eased back, his tiny eyes darting.
Ryan's lips curved as he drank in Erica's fierce expression: full lips pursed, strong eyebrows meeting over her short nose, her eyes shooting sparks. It had always made him want to shake her and kiss her at the same time. He forced his fingers to unfurl. "Some of them were just assholes."
She rolled her eyes. "And they all had it coming. Everything by the books, right?"
Excerpt. © Reprinted by permission. All rights reserved.


Book Info:
DESIRE WITH NO LIMITS
Erica Keeley has always been willing to break the rules to catch a criminal, until her unorthodox tactics get her booted from the CIA and betrayed by the man she trusted. Now, gone rogue to stop a terrorist group, she's working undercover at Dallas's top male strip and burlesque club, dancing alongside sexy, sculpted men. Not that any of her co-workers give her the adrenaline rush she got from her former life. Erica hits the jackpot when she overhears her targets discussing a homegrown terrorist plot. But her last shot at redemption means getting up close and personal with her traitorous ex.
Control is what CIA officer Ryan Arnell values above all things. Yet he was irresistibly drawn to Erica's impulsive, uninhibited nature in the field—and in bed—until her bull-headed tactics risked the agency's mission. Teaming up to stop a deadly attack, he's falling again for this spontaneous, high-octane woman. And with Erica's ties to the terrorists proving closer than either of them expected, the riskiest mission of all might be this second chance at love . . .
Book Links: Book Links: Amazon | B&N | iTunes | kobo | Google |


Meet the Author: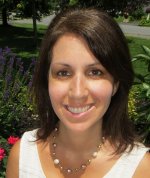 Award-winning author Karen Rock is both sweet and spicy—at least when it comes to her writing! The author of both YA and adult contemporary books writes sexy suspense novels and small-town romances for Harlequin and Kensington publishing. A strong believer in Happily-Ever-After, Karen loves creating unforgettable stories that leave her readers with a smile. When she's not writing, Karen is an avid reader who also loves cooking her grandmother's Italian recipes, baking and having the Adirondack Park wilderness as her backyard, where she lives with her husband, daughter, dog and cat who keep her life interesting and complete. Learn more about her at http://www.karenrock.com or follow her on twitter at http://www.twitter.com/karenrock5.
Website | Facebook | Twitter | Instagram | GoodReads |