Today it is my pleasure to Welcome author
Joss Wood
to HJ!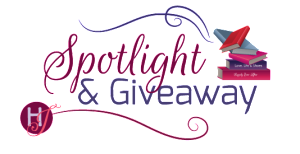 Hi Joss and welcome to HJ! We're so excited to chat with you about your new release, Redeemed by Passion!

hello wonderful romance readers…

Tell us about the book with this fun little challenge using the title of the book: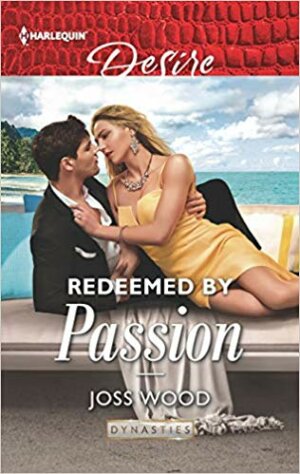 R is for racy
E is for emotive
D is for delightful
E is for entertaining
E is for energetic
M is for moving
E is for exciting
D is for delightful
B is for Bull headed
Y is for… 'I have no idea' ☹
P is for poignant
A is for arousing
S is for seductive
S is for sensual
I is for interference
O is for opulence
N is for naughty
That was really hard…
Please share the opening lines of this book:
Liam Christopher tipped his head up and tracked the winking light of a jet above him. That could, for all he knew, be Brooks Abbingdon's jet carrying Teresa away from him. The image of Teresa curled up in Brooks's lap, him comforting her as she cried—because, hell, if anyone deserved to cry it was Teresa St. Claire—flashed on his retina and his grip tightened on the crystal tumbler in his hand.
Please tell us a little about the characters in your book.
Liam and Teresa have a long and complicated history revolving around betrayal and misunderstandings. When the book opens, they have tried and failed to have a relationship and both agree that ship has sailed. But Teresa owns shares in Liam's company and they are still crazy attracted to one another. And while they try to keep their distance, circumstances keep pushing them together…
And someone close to them is also trying to keep them apart.
Please share a few Fun facts about this book…
This is the fourth book is the Dynasties: Secrets of the A-List.
There's a free prequel novella for the series called A One Night Affair which introduces Teresa on the Harlequin website under On line Reads. Or click here—> http://bit.ly/2Lm0rVk
Although this is a stand alone novel, Teresa and Liam's story starts in the first book of the Dynasties: Secrets of the A-List series, called Tempted by Scandal by Karen Booth. All the books is the series (and all featuring Liam and Teresa) are here—> https://www.amazon.com/gp/product/B07SZ9QXRJ
Man, these two characters needed to be hauled, kicking and screaming, to their happy ever after! *I'm still exhausted.*
What first attracts your Hero to the Heroine and vice versa?
Liam and Teresa are very attracted to each other, they always have been. Nobody was managed to scale Teresa's emotional walls except Liam. She's told him things she's never shared with anyone else…
As for Liam, Teresa is the only woman he's ever lost his head over but he simply can't trust her. And learning to trust is the hardest lesson of all…
The First Kiss…
Teresa looked up at him and he could see her body warring with her brain, each equally stubborn. He dipped his head down and slapped his lips against hers. Her mouth immediately opened beneath his and he swept inside, determined to show her that desire like this was worth fighting for, holding on to, keeping. Yeah, they weren't great at communicating but this, this they could do. This they couldn't fake, lie about, deny.
As for the other stuff, they could work on it…
Liam felt Teresa soften and when she pressed her breasts into his chest, he slowed his kiss down, needing to savor her, to explore her intense combination of flavors. He could taste her hazelnut-flavor coffee, toothpaste and a tart sweetness that was all Teresa. Pulling her jersey up, he placed his hands on her lower back, easily spanning her slim waist. The smell of soft, fragrant, heated skin drifted up to his and he felt his knees soften, his head swim. This was the only woman who'd ever managed to create fog in his brain, remove the saliva from his mouth, shut down his thought processes.
Not for the first time Liam decided that she scared the crap out of him.
If your book was optioned for a movie, what scene would you use for the audition of the main characters and why?
Margot Robbie would play Teresa, she's the ultimate cool blonde! And the very sexy Ryan Paevey would play Liam.
If your hero had a sexy-times play list, what song(s) would have to be on it?
Nothing Compares 2 U – Sinead O'Connor.
Someone Like You – Adele.
Love Me Like You Do by Ellie Goulding
Trumpets by Jason DeRulo
If you could have given your characters one piece of advice before the opening pages of the book, what – would it be and why?
Oh my hat…
I would tell Teresa that she makes life harder for herself by being so ultra independent and to lean a little…
As for Liam, I'd tell him that trust is hard, but the best proof of love is to trust. He takes an awfully long time to learn that!
What are you currently working on? What are your up-coming releases?*
In November, the fourth book in my Love in Boston series, Second Chance Temptation (Levi's story) will be released. It also introduces the Murphy brothers, the three heroes of my next series for Desire. And in January, the second book of the new Texas Cattleman Club: Inheritance will be released. It's called Rich, Rugged Rancher and Clint is possibly my favorite hero, ever. *Sigh.*
I'm still so in love with him…

Thanks for blogging at HJ!
Giveaway:

I'm giving away 5 ebook copies of Redeemed by Passion. Good luck and happy reading!
To enter Giveaway: Please complete the Rafflecopter form and Post a comment to this Q:

Do you like series, either written by one author or by different authors? Or do you prefer stand alone books?
Excerpt from Redeemed by Passion:
"I do not appreciate you barging into my office," Teresa told him, trying to sound snotty.
"I do not appreciate you not taking my calls," Liam whipped back, not fazed by her cool eyes and her tight mouth. He knew her well enough to see the pain lurking beneath all that liquid, velvet blue, knew that she was fighting the urge to weep or scream.
She had a right to.
Liam couldn't resist running a thumb over her cheekbone, skirting the edges of her eye sockets. "Have you slept at all since the weekend?"
He knew that her pride had her wanting to lie but at the last minute she shook her head. "No, I've dozed here and there."
"Things will seem better after you've slept."
Teresa stepped away from him and walked away, dropping into the sleek office chair behind her desk. She placed her hands on the table and her amazing eyes flashed blue fire. "So if I sleep, will I wake up and find that my brother didn't gate-crash Matt's party, you didn't hit him, he wasn't seen on YouTube and I didn't have to force him to stay in rehab, with him insisting that he's not an addict? Will that just all go away with some sleep?"
She had him there. "No."
"Exactly." Teresa scratched her forehead and she released a long stream of air and her shoulders fell from somewhere near her ears. "I don't want to fight with you, Liam."
"I don't want to fight, either."
"But I can't deal with you right now. Right now I have another commission, an event to organize, and everything is riding on it." Teresa picked up a pen and rolled it between her palms. "I can't be distracted and I need to focus. And I really do believe that it's better that we not see each other anymore."
"BS," Liam shot back. "You're just feeling overwhelmed. Possibly scared."
Teresa nodded. "Sure I am. But maybe I am also trying to protect you. I'm not good for you, Liam."
Liam slapped his hands on his hips, anger coursing through him. She sounded too much like his mother, who'd made her own disparaging comments about Teresa over the past few weeks. Not good enough, a tart, so little class. They were both wrong but there was only one person whose mind he wanted to change. "I'm a big boy. I don't need you protecting me."
"No matter what I say, there are people out there, including your mother, who believe I had an affair with your father, who think I've only latched on to you because I have my eyes on your company."
He didn't give a rat's ass what other people thought and, honestly, he didn't care much what his mother thought. "So? Let them think what they want."
A pencil hit his chest and dropped to the floor. Liam looked at it, raised one eyebrow and returned his eyes to Teresa's face. On the plus side, she had color in her cheeks. She also looked like she was about to blow.
"Liam, listen to me. You and me, it's… Whatever the hell we had, it's over! Whatever it was, it's done."
Liam sent her a steady look. "I'm not trying to be a jerk, Teresa, but it's not as easy as that."
"Just go, Liam. Please."
Excerpts. © Reprinted by permission. All rights reserved.


Book Info:
"You don't trust me."
But he still wants her in his bed
If event planner Teresa St. Claire can pull off the wedding of the year, she'll save her career and her troubled younger brother. But her gorgeous ex, billionaire businessman Liam Christopher, interferes, insisting he wants to help. Teresa has to do this alone—to protect both him and her brother. Yet the ties binding her to Liam aren't so easily broken…
Book Links: Amazon | B& N | iTunes |


Meet the Author: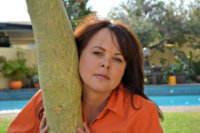 Joss Wood loves books and travelling— especially to the wild places of Southern Africa and, well, anywhere. She's a wife, a mom to two teenagers and slave to a cow-sized puppy and two bossy cats.
After a career in local economic development, she now writes full time. Joss is a member of the RWA (Romance Writers of America) and ROSA (Romance Writers of South Africa) organizations.
Joss lives in Kwazulu-Natal, South Africa.
Website | Facebook | Twitter | Instagram | Goodreads |