Today, HJ is pleased to share with you

Karina Halle's

new release: 

Discretion

From New York Times bestselling author Karina Halle comes a delicious saga of wealth, luxury, and scandal—and the wicked secrets of success behind an envied family dynasty.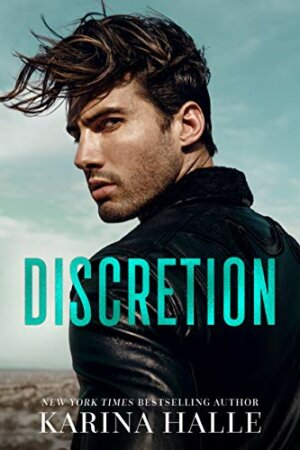 The Riviera means indulgence—if you've got money. For Sadie Reynolds, a down-on-her-luck student, the Riviera means dingy hostels and back streets. When a wrong turn puts her in jeopardy, the last thing she expects is to be saved by the most handsome stranger she's ever locked eyes with. When she later wakes up in a luxury suite with a Mediterranean view, she's in the tender care of her rescuer: Olivier Dumont, France's most eligible bachelor, billionaire hotelier, and heir to the Dumont fashion fortune.

Olivier also owns his reputation for scandal. But Sadie is unlike any woman he's ever met. Her humble persona and wild innocence promise real passion. He's promising Sadie something too: anything she wants. From Bordeaux to Cannes to Paris, Sadie's past in America is swept away and replaced with a fantasy too good to be true.

Pulled into Olivier's orbit of wealth, glamour, and excess, Sadie discovers that the Dumont dynasty comes with a legacy of wicked secrets. And Olivier's secrets may be the most damning of all…
Enjoy an exclusive excerpt from Discretion 
He finishes his espresso and stares down at the empty cup, seeming to ponder something, perhaps the bill. His dark brows come together, and somehow he looks even sexier.

Suddenly he gets up, takes the espresso cup and saucer, and walks over to the tiled part of the floor. Then he raises them in the air before throwing them down on the tiles, where they smash into pieces.

I let out a yelp, spilling my coffee again, this time all over myself.

I cry out. "What are you doing?"

"You know Alfred Hitchcock?" he asks, staring at the broken pieces scattered on the tiles.

It's scary that I know exactly what he's about to say. "Yes. He used to smash his china on the floor every single day because it made him feel better."

He stares at me for a moment, brows raised. "You impress me, Sadie."

"Well, I love the man's films, but he himself was actually a monster."

"Quite true. Shows how monsters lurk within even the most respected people."

What on earth is he talking about?

"So this is what you do, just break things in hotel rooms? Do you want to get kicked out? Are you living out your nineties Johnny Depp fantasies?"

I mean, he kind of has the facial hair going.

"Sometimes this helps," he says.

"Helps what?"

Do I want to know?

He shrugs. "It doesn't matter. I'll have someone come clean it up."

He strides over to the phone and dials. He speaks in French and then hangs up. "Marcel will be up soon."

The way he's just doing what he pleases and ordering people around makes me think he's more of a permanent guest. "Do you, like, live here or something?"

"Sometimes," he says, his dark gaze wandering to the sea view and the billowing curtains. "Only when I want some sunshine and a change of pace."

"Where do you normally live?" I ask before munching on a piece of bacon. As much as his theatrics with the china shocked me, I can't deny how damn hungry I am.

"I have an apartment in Paris," he says. "Properties in Bordeaux, Cannes, Lyon, Biarritz. No, wait, we just sold that one."

"We?" I repeat. I ignore the fact that he just rattled off a list of properties and focus on the we. My God, does Olivier have a wife?

I never notice wedding rings, but at second glance, he doesn't have one. Still, that doesn't seem to mean much in Europe.

"Well, the company," he explains.

"What company?"

"My company," he says just as there is a knock at the door.

He walks over and opens it, and Marcel enters the room.

"Monsieur Dumont?" Marcel asks him questioningly.

Olivier just points to the mess on the ground, and Marcel starts to clean it up.

"S'il vous plaît. Merci, Marcel."

I'm not sure if I should keep asking him questions while Marcel is here, but everything about this has gotten so weird.

"What, uh, what company?" I prod. I can't help it.

Olivier walks over to the bedside table and tosses me the hotel's notepad so that it lands right beside me.

I pick it up with my greasy bacon fingers.

There are two things on it that make me gasp.

One is that the hotel I'm staying at is the Hôtel du Cap-Eden-Roc, and even I know that this is where all the world's celebs and royals stay. I can't believe this, of all places, is where I am.

The other is that above the name of the hotel is a logo that says, "The Dumont Collective."

Dumont.

As in . . . Olivier Dumont?

I glance up at him sharply. "Is this your hotel?"

He nods with just a touch of a smile on his full lips. "Oui, madame."

And now it all makes sense, everything sliding into place. His money, his access to this hotel, his villa, the way the staff seems to know him, the way he doesn't care about the bill or the spilled coffee. Still doesn't explain the whole Alfred Hitchcock imitation, but I gloss over that.

He adds, "And you're free to stay here for as long as you want."

I blink at Olivier for a moment as his words settle in the foggy confines of my brain. For a split second, I imagine a different version of myself. One that will take what he's saying seriously, that will end up shrugging off school and the responsibilities I can't escape for a life of wine and lavender-scented linen and the bright blue of the Mediterranean, my skin tanned and glossy, my smile as carefree as the sea breeze that blows my hair around me.

But that version of myself disintegrates as quickly as it appeared.

"What do you say?" he asks.

"About the fact that you're suddenly the owner of a very famous hotel chain?"

He smirks, the corner of his lips curling up just so. He always seems to be amused by me, which I honestly don't mind.

"No, not suddenly. I'm afraid I've been working at this a long time, and sometimes it feels longer."

"But you're . . . young," I tell him.

"Thirty," he says. "Which, yes, is young. I've heard that a lot. But I was pretty much groomed for this from the day I was born."

I begin to go over everything I know about these hotels, which isn't very much, except that the rich and famous stay here. And judging by the way the front-desk woman at the hospital and the cops treated him yesterday, I'd say it's not just the rich part that he has down pat.

"Dumont," I say slowly. "Wait, don't you have something to do with the handbags, like, the French clothing line?"

The smirk on his face falters, just for a second.

"Bien sûr," he says, but now his easy casualness seems a little bit forced. "But my father and sister run that side of the company."

"No interest in fashion?" I find that hard to believe since he's so impeccably put together.

He shrugs. "I care. I care in general about it and especially about the Dumont brand. But not the business side of things. Being a hotelier is more—what's the expression—up my alley." Olivier strikes me as the type of man who has many alleys, none of which I would mind exploring. "I promise I can tell you more about it . . . if you stay."

Marcel exits just as Olivier says this, leaving the two of us alone in the room again. The air feels heavier now, like it's laden with promise and possibilities. It doesn't help that Olivier's stare has intensified with every long second that ticks by.

"You're joking," I tell him.

"I'm not," he says softly. "Stay with me. Just for a few days. Just until you heal."

Even though I can feel a smile spread across my face, it's wavering with disbelief
Excerpt. ©Karina Halle. Posted by arrangement with the publisher. All rights reserved.


Giveaway:

eBook copy of DISCRETION (The Dumonts Book 1) by Karina Halle (Gifted via Amazon)
To enter Giveaway: Please complete the Rafflecopter form and post a comment to this Q:

What did you think of the excerpt spotlighted here? Leave a comment with your thoughts on the book…
Meet the Author:
Karina Halle, a former travel writer and music journalist, is the New York Times, Wall Street Journal, and USA Today bestselling author of The Pact, A Nordic King, and Sins & Needles, as well as fifty other wild and romantic reads. She, her husband, and their adopted pit bull live in a rain forest on an island off British Columbia, where they operate a B&B that's perfect for writers' retreats. In the winter, you can often find them in California or on their beloved island of Kauai, soaking up as much sun (and getting as much inspiration) as possible. For more information, visit www.authorkarinahalle.com/books.
Social Media Links
Website: https://authorkarinahalle.com/
Facebook: https://www.facebook.com/authorkarinahalle
Twitter: https://twitter.com/MetalBlonde
Goodreads: https://www.goodreads.com/author/show/4785031.Karina_Halle