Today, HJ is pleased to share with you

Katie Ruggle's

new release: 

Risk It All

Five bounty-hunting sisters Deep in the heart of the Rockies Fighting to save each other …and the men who steal their hearts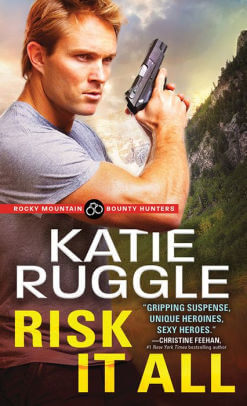 Cara Pax never wanted to be a bounty hunter. She's happy to leave chasing criminals and tackling skips to her sisters. But if she wants her dreams of escaping the family business to come true, she's got one last job to finish… Only problem is, she doesn't think her bounty is guilty.

Henry Kavenski is a man with innocence to prove. When he realizes that Cara believes him, he'll do anything to keep her out of harm's way. Escaping criminals and dodging cops might not be the best time to fall in love, but Henry and Cara won't give up, not when there's a chance at a new life ahead—if they can survive the fall.
Enjoy an exclusive excerpt from Risk It All 
Thank you for having me! This is one of my favorite bits of Risk It All, the second book in my Rocky Mountain Bounty Hunters series.
I love how Henry and Cara try to protect each other, despite being on opposite sides of the law. Enjoy!
She patted his arm, touched that he was worried about her. "I'll be fine. I've been helping my sisters do this for years. I'm a pro." Honesty forced her to amend her words. "Peripherally, at least. I'm a peripheral pro."
Her assurances did not seem to do the trick, judging by Kavenski's groan and the fact that he didn't move out of her way. Instead, he took a step closer, forcing her to crane her neck to meet his eyes. She shifted back, but he followed, and she realized that he was herding her away from the entrance like a sheepdog with a recalcitrant ewe. Rather than being annoyed by this, however, she had to hold back a snort of amusement. For whatever reason, she was very tolerant of whatever Henry Kavenski did. She wondered if it was because she felt guilty for following him and breaking into his motel room now that she was fairly sure he hadn't killed the Masons. It could also be that he'd endeared himself to her by saving her life. She was almost positive it wasn't just that she found him unbearably attractive.
"You can't—" he began.
The door swung open behind him, cutting off whatever he'd been about to say. Kavenski's expression went still and hard as he whipped around to face the entrance, keeping his enormous form between Cara and the door. She shifted to peer around him, curious about who'd just emerged.
The bouncer blocked the entrance just as Kavenski had moments before, his thick arms crossed over his chest. "Leave."
"Both of us?" Cara asked, disappointed. Now that she'd gotten used to the place, she wanted to return to the corner booth. She could be missing important information, thanks to the two large and mulish men standing between her and the door.
"Yes." Even though the bouncer answered her, his gaze never wavered from Kavenski.
"What if I promise not to cause any trouble?" she pushed, her confidence boosted by Kavenski's presence.
"No. Leave."
She studied the firm, almost tense set of his jaw and gave up on the idea of entering the bar again. That didn't mean she couldn't get information, however. "You didn't happen to notice anything about the car that tried to run me down, did you?"
That made his gaze flick toward her for a microsecond before returning to Kavenski. "I didn't see anything."
"Mmm-hmm." She drew out the sound, allowing a touch of the skepticism to seep into her voice. "Took a conveniently timed bathroom break, did you?" A part of her was quite impressed with her sass, even as another, more sensible side reminded her that she wouldn't have dared if she was confronting the annoyed-looking bouncer alone.
He didn't respond, although the angry crease between his eyebrows deepened. Even though she knew perfectly well that he'd seen at least the beginning of her near-death encounter, she was also aware that he wasn't going to admit to anything. With a frustrated huff, she gave Kavenski's back a subtle pat goodbye. Turning around, she headed for her car. She'd just need to try another night. The bouncer was kicking them out tonight, but that didn't mean she was banned forever. Besides, the guy couldn't work every night.
She carefully crossed the lot, still limping slightly, although the initial throbbing ache eased the more she moved. She scanned the area, tensely anticipating any movement, determined to notice any threats before they got close enough to hurt her. Being run over once was plenty, and she'd rather not have a repeat experience. The distant rev of an engine made her jump, making her peer even harder into the harsh shadows surrounding her. Her stomach was knotted and tense by the time she finally reached her car safely.
Unlocking the driver's door, she got inside. As she started to pull the door shut, a monster-sized hand grabbed the edge of the frame, holding it open. Cara jerked away from the opening, her elbow smacking painfully against the center console.
When she finally realized that it was just Kavenski holding open her door, she rubbed her still-tingling elbow and glared. He didn't look as repentant as he should have…not even close.
"Where are you going?" he asked, his voice a warning rumble.
"Home." She knew she shouldn't give information to a skip, but it was hard to be suspicious of a guy who'd just saved her life and then put himself between her and the furious bouncer like a human shield.
"Good." His eyes narrowed, his glare getting icier, but she found that most of her apprehension had evaporated. "You need to keep your distance from Abbott—and Layla."
She made a noncommittal sound before trying to close the door, but he kept his significant bulk in the way.
His expression switched to a glower. "I'm serious. You're going to get yourself killed."
Again, how could she be mad when he was so concerned with her safety? "Thank you—really—but I have a bunch of sisters to look out for me."
Tiredness was creeping up on her, and her knee was starting to throb again. "Besides, I won't be chasing anyone else tonight. I have a paper to finish, and I'd really like to shower after being in there." Her gaze moved toward his grip on her door.
With a grumbly sigh, he released her door and shifted back slightly until he was no longer blocking her.
"Thank you." She smiled at him again. "You might want to get back to your motel room and get some rest, too." It was silly of her, but she hated to think of him being unprotected and alone.
He blinked, one corner of his full lips twisting down as if he were holding back some expression, but Cara wasn't sure if it was a smile or a scowl. Reminding herself that it was really none of her business—and she would be better off not getting involved—she pulled the door closed and started her car.
Kavenski stepped out of the way. As she left the lot, turning onto the main street, she saw he was standing where she'd left him, wrapped in shadows.
"Be safe, big guy," she said quietly.
Excerpt. ©Katie Ruggle. Posted by arrangement with the publisher. All rights reserved.


Giveaway:

A paperback copy of Risk It All (Rocky Mountain Bounty Hunters series) by Katie Ruggle
To enter Giveaway: Please complete the Rafflecopter form and post a comment to this Q:

In Risk It All, Cara aspires to be a kindergarten teacher while working for her family's bounty-hunting business. What would your ideal job be?..
Meet the Author:
When she's not writing, Katie Ruggle rides horses, trains her three dogs, and travels to warm places to scuba dive. A police academy graduate, Katie readily admits she's a forensics nerd. Connect with Katie at http://katieruggle.com/, https://www.facebook.com/katierugglebooks, or on Twitter and Instagram @KatieRuggle.
Purchase Links:
Amazon: https://amzn.to/2jMEG57
B&N: http://bit.ly/2RpIAz1
Apple: https://apple.co/366ZGWM
Kobo: http://bit.ly/368oHk6
IndieBound: http://bit.ly/2PhbaQI
BAM: http://bit.ly/2sPbjmP