Regretting You by Colleen Hoover: Morgan has always put others first. It started as a teen when she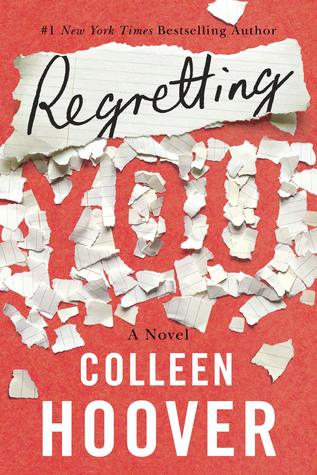 was both mother and sister to her younger sister and continued when she got pregnant and married young. She has a routine and is predictable, but she's feeling like something might be missing in her life. She wants more than just being a wife and mother.
Clara is sixteen and about to turn seventeen. She aspires to be an actress even though her parents want her to follow a safer, more reliable path. She's really close to her aunt and is a great student. She can't wait to be an adult, especially with her overprotective parents who want her to stay away from the one boy who intrigues her.
Life was good until it all comes crashing down. When her husband Chris dies, she doesn't want to face the lies, secrets, and betrayals that come to light. She struggles to keep it together, especially as their grief just seem to push Morgan and Clara further apart. Morgan and Clara only seem to fight, argue, and barely co-exist in the same house.
"Will you be okay?"
I let out a half-hearted laugh. I still have tears on my cheeks that haven't dried, and he's asking me if I'll be okay?
I haven't been okay for a week. I'm not okay now. But I shrug and say, "I'll survive."
With teenage rebellion compounded by grief, Clara tests boundaries and pushes limits. As mother and daughter drift further apart, both struggle with their complicated feelings for the males in their lives. Clara finds a kindred soul in the one guy she was told to stay away from. He provides comfort and encouragement while making her heart race. Morgan struggles in coming to terms with her past and present and how they collide with the one person who has always seen her.
"Right after something tragic happens, you feel like you've fallen off a cliff. But after the tragedy starts to sink in, you realize you didn't fall off a cliff. You're on an eternal roller coaster that just reached the bottom. Now it's gonna be up and down and upside down for a long, long time. Maybe even forever."
"Is that supposed to make me feel better?"
In Regretting You, Colleen Hoover provides an emotional and heart wrenching story of trying to find and put the pieces back together after devastating loss. Colleen Hoover takes you on quite the roller coaster ride of emotions as the characters have to figure out where to go from here. Ms. Hoover provides conflict, angst, tension, heartache, and hope. Fans of Mia Sheridan, K.A. Tucker, Cassia Leo, and Jamie Beck will enjoy Regretting You.
Book Info:

Publication: December 10th 2019 | Montlake Romance |
From #1 New York Times bestselling author of It Ends with Us comes a poignant novel about family, first love, grief, and betrayal that will touch the hearts of both mothers and daughters.
Morgan Grant and her sixteen-year-old daughter, Clara, would like nothing more than to be nothing alike.
Morgan is determined to prevent her daughter from making the same mistakes she did. By getting pregnant and married way too young, Morgan put her own dreams on hold. Clara doesn't want to follow in her mother's footsteps. Her predictable mother doesn't have a spontaneous bone in her body.
With warring personalities and conflicting goals, Morgan and Clara find it increasingly difficult to coexist. The only person who can bring peace to the household is Chris—Morgan's husband, Clara's father, and the family anchor. But that peace is shattered when Chris is involved in a tragic and questionable accident. The heartbreaking and long-lasting consequences will reach far beyond just Morgan and Clara.
While struggling to rebuild everything that crashed around them, Morgan finds comfort in the last person she expects to, and Clara turns to the one boy she's been forbidden to see. With each passing day, new secrets, resentment, and misunderstandings make mother and daughter fall further apart. So far apart, it might be impossible for them to ever fall back together.