Today it is my pleasure to Welcome author
Joanne Rock
to HJ!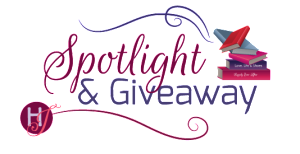 Hi Joanne and welcome to HJ! We're so excited to chat with you about your new release, Rule Breaker!

Hello! I hope you're having a great day! Very glad to be here for a visit about my new Harlequin Desire.

Please summarize the book for the readers here: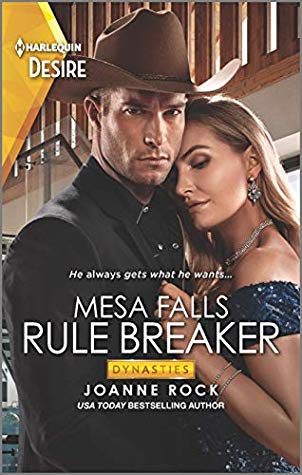 This is book 3 in my Mesa Falls series for Harlequin Desire, and it picks up with one of the owners of a luxury guest ranch in western Montana. He's got secrets to keep when the heroine– a financial investigator– arrives at Mesa Falls to trace some missing money. Weston Rivera is tasked with keeping an eye on her investigation, but that leads to a whole lot of sizzly together time.

Please share your favorite line(s) or quote from this book:
I like the opening of this one…

"Maybe a wiser man would have blocked her number…."

The story starts with a storm rolling into the mountains, and the search and rescue volunteer hero getting texts he can't ignore from the heroine, who is up on the mountain. This story starts with the hero trekking up the mountain to keep her safe.
Please share a few Fun facts about this book…
Stranded in a snowstorm
Must hold each other for warmth
A strong, capable hero in his element on the mountain
What first attracts your Hero to the Heroine and vice versa?
The heroine's first attraction to the hero actually started in the book before this one– The Rival. The heroine sees him working with a skittish horse, and her heart melts at his gentle way with the animal. Weston's first attracted to April when he makes the trek up the mountain and finds her more prepared than he expected. He begins to see her quiet competence, a quality that draws him to her over and over again in this story.
Did any scene have you blushing, crying or laughing while writing it? And Why?
I adore snowed in stories, so I loved this…
She'd kept the inner fleece from her parka and the base layer of her ski pants too, since she'd shivered all the way over from the first campsite. She wasn't sure if it was a true physical chill or just a cold feeling she had in her belly from discovering she'd pitched a tent in an avalanche zone.
"No." Weston leaned back in the sleeping bag, so that he was almost lying down beside her. But first, he draped his discarded jacket on top of the sleeping bag, and then arranged his pants so they rested above his legs. "I use them like extra blankets. They're uncomfortable if I keep them on, since I carry a lot of gear in the pockets."
With the layers configured the way he wanted, he lifted the lantern and held it above her as he propped himself on one elbow. His breath huffed in the light as he spoke again. "Can I shut this down for the night?"
Her throat dried up at the sight of him so close. A rush of gratitude filled her that he'd done so much to help her and keep her safe tonight. But that appreciation was bound up with so many more complicated feelings. Conflict. Attraction. Regret that she'd put him in this position at all.
"Yes," she rasped on a husky breath. "I'm all set."
The memory of what he looked like in that moment—big strong arms, powerful chest and tender concern in his eyes—would be burned on the backs of her eyeballs for long after the tent went dark.
Now, her ears became more acutely attuned to the sounds around her as he shifted in his sleeping bag. A knee grazed hers, the warmth of his body inspiring a heat that didn't have anything to do with actual core temperature. Outside the wind whistled and howled, but the tent fabric seemed impervious, stretched as tight as her nerves as Weston lay in the inky blackness with her.
"Thank you for coming out here tonight." The words were easier to say in the dark, when she couldn't gauge his expression or see his body language. She'd been confused by both in the past, unable to really read him. "I'm sorry to have ruined your evening with an unplanned trip up the mountain, but I'm grateful."
On his side of the tent, he stilled. Maybe he'd just settled into a comfortable position.
"I got into mountain-rescue work to help people in trouble. But ideally, I'd rather prevent an accident before it happens." When he spoke, his words were so close to her ear, she realized he must be on his side.
Facing her.
She swallowed. Tried to focus on his words and not his nearness as she burrowed deeper into her sleeping bag while attempting not to move too much. She lay on her back, wary of getting any closer to him when she felt vulnerable and, yes, a little scared of what the weather might bring tomorrow. The snowstorm had kicked up into a major event so quickly that it had seriously rattled her confidence on the mountain.
"Yet climbing up here, in the dark, to make sure I got out of there safely? That was above and beyond. I didn't mean for you to take a risk in these deteriorating weather conditions."
Guilt bubbled up in her. She should have tracked the weather more carefully, but the storm had arrived much faster than the forecasters had predicted.
The deep timbre of his voice rumbled through her. "It was better for me to make the climb to help you in person. Not knowing you that well, I didn't want to send you a text that could potentially scare you and have you scrambling around on dangerous terrain."
He'd said as much before, but it didn't make her feel any better about him risking his neck for her sake. What if he'd been injured in the attempt to help her? A whirl of what-ifs spun through her brain. She knew how seemingly innocuous events could lead to major consequences. She remembered all too well the chain of events that had brought her mother to her current state.
"I do have GPS equipment. I could have followed directions," she insisted, not wanting to be the cause of anyone else's trouble. She preferred to be self-sufficient after the years of relying on her mother for care that she'd been incapable of giving. Looking for strength within was her go-to coping mechanism. Besides, the part that really bugged her was that she'd messaged him tonight to find common ground with him for the sake of her investigation.
She'd been fishing for answers, and he'd been completely selfless. The disparity didn't sit well with her.
"With the storm coming in, I knew conditions could change from moment to moment, and that really impacts which way out of the ravine is safest. It was easier to check out the snow and the wind for myself than to give you instructions from my living room." He said it matter-of-factly, like it was an obvious solution.
She bit her tongue for a moment to keep herself from arguing with him since, bottom line, she was grateful. She'd had no idea she'd put herself in such danger tonight.
"Thank you," she said, her gaze wandering over the shape of his shoulder in the darkness as her eyes adjusted to the lack of light. "I feel even worse about you being here, though, considering the way we last parted. I know I'm not high on your list of favorite people."
In the quiet moment that followed, she heard nothing but the wind and the soft plunk of fat snowflakes on the tent roof.
"Your job puts us at odds," he said finally, his words sounding carefully chosen. "And, until tonight, I haven't gotten the chance to know you outside your investigation."
She couldn't help a wry laugh, caused by the guilt and vulnerability of her position. "I don't think tonight is going to raise your opinion of me now that I'm the hapless ranch guest you had to rescue in a snowstorm."
"We're going to be fine, you know," he reassured her, his tone gentle.
Through her sleeping bag, she felt his hand cover her forearm, giving it a comforting squeeze.
Everything inside her went perfectly still. Unbidden, memories of seeing him in the stables with the horses came back to her. She'd observed him unaware before she cornered him in his office to question him. He'd been a wizard with a skittish gelding, calming the animal's restless movements with his steady presence until the horse rested its muzzle on his shoulder and let out a soft sigh.
She'd been mesmerized by Weston then. Just like now….
Readers should read this book….
If you love prime time soap operas, with juicy scandal, sizzle, and secrets, this book is for you!
What are you currently working on? What other releases do you have in the works?
I'm working on the final story in the Mesa Falls series right now! The Heir will be out in early 2021. But until then, readers can look for book 4 in the series- Heartbreaker, in March 2020, followed by my Texas Cattleman's Club story, Her Texas Renegade in May. Those books are both Harlequin Desires. I also have a book for Tule coming out in May, and it will be the last of my Texas Playmakers, set in Last Stand, Texas.

Thanks for blogging at HJ!
Giveaway:

Open INTL – digital copies of The Rebel and The Rival, the first two books in the Mesa Falls series from Joanne Rock and Harlequin Desire
To enter Giveaway: Please complete the Rafflecopter form and Post a comment to this Q:

This story starts on a snowy mountain. What outdoor activity would you enjoy if you were spending a day at a snowy mountain? Skiiing? Snowboarding? Hiking? Sledding? Let me know for a chance to win the giveaway!
Excerpt from Rule Breaker:
On the road from Fallon's house back to his retreat cabin, Weston glanced over at his lovely but silent passenger. Squinting in the low light from the setting sun, he acknowledged that April wasn't an easy woman to read. Had her investigative work taught her the impassive observation skills she employed so easily? He hated to think that her life experience—the teenage stunt that had gone so awry for her—had resulted in her becoming more of a bystander to her life than an active participant.
But there was no denying that she seemed reserved tonight. Introspective.
"You've been quiet since we left Fallon's," Weston noted after he'd pulled into the long driveway that led to his cabin. "Are you having second thoughts about staying in Kalispell? We can get back on the road if you prefer."
He'd been thinking about kissing her again all day long, his hunger becoming even more insistent after he'd shared the details from his past and she hadn't seemed to judge him harshly for his failures. Her acceptance had made him rethink what he wanted out of their time together, and he couldn't deny that—more than anything—he wanted her.
"No second thoughts here," she assured him as he parked the Land Rover in the double garage. "I was just thinking through my next steps on the investigation so I can set work aside for the night."
Her words sparked along his skin, igniting a flame he hadn't wanted to fan until he was certain how she wanted the night to end.
"That sounds promising." He shut off the engine and moved to the passenger side of the vehicle to open her door, stepping around the snowy tracks left by the tire treads.
She took his hand and let him help her down, her boots stepping close to his. The overhead light in the garage cast uneven shadows, but he caught a flash of something like anticipation in her blue gaze.
"How about we ban all work conversation over dinner?" she suggested, not moving away from him. "No talking about Salazars or finances."
"Excellent idea." He shifted his hold on her hand, threading his fingers deliberately through hers. Squeezing. "While we're at it, we could rule out discussion of our pasts, too. Live in the moment."
A smile hitched at the corner of her lips.
"This is sounding better all the while. Although I'm not entirely sure I know how to live in the moment if I'm not climbing a mountain."
It clicked in his head then why she loved climbing. Why she'd seemed different on the mountain—less reserved. Freer, somehow. She left her cares behind when she hiked, forgetting about all the things that tethered her to her day-to-day life.
He could understand that. He'd logged plenty of miles running from his own demons.
"I know how to fix that," he assured her, drawing her with him toward the entrance to the house. "I've got a surefire way to keep you anchored in the present."
She followed him up two steps and through the door to the mudroom. Inside, a motion light clicked on to illuminate the muted gray travertine tiles and wrought iron coat hooks on the walls, a slim mirror reflecting the image of the two of them.
"You do?" She let go of his hand to shrug off her coat, but he took over the task for her, forcing his hands not to linger on her shoulders. He hung the long wool trench on a hook beside his shearling jacket. "I've tried meditation, but I'm not good at it."
He laughed lightly, returning to her side even though he knew he should start dinner. They'd had a long day, and he wanted to be a good host.
But he'd been ignoring the need for her for hours, and every moment he spent with her wound him tighter.
"Meditation isn't going to do the job." He shook his head and stepped closer to her, contemplating the vision she made in her elegant black pantsuit and the long, wild curls that had rebelled more as the day wore on. Her hair had grown springier and fuller.
"No?" Her eyes tracked him, darting back and forth, as if she couldn't quite figure out what was next.
"No." He couldn't wait to touch her any longer, so he didn't. He slid his hands under all that luscious hair, letting it tickle his knuckles while his fingers splayed over her shoulders and back. Breathing deep, he caught a hint of her fragrance, something subtly spicy and vaguely floral, too. "If you want to feel the present moment, to really dwell in the here and now, you need to make the moment memorable. Make it worth cataloging every minute detail."
Sliding one of his feet between hers, he let himself feel the heat of her body close to his without pressing himself against her. He felt a warm, delectable anticipation of what was to come.
Her eyes widened, her lips rounding into a small, silent O of either acknowledgment or surprise. Her breath huffed over his mouth, scented with mint and lemongrass tea. Her lips were bare, the natural pink color calling for closer examination before he could describe it.
He looked forward to that. But first, he lowered his voice for close range, stroking a finger just beneath the curve of her jaw.
"The secret to making a moment last, April," he confided, his whole body tense with wanting. Waiting. "Is kissing."
Excerpt. © Reprinted by permission. All rights reserved.


Book Info:
He always gets what he wants…She's strictly off-limits.
That's never stopped him before.
Rebellious rancher Weston Rivera knows saving April Stephens during a blizzard at his luxury retreat is risky. But it's not nearly as dangerous as the desire blazing between them. After all, Weston is a prime target of April's current financial investigation at Mesa Falls—and he's hiding secrets. Now their searing passion is melting the lines between business and pleasure…even as it threatens Weston's entire world.
Book Links:  Amazon | B&N | iTunes | kobo | Google |


Meet the Author:
Joanne Rock is a USA Today bestselling author. She's written over one hundred books, most recently focusing on sexy contemporaries and small-town family sagas. She enjoys romance for prioritizing relationships and encouraging readers to follow their dreams. A frequent speaker at regional and national writing conferences she enjoys giving back to the writing community that nurtured and inspired her early career. She has a Masters degree in Literature from the University of Louisville. When she's not writing, Joanne enjoys travel to gather new ideas.
Website | Facebook | Twitter | Instagram | GoodReads |