In Something in the Air (Running on Air #2) by L.H. Cosway, As a personal assistant to the cast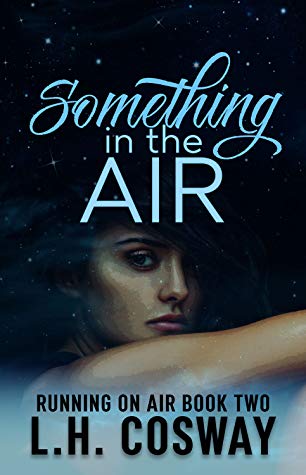 of reality show Running on Air, Michaela Olsson is used to being around the incredibly talented and busy free runners who amaze her with their athletecism. It's one of the show's stars, James Khan, though, who gets her blood pumping on a regular basis. Too bad he's her boss. And he's engaged to be married to gorgeous Diana. Michaela has kept her attraction to James a secret for almost a year, since she began working for the reality show. But when she stupidly agrees to stay in his fixer-upper home currently being renovated, to put her organizational skills to good use, Michaela falls even more for the utterly handsome parkour expert.
'We were standing so close and for a second, he was no longer the strong, athletic, independent man I'd come to know. For a second, I saw past all the fences he'd erected to the sensitive soul who lay beneath.'
James isn't sure where his head was at when he became convinced it would be a good idea for Michaela to stay in his new home. He knows she'll do a terrific job helping him stay on track for the renovations. That's not the issue. It's seeing her both at work and after the day is finished, when he checks in on the construction progress, that is not sitting quite right with James. It's only after he suffers a devastating loss and then calls things off with his fiancee Diana that he understands why it might not have been a good idea to have Michaela so ensconced in his life. His feelings for his assistant–who is almost a decade younger than him–seem to be more than just friendly in nature. And that poses a whole host of problems for them both.
'I finally felt like I could breathe again.
And Michaela was the oxygen I craved.'
Forbidden office romance never felt so right. Something in the Air was a swoony, ultra-modern novel that charmed me immediately with its offbeat characters and heartfelt storyline.
'For as long as I could remember, I'd wanted to be invisible, but I was slowly coming around to the idea of being seen.
Because James saw me and it was the most wondrous feeling in the world.'
Trigger Warning: View Spoiler »Domestic abuse, bullying. « Hide Spoiler
I've read a couple of books by L.H. Cosway now and I love that her writing remains consistently full of emotion but is still entertaining and just plain old fun to read. Even though this was the second full-length book in the Running on Air series, I was able to read it as a standalone and still thoroughly enjoy James and Michaela's romance. It was definitely a tough situation for them. Cosway didn't pull any punches on how much she put our hero and heroine through before they could find their happy ending. But the passion and depth of feelings Michaela and James grew to have for each other through it all was a wonderful thing to behold.
Talk about complicated! The crush our uber organized, absolutely sweet and wonderful heroine Michaela had on her boss James was understandable and, she thought, unrequited. The yummy tension between the two made their coworkers (and readers) aware that James might be digging on Michaela as well. But I'm happy to say that there was no cheating. As you can tell from the synopsis, James broke things off with his fiancee Diana. (Yay!!!!!) And that's where things got even more difficult for our kind, sexy, swoon-worthy hero whose life basically imploded. I was impressed with how Cosway handled the shift from boss/employee to a romantic entanglement in a way that felt natural and not rushed. *And* the way Michaela was there for James emotionally, as a calming presence, was oh so tender and simply lovely.
Something in the Air paired delicious romance with wonderfully flawed main characters who were more than worthy of each other–and certainly worthy of the satisfying results of their personal struggles.
Book Info:

Publication: Published January 30th 2020 | L.H. Cosway | Running on Air #2
Michaela Olsson has found her soulmate in James Khan. There are just a few teeny, tiny problems…
One, he's her boss, two, he's too old for her, and three, well, he happens to be engaged to somebody else.
She'll take this crush and bury it deep. She'll take it to her grave. James already belongs to another, so she'll lock her secret up so tight it'll be deprived of oxygen, suffocate and die.
Too dark?
Matters are only made worse when James asks her to move into his newly purchased house to supervise the renovations. Working together every day is bad enough, but living in a house he owns is far more intimate than she expected. Then, when James decides to call off his wedding without any explanation whatsoever, Michaela wonders if perhaps her feelings for him aren't as one-sided as she thought.
While he was engaged James shared a flat with his fiancée, but now he's moving into the house that Michaela has been living in by herself. She hadn't intended for it to happen, but the place has started to feel like home, and with the object of her affections suddenly sharing her living space, things become infinitely more complicated. And heated.
Soon Michaela learns she might've had more to do with James calling off his engagement than she could've possibly imagined.
Something in the Air is book #2 in the Running on Air Series but can also be read as a standalone.