Today it is my pleasure to Welcome author
Terri Reed
to HJ!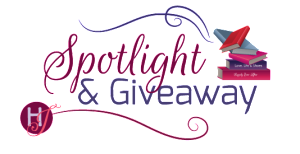 Hi Terri and welcome to HJ! We're so excited to chat with you about your new release, Seeking the Truth!

Hello! Can you believe it's August? I hope you're having a great summer.

Tell us about the book with this fun little challenge using the title of the book: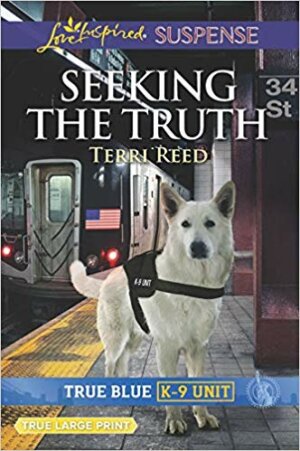 Ohhh, let's see. This is a challenge.
S is for seeking, searching and secrets. Reporter Rachelle Clark is on a quest to find out who killed the K-9 Unit chief and why
E is for energy and enthusiasm. Rachelle needs both to stay a step a head of the person who wants her dead
E is for engage. Officer Carter must engage with Rachelle if he is to protect her, despite his animosity toward the media after the way they've hounded his family.
K is for K-9 Unit and the canine, Frosty, an all white German shepherd who is Carter's partner
I is for inviting. Carter invites Rachelle to his parents home as a way of protecting her
N is for nervous. Both Rachelle and Carter are nervous about spending so much time together.
G is for generous and grateful. Rachelle discovers the generosity of the Jameson family and is overwhelmed with gratitude.
the–
T is for Truth. Who is after Rachelle? Chief Jameson's murderer? Or someone else?
R is for revenge and reveal. Rachelle has made an enemy with her nosiness and he's closing in
U is for unfair and unexpected Carter realizes his attitude must change and with it his heart
T is for tempting. Carter is tempted to love again. Rachelle is tempted to let down her guard
H is for heart. These two must open their hearts to find a happily ever after before its too late.
Please share the opening lines of this book:
The smell of sweaty bodies, garbage from some unseen refuge container and the musty odor of grease from the subway rails lay heavy in the stale August air. Noise bounced off the ceramic tiled walls covered with a dinosaur motif, unique to the 81st and Museum of Natural History subway station on the upper west side of Manhattan.
The place was crowded due to the Central Park Walkathon.
Please tell us a little about the characters in your book.
Rachelle Clark is a transplant from the south who is making her living as a reporter in Queens. She's tired of fluff pieces and wants to gain attention by investigating the murder of the NYC K-9 Command Unit's chief. And in the process put a target on her back and she must rely on Carter and Frosty to keep her alive.
Officer Carter Jameson wants nothing to do with reporters, who have hounded his family for months after the death of his eldest brother. Now he and his partner are assigned to protect Rachelle. But the stubborn woman won't cooperate. In order to keep her safe, Carter must stay by her side which wrecks havoc on his heart.
Please share a few Fun facts about this book…
The K-9 officer in the book is an all white German shepherd. I'd never seen one in real life until after I started writing this book but then one showed up at the dog park. They are truly beautiful dogs.
I loved setting this book in NYC. I lived on the upper west side of Manhattan for a short time and it was an experience I cherish.
The subway station of the Museum of Natural History and 81st street has beautiful mosaic and black and white animals covering the walls. And if you look closely you can spot a ? which indicates the animals on the endangered species list at the time the artwork was created.
What first attracts your Hero to the Heroine and vice versa?
Carter may be find Rachelle pretty but it's her grit and courage in the face of danger that seeps into his heart.
Rachelle won't deny Carter is handsome and roguishly appealing, but his vulnerability when it comes to his family that melts away her walls and tempts her to open her heart.
The First Kiss…
Giving into the yearning for closeness he cupped her face and lowered his lips to hers to kiss her the way he'd wanted since the moment he'd held her in his arms after her near miss with the subway train.
Rachelle couldn't breathe. But who needed air with Carter kissing her, curling her toes inside her little strappy sandals. Only this moment on the museum's ballroom balcony mattered.
If your book was optioned for a movie, what scene would you use for the audition of the main characters and why?
I used the scene where Rachelle find Carter at work in the subway station and he's less than happy to see her or answer her questions.
Awareness shimmied down Carter's spine with every step. He stopped abruptly and turned to face the woman on his heels. Her pumps skidded on the concrete floor, barely halting her in time to keep from bumping into him.
"What are you doing?" he demanded.
Her smile turned saccharine sweet. "There's no law against sharing the same space as you."
Barely refraining from snorting, he blew out a frustrated breath and stalked away.
If your hero had a sexy-times play list, what song(s) would have to be on it?
Waiting for a girl like you by Foreigner
I'll Stand by You by the Pretenders
Faithfully by Journey
Every Beat of my Heart by Brian McKnight
If you could have given your characters one piece of advice before the opening pages of the book, what – would it be and why?
Look deeper than the surface to find what lies within the heart.
Both Rachelle and Carter came into the story with preconceived ideas and agendas that kept them from seeing the truth of the person beneath the surface.
What are you currently working on? What are your up-coming releases?*
I'm currently workin on book 4 of the next True Blue K-9 Unit continuity set in Brooklyn with a newly formed K-9 Unit. My hero, Officer Henry Rourke, has been accused of using excessive force and is currently on modified duty with his bomb sniffing dog, Cody while the heroine, Internal Affairs investigator Lieutenant Olivia Vance gathers information to determine if Henry should be brought up on charges. But there's someone targeting Henry and those close to him. Together they must uncover the truth and stop the villain before someone gets hurt.
I have a book coming out in early 2020, Secret Mountain Hideout is the next book set in Colorado with a sheriff's deputy hero protecting a witness to murder from the crime lord who has tracked her down and is bent on keeping her from testifying against him. We met the hero, Deputy Chase Fredrick in Buried Mountain Secrets which came out in March 2019.
Also I just learned that the first book in the Texas Ranger Justice, Daughter of Texas written by me, is on sale this month for .99 at all retailers.

Thanks for blogging at HJ!
Giveaway:

A copy of Guardian, a stuff K-9 dog from my local sheriff's department, a pen with a Bible verse, a small journal and some chocolate. For US only.
To enter Giveaway: Please complete the Rafflecopter form and Post a comment to this Q:

Have you been to NYC? If so, what is your favorite thing to do in the city? If not, where is your favorite place to visit and what about it draws you there?
Excerpt from Seeking the Truth:
The town car headed onto the Ed Koch Queensboro Bridge taking the outer lane. From the side view window Rachelle could see the borough of Queens laid out in yellow dots reflecting the night sky. Below the bridge lay the wide expanse of the East River.
The silence between them became too much for her to bear.
"Did you know the East River isn't really a river?" she asked Carter.
"No?"
She heard a hint of amusement in his tone but ignored it. "No. Despite its name it isn't truly a river but a salt water tidal strait connecting Upper New York bay with Long Island Sound."
"That is correct."
Definitely amused. "Did you know that water of the strait flows in different directions depending on the time day?"
"I think I remember learning something about that in school," he said dryly.
She rolled her eyes at him even though it was too dark inside the town car for him to notice. "I know you grew up here, but this is all new to me. The closest river near where I grew up, the Oconee River, provides drinking water for thousands of people in the state."
"You don't want to drink the East River water."
"I see people fishing in it."
"You don't want to do that either. There are much better waterways to find good fish." He shifted to face her. "Do you fish?"
She shook head. "My father took me fishing when I was young, much to my mother's dismay."
"Did you catch anything?"
"A cold," she confessed. "I wasn't patient enough to stand in the water with a pole waiting for some widemouthed bass to bite."
"That's sound about, right."
"What does that mean?"
"In the time I've known you, I can say you aren't the type of person to sit idle for long."
True. She did like to keep busy. Either physically or mentally. "I don't see you relax much."
"Between the job, Frosty and Ellie, there's no time for relaxation."
"When was the last time you took a vacation?"
He rubbed his chin. "I took some time off when Ellie was born."
Her stomach clenched. Time to mourn his deceased wife. That didn't sound like a vacation. The man needed some down time. For himself and for Ellie. "Have you considered taking Ellie to Disney World? I was about her age when my grandmother took me."
Though she couldn't make out his expression she could feel his gaze on her in the shadowed interior of the car. "You still remember the trip?"
"Like it was yesterday." She reached across the seat to find his hand. "Take your daughter on a memorable trip. Let her dress up like a princess."
He gave her hand a squeeze. "I might do as you suggest."
The sound of a roaring engine filled the car's interior as harsh light shone in through the back window. Frosty lifted his head and growled.
From the front seat the driver said, "What's this guy doing?"
Rachelle sat up straight and glanced through the rear window and was momentarily blinded by multiple headlights on the large vehicle tailgating their car.
"He's awfully close, she said.
"Step on it," Carter told the driver. The car sped forward but so did the big truck behind them.
Carter grabbed his cell phone from the breast pocket of his tux jacket. He identified himself and said, "10-13Z, Queensboro Bridge." He explained their predicament.
"What was that code?"
"Civilian clothed officer in trouble," he said. "Do you have your seatbelt on?"
She didn't but she scrambled to click the belt into place.
Carter patted the seat between them. Frosty jumped up. "Help me put the center seat belt on Frosty."
"What's happening?" She stretched the seatbelt over Frosty, as he craned his neck behind him, barking into her ear.
The truck roared up right behind them.
"Brace yourself," Carter instructed. "I have a bad feeling about this." Fear infused his tone, betraying the gravity of the situation.
Her body tensed, and she dug her fingers into the seat to brace herself.
With a rev of its big engine, the truck struck the back of their vehicle. The vibration of the hit jolted through Rachelle. Her head bounced off the back seat. The town car fishtailed. Their driver lost control of the wheel, sending the car spinning.
Excerpts. © Reprinted by permission. All rights reserved.


Book Info:
Her investigation could prove fatal…
In this exciting True Blue K-9 Unit installment
By secretly investigating the New York City K-9 Command Unit chief's murder, reporter Rachelle Clark puts a bull's-eye on her back. Single dad and K-9 unit officer Carter Jameson thought Rachelle was reporting on police-field-dog trials—not his brother's death. Though he's not happy about her true purpose, the danger is real…and he and his trusty German shepherd must save her.
Book Links: Amazon | B& N | iTunes | Google |


Meet the Author: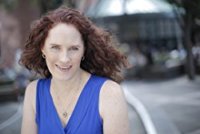 Terri Reed's romance and romantic suspense novels have appeared on Publisher's Weekly top twenty-five, Nielsen's Bookscan top hundred, Amazon Bestseller and featured in USA Today. Her books have been finalists in Romance Writers of America RITA contest, National Readers' Choice Award, Inspirational Reader's Choice Award and finalists three times in American Christian Fiction Writers The Carol Award contest. Contact Terri @ P.O. Box 19555 Portland, OR 97224
Website | Facebook | Instagram | Goodreads |