In On the Corner of Love and Hate (Hopeless Romantics #1) by Nina Bocci, Living in her beloved small hometown of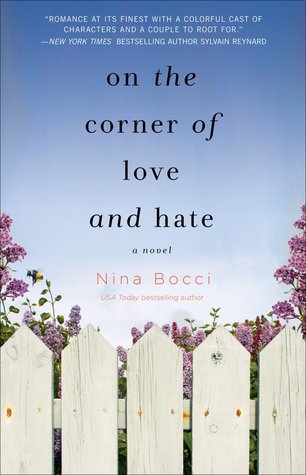 Hope Lake, Pennsylvania, Emma Peroni loves her job at the local Community Development Office. Most days. Lately, though, her workload has doubled since her coworker and longtime friend, Cooper Endicott, threw his hat into the race to become mayor. She knows he's the candidate the town needs to stay on the positive course her father, the current mayor, has set them all on. But with an, ahem, active social life such as Cooper's, Emma knows it's only a matter of time until it catches up with his campaign.
'If I was going to do this–be his campaign manager–he would need to toe the line. I had conditions, and if they were not met, there was no point in my even entertaining the idea.
I just hoped I wouldn't regret it.'
When Emma somehow gets roped into becoming Cooper's campaign manager, things get awkward. There are a few issues in their own past that they've never hashed out, so with all of the time they are spending together working, the line between their animosity and attraction is beginning to blur. With the help of their best friends since forever, Nick and Henry, along with the town seniors and a few other family members recruited to assist, Emma and Cooper try to focus on running a campaign their parents will be proud of, while at the same time avoiding the damning comments Cooper's opponent is doling out. All they have to do is make it through to election day without any scandals–which proves more difficult than they thought.
Holding up my hand, I stopped him before he took his flirtation any further. "How many times do I have to tell you? Ease up on that swagger, sir. I–I'm not one of your ladies that gets jelly-kneed and swoony over you."
"You look awfully swooned to me," he whispered.
Blending the charm of a small town, local politics, and a complicated romance between lifelong friends/frenemies, On the Corner of Love and Hate was a satisfying start to Nina Bocci's brand new Hopeless Romantics series–which happens to be her first solo endeavor, as well.
'It was never a simple response when it came to my feelings for him. He ignited every emotion in me, from love to hate.'
I first read Nina Bocci's work when she co-authored Roman Crazy with Alice Clayton (who I was already a big fan of). I liked the way their writing voices worked together, with bits of humor scattered among the tumultuous emotions the heroine was battling. And I think On the Corner of Love and Hate hit that same mark for me. I loved the quirkiness of both the characters and the town itself. The coolest part to me, though, was the unique friendship between Emma, Cooper, Henry, and Nick that had been going on since their childhood and that had survived into adulthood, albeit with some work involved.
Emma and Cooper's dynamic was fun and they had some pretty amusing dialogue that fit their characters well. Sometimes the frenemies vibe can be a bit *too* antagonistic for me with some stories, but I didn't feel that way here. It was obvious to everyone except Cooper and Emma that they had feelings for each other, so it was more cute and comical than frustrating to me. The only thing that did irk me was how Emma had a tendency to run away from a miscommunication to avoid having to sort it out. But I think it's a natural human reaction and it did seem plausible for her personality, where she was so hyperfocused on her demanding job and basically didn't have the emotional wherewithal to deal with it most of the time.
I do have to caution that there was a love triangle of sorts, but not in the traditional sense. There wasn't any cheating, thankfully. It was just a lot of unresolved feelings that stemmed from about a decade ago, although, as pieces of the truth come out, you'll see why I said it's not a "traditional" triangle. And it worked out as it should have, leading up to a stellar HFN ending that will have readers giggling and sighing happily.
With its picturesque cover and super cute (and clueless) hero and heroine, On the Corner of Love and Hate was an absolute joy to read. I can't wait to see what entertaining story Nina Bocci has for her readers next.
Book Info:

Publication: August 20th 2019 | Gallery Books | Hopeless Romantics #1
For fans of Christina Lauren and Lauren Layne comes a delightfully sassy and sexy romance about a campaign manager who reluctantly works with the local Lothario to help revamp his image for the upcoming mayoral elections, only to discover that he's hiding something that can turn both their lives upside down.
What's a campaign manager's worst nightmare? A smooth-talking charmer who's never met a scandal that he didn't like.
When Emmanuelle Peroni's father—and mayor of her town—asks her to help rehab Cooper Endicott's image, she's horrified. Cooper drives her crazy in every way possible. But he's also her father's protégé, and she can't say no to him without him finding out the reason why: Cooper and her have a messy past. So Emmanuelle reluctantly launches her father's grand plan to get this Casanova someone to settle down with and help him lose his lothario reputation.
Cooper Endicott wanted to run for Mayor, but he never wanted the drama that went with it. Now that he's on the political hamster wheel, the other candidates are digging up everything from his past. Even though he's doing all the right things, his colorful love life is the sticking point for many of the conservative voters. He wants to win, badly, and he knows that if he wants any chance of getting a vote from the female population, he needs to change his image. The only problem? He might just be falling in love with the one person he promised not to pursue: the Mayor's off-limits daughter.
A perfect blend of humor and heart, On the Corner of Love and Hate is the first in a new series from USA TODAY bestselling author Nina Bocci.