Today, HJ is pleased to share with you

Kendall Ryan's

new release: 

Seven Nights of Sin

He's the powerful CEO. I'm the know-it-all intern…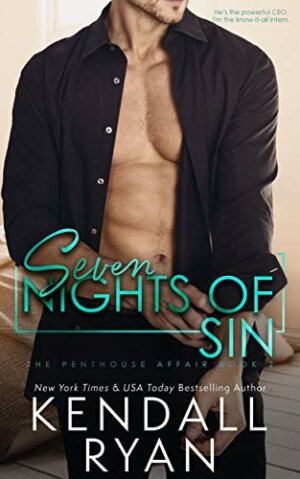 Things went further than they should have, but I don't have any regrets. Well, maybe just one . . .
I went and did the one thing he told me not to–fall in love with him.
Now I have seven days to prove my trust and devotion. Turns out money is a powerful drug, but love is even more addictive.
Seven Nights of Sin is the stunningly sexy and heart-tugging conclusion to The Two Week Arrangement.
Enjoy an exclusive excerpt from Seven Nights of Sin 
"I don't have the capacity for love," he says softly, his eyes downcast at the table in front of us.

"That's stupid."

He looks up at me in shock.

"I mean, for a CEO, you're really dumb. You are capable of love. I've seen it in the way you take care of your daughters. And in the way that you look to Fran for help and advice when you need it most. I've seen it in the way that you work with Oliver. You trust him, more than anyone. I've seen it when you talk about your brother that you lost. I've seen it when you first gave me that promotion—"

Dominic opens his mouth to object.

"—and don't pretend that was strictly professional. You care about me and my future. I saw it when I was with Emilia and Lacey, braiding their hair. I know you felt it."

"Presley . . ."

"That is love. Love is messy and imperfect. It isn't that you aren't capable of it. It's that you're overwhelmed by it."

Dominic is stunned silent. I can't quite make out the meaning behind the look in his eyes. I've way overstepped what is appropriate to say to one's boss, but any and all boundaries crumbled into dust the first time he kissed me.

"I can't keep working for you," I blurt out. "If you can't be with me in the way that we both need you to be, then I'm going to walk away. It's the only way."
Excerpt. ©Kendall Ryan. Posted by arrangement with the publisher. All rights reserved.


Giveaway:

ebook of Seven Nights of Sin by Kendall Ryan
To enter Giveaway: Please complete the Rafflecopter form and post a comment to this Q:

What did you think of the excerpt spotlighted here? Leave a comment with your thoughts on the book…
Meet the Author: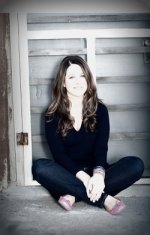 A New York Times, Wall Street Journal, and USA Today bestselling author of more than three dozen titles, Kendall Ryan has sold over 2.5 million books and her books have been translated into several languages in countries around the world.
Her books have also appeared on the New York Times and USA Today bestseller lists more than 70 times. Ryan has been featured in such publications as USA Today, Newsweek, and InTouch Magazine.
She lives in Texas with her husband and two sons.
Visit her at: www.kendallryanbooks.com for the latest book news, and fun extras.
Subscriber to the newsletter: http://www.kendallryanbooks.com/newsletter/
Facebook: https://fb.com/kendallryanbooks
Instagram: http://bit.ly/2UT2bWM
Twitter: http://bit.ly/2WhFvkk
Pinterest: http://bit.ly/2VycsMi
Goodreads: http://bit.ly/2Va0J7q
Amazon: https://amzn.to/2EDIfBW
BookBub: http://bit.ly/2J4cIvR

Buy:
Amazon ➜ https://amzn.to/2IaMjKO
Amazon UK ➜ https://amzn.to/2ETq4YT
Apple ➜ https://apple.co/2QCvwnL
Nook ➜ http://bit.ly/2Whjh0W
Kobo ➜ http://bit.ly/2Mmw1E4
Google Play ➜ http://bit.ly/2WAnEbL
Goodreads ➜ http://bit.ly/2JQNwKn