Today it is my pleasure to Welcome author
Liana De la Rosa
to HJ!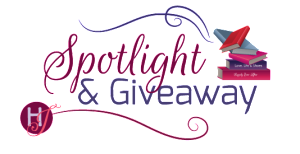 Hi Liana and welcome to HJ! We're so excited to chat with you about your new release, To Resist a Scandalous Rogue!

Thank you. I'm thrilled to be here!

Please summarize the book for the readers here: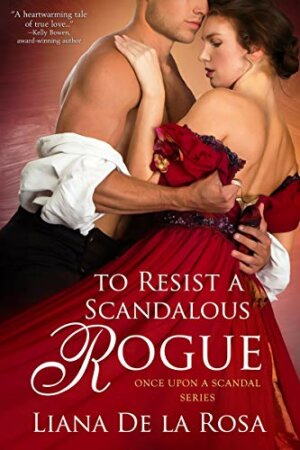 Finlay, Viscount Firthwell, has lived a charmed life…until he discovers a scandalous family secret that could ruin him. Determined to separate himself from his past, he stands for Parliament. The path to victory suddenly becomes fraught when he encounters Charlotte, a woman he spent one passionate night with and has not been able to forget. After overcoming a history of loss, Charlotte craves stability and peace. And while her lowly origins and Jewish faith could jeopardize Finlay's campaign, and his public notoriety threatens her quiet life, neither Charlotte nor Finlay can fight the passion that fires hot between them. But when figures from her past return intent on harm, Charlotte must decide if she will use Finlay's great secret to save herself or sacrifice her freedom instead.

Please share your favorite line(s) or quote from this book:
A smile curled his lips, his face brightening. "You remember my name."
Charlotte looked down, unnerved to meet his gaze. "Of course I do."
She remembered the feel of his hands on her skin. The taste of his lips. The sound he made as he shuddered in her arms.
She remembered too much.
Please share a few Fun facts about this book…
I have never written a Jewish character before, but I knew from the beginning that Charlotte would be a practicing Jew and I wanted to be respectful in her representation. I enjoyed researching how politics and popular culture affected how Jewish people and other religious minorities lived during the late Regency/pre-Victorian period. I also read articles and watched videos on Jewish customs, and thankfully my editor and sensitivity readers ensured I was respectful of Charlotte and her culture.
What first attracts your Hero to the Heroine and vice versa?
Finlay is attracted to Charlotte's witty, sarcastic rejoinders and her no-nonsense attitude. As a handsome, titled nobleman, he's used to flattery and Charlotte does not fawn over him. And Finlay's open, friendly manner, his easy laugh, and terrible jokes tempts Charlotte to relax and even smile, if only a little.
Did any scene have you blushing, crying or laughing while writing it? And Why?
I cried writing the epilogue. After everything Finlay and Charlotte had been through, as individuals and a couple, giving readers a glimpse into their HEA, showing how they kept their promises to each other, was emotional for me. I wrote this book several years ago and added the epilogue much later, so it was a chance to revisit with two old friends I was very fond of.
Excerpt from the Epilogue of To Resist A Scandalous Rogue
Feeling his gaze like a caress against her skin, Charlotte looked to her husband. The years had been kind to him, his hair now an elegant ash gold, smile lines bracketing his mouth, and a vigor to his step a younger man would envy. But it was his charismatic green eyes that continued to draw her, continued to ground her when their world ebbed and changed about them. As they did now.
Finlay's smile was tender. As always, it sent a spark of awareness down her spine, but time and intimacy had deepened her response to it. Charlotte returned it with all the love that filled her being, for throughout their marriage, again and again, he showed that her trust in him was never misplaced. The evening represented how Finlay had not forgotten his promise. When he had asked her to marry him more than a quarter of a century before, he'd vowed to fight for Jewish emancipation, and he had. He'd supported a bill not long after he won the Weobley seat, only to see it defeated. He championed the effort again a few years later, and then a year after that, and several more times, each ending in failure.
This attempt, however, felt different.
Readers should read this book….
An early reviewer said To Resist A Scandalous Rogue, "[Was] not your typical historical novel." It's also been called "original," "thought provoking," and "not your usual romance romp." If readers enjoy heavier topics, especially those featuring a mix of politics and religion, Finlay and Charlotte's story may be for them!
What are you currently working on? What other releases do you have in the works?
Book three in the Once Upon A Scandal series, To Tame a Scandalous Lady, is out on October 21st and it features the ever intrepid Lady Flora Campbell! I have always had a soft spot for Lady Flora and her sharp tongue, and it was fun to write her HEA with a man who is not afraid to go toe-to-toe with her. I'm also in the plotting stages of book four, tentatively titled To Tempt A Scandalous Lord, which will be Niall, Lord Inverray's story. Readers of To Resist A Scandalous Rogue will meet the Scottish marquess and I hope they're as his anxious for his story as I am to write it!

Thanks for blogging at HJ!
Giveaway:

A signed print copy of To Resist A Scandalous Rogue along with swag for Finlay's Parliamentary campaign. US only.
To enter Giveaway: Please complete the Rafflecopter form and Post a comment to this Q:

Do you prefer brooding alpha heroes or witty beta heroes?
Excerpt from To Resist a Scandalous Rogue:
While the girls selected a biscuit from the tray, the sound of the door opening drew Charlotte's attention.
Finlay filled the doorway, his sudden appearance spiking Charlotte's pulse until she was almost certain she was having an apoplexy. Meeting his green gaze, even fleetingly, was enough to undo all the calm control she'd scraped together in the kitchen.
"I apologize," he said, taking a step into the room, a smirk curving his sinful lips. Charlotte noticed his tone was anything but apologetic. "I had hoped to find Lord Inverray here today."
"His Lordship is not here on Thursdays," Elspeth said a second before she slapped her hands over her mouth.
"Oh, that's right." Finlay playfully smacked his forehead, delivering a devastating smile to the petite redhead. For an embarrassing half second, Charlotte was jealous the child was the recipient of such a smile.
Shaking off such a ridiculous thought, Charlotte set her jaw. "From what Lady Flora has mentioned, the marquess can probably be found at Westminster."
Finlay advanced into the room until he came to a halt near the table. His eyes danced across the tabletop's display before meeting Charlotte's gaze. She curled her hands into fists at the inferno of emotions it sparked. "Thank you for sharing that detail, Mrs. Taylor. I'd hate to bother Inverray at Westminster, though."
Charlotte nodded, unsure of what her response should be. She glanced around the table, alarmed to see her charges staring at the viscount with a mixture of disbelief and awe.
She didn't blame them. In his buff pantaloons, gold embroidered waistcoat, forest green superfine coat, and expertly polished Hessians, he looked dashing. With his reddish blond hair falling over his brow, he looked like the kind of scandalous rogue her mother had long ago warned her about. And despite her memory of the warning, she was not immune to his charms.
In fact, Charlotte feared she gazed upon him with the same look of awe on her face.
"Have I interrupted your teatime?"
She was reluctantly charmed to note his cheeks were tinged pink.
"Will you join us?" Meg asked, turning to Charlotte to confirm her invitation had been appropriate.
Unable to think of a proper reason to rescind her student's offer, Charlotte smiled. Truth be told, it didn't feel like a smile. "Yes, Lord Firthwell, do join us for tea."
Finlay considered her for a moment, and she fought not to fidget under his inspection. She wasn't certain of what he was looking for, but she was determined not to give any indication how much his presence unnerved her.
And excited her. Drat it.
He turned his gaze onto her charges and spread his arms. "If you ladies don't mind my presence, I'd be very happy to take tea with you." He pivoted and grabbed a chair from along the wall. "I'm certain I'd not find lovelier companions anywhere in London."
Charlotte watched in exasperation as her five students blushed, preened, and tittered over the viscount's comment. When he situated his chair between Polly and Meg, both girls smiled adoringly at him in return.
Apparently, any female between the ages of seven and seventy was susceptible to his charms.
Fanny jumped from her chair with an eagerness Charlotte had never witnessed to pour Finlay a cup of tea. "How do you take your tea, my lord?"
"No cream. No sugar." He lifted his broad shoulders. "I'm sure some would say my preference is boring, but I don't like to mask the tea's taste."
The girls were quick to echo their agreement, although the vat of sugar and cream had disappeared into their teacups.
Finlay accepted his cup from Fanny and selected a biscuit from the tray. Leaning back in his chair, he surveyed the group assembled. "Mrs. Taylor, would you be so kind and introduce me to your students."
How could she have forgotten introductions? A grimace contorted her lips. How was she to teach her students deportment when even she forgot it at the first glimpse of a handsome face?
"Your Lordship," she began, taking a moment to clear her throat, "may I present to you the Misses Agnes, Meg, Polly, Fanny, and Elspeth. Ladies, this is His Lordship, Viscount Firthwell."
When the girls made to curtsy to him properly, Finlay held up a staying hand. "It's a pleasure to meet you, ladies."
The girls melted back into their chairs, and Charlotte grasped for some control. Regardless of their new guest, she had a lesson to conduct. The girls needed to learn now that a perfect face and pleasing words shouldn't make them forget themselves. Especially when the perfect face could mask dubious intentions.
She hoped she could get through the lesson without letting her reaction to him slip into her gaze. She needed the reminder of how dangerous Finlay was as much as they did.
Excerpt. © Reprinted by permission. All rights reserved.


Book Info:
For Finlay Swinton, Viscount Firthwell and only son of a powerful earl, life has been a lark…until he discovers a terrible family secret that could ruin him. Determined to make a name for himself free of scandal's shadow, he runs for Parliament. However, he encounters Charlotte, the mysterious woman who disappeared after their one night together, and he finds it impossible to stay away, despite her working class status and Jewish faith that threaten to destroy his chance for success.
Widowed, penniless, and desperate, Charlotte Taylor secures a teaching position at a foundling home and relaxes into a predictable existence. That is, until Finlay, the man she shared one romantic night with, reappears, a specter from her past. He ignites her passion, even while he threatens the precarious foundation on which she's rebuilt her life. But when those from her past return to endanger her hard-earned security, she'll have to reveal his secret or go to prison.
Book Links: Amazon | B&N | iTunes | kobo | Google |


Meet the Author: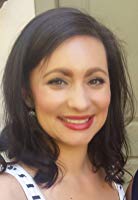 Liana De la Rosa is a historical romance author whose stories are set in the Late Regency and Victorian periods. Her Once Upon A Scandal series is published by Entangled Publishing's Amara Imprint. Her writing also appears in the Avon Romance anthology, A DUKE TO REMEMBER.
As a longtime fan of the romance genre, Liana can remember sneaking Harlequins into her bedroom to read on the sly. After her second child was born, her husband challenged her to write her own book and she's been pulling all-nighters, slugging wine, and perfecting her craft ever since! When she's not writing not writing unexpected characters, witty heroes, and saucy heroines, she's a wannabe domestic goddess and fashionista who wrangles her rambunctious brood of small children with her patient husband in Arizona.