Today it is my pleasure to Welcome authors 
Jude Sierra and Taylor Brooke
to HJ!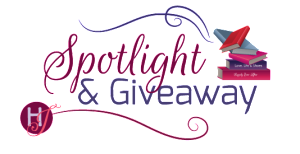 Hi Jude and Taylor and welcome to HJ! We're so excited to chat with you about your new release, Shadows You Left!

Hello! Thank you for having us!

Please summarize the book for the readers here: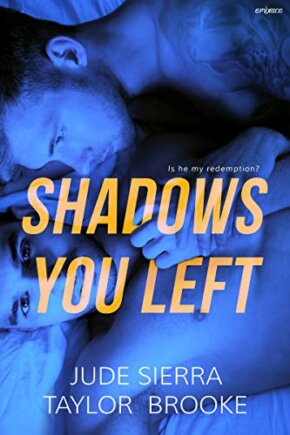 Erik O'Malley has been bouncing from city to city for five years. While Seattle is beautiful, no matter how far he goes, Erik can't shake the ghosts he left in Los Angeles. He's weighed down with guilt and running from his past, and so he turns to underground cage fighting as an outlet.
River Svoboda is a Seattle native who lives a hard earned quiet life as a tattoo artist at Styx. River doesn't cater to the unexpected until Erik books an appointment with him. After a flirtatious introduction, Erik and River meet again by chance, sparking an unextpected fast and hot romance.
They're both trying to escape difficult pasts. River has a selfless need to save broken people. Erik is unwilling to be saved. Love lingers in newness, passion and a need for acceptance, but calls for vulnerability they might not have the courage to expose.

Please share your favorite line(s) or quote from this book:
"He was human, and in love, and fucked up, and brimming with potential."

"Erik was a walking billboard for the kind of trouble people pretended not to be attracted to."

"With him, River was a senseless and too sensual mess, a bundle of contradictions and potentially bad choices."

"He was the light and the dark, the chiaroscuro of poison and loss and anger, and under it all, a terrible need for love."
Please share a few Fun facts about this book…
When we were intitially researching dragons for lore and meaning, we were taking information from Jude's son's picture book on dragons. He swears by the accuracy of the contents.
We had the *hardest* time titling this book because we so wanted to find a way to include the word Ruin (or variants…ruination? Ruined?). We just could not make it work and it wasn't until we were deep in edits that we realized how thematic shadows were. It just all came together after that!
We sincerely barely knew each other when we wrote this! We just happened to be fans of each other's work. One night right before sleep Jude randomly wrote down what felt like the strangest line of prose ever (co-incidentally, the very first line of the book). On a whim she sent it to Taylor…a little over a month later we had written the first rough draft of the book!
What first attracts your Hero to the Heroine and vice versa?
Well, we can't lie, both of these boys are aesthetically quite pleasing! That definitely helped. But also, tattooing is an intense and intimate moment for many people, and in the hours they worked on that first tattoo together, they both got a sense that the other had untold depths that they were drawn to. They both definitely suffered from a lack of chill on first meeting, which cracked us up to no end every time we read those chapters.
Did any scene have you blushing, crying or laughing while writing it? And Why?
Well for Taylor, when Erik tells River he's demiromantic, it was definitely an emotional, blushing moment, because it was the first time they had used that word while identifying with it themselves.
"It's been a while since I've done this," River said. He traced the Svara's tail on Erik's rib cage. "Been with someone on Valentine's Day."

*It's been a while since I've done this*, Erik thought. Collided with someone so effortlessly, so quickly. "I'm demiromantic," he blurted. It came out rough, and he closed his eyes as soon as he said it.

"And I'm bisexual…?" River quirked a brow. "Why are we—"

"That was weird, sorry. I mean—I just… It usually takes me a long time to get there."

"Get there?"

"Here," Erik corrected.
______________________________________________________________________
For Jude, there's a scene where he takes Erik to a cute movie date at a theater that allows for texted heckling that appears on screen, and he ends up sending a ton of dad jokes to appear on screen. That was just a lot of fun and she ended up laughing at her own humor quite a bit.

*Roses are red, violets are blue, how would you like it if I came on you?*

Erik laughed out loud, a startled punch of noise that brought River's attention to the screen.

"Oh, shit." He shook his head and sunk down.

*Sorry about that. Let's try the PG version.*

The teenagers were beside themselves.

*Roses are red, violets are blue, how would you like if I came on TO you?*

"You're crazy," Erik said, laughter hiccupping under his breath.
Readers should read this book….
We wrote boys who are messy and growing and complicated and finding themselves while finding love. Both River and Erik are at a particular age; they're really coming into their own and into full-fledged adulthood. But they have so much to learn! Falling in love is definitely a catalyst for both of them to move forward, to do the work of honestly assessing themselves and their lives. We think that's increadibly romantic and realistic. Readers who want strong, messy, realistic, very sexy and romantic love stories will really like this one!
What are you currently working on? What other releases do you have in the works?
Jude has been taking a little rest actually! She has several projects in development, including a Young Adult short story about summer love, but as of this moment what she's really working hard on getting her PhD.
Taylor has some exciting projects up their sleeve right now but can't say much about them at this point. Readers will definitely want to stay tuned for more news though!

Thanks for blogging at HJ!
Giveaway: A eBook Prize Pack, including: A Tiny Piece of Something Greater by Judy Sierra -Fortitude Smashed by Taylor Brooke -Shadows You Left by Jude Sierra & Taylor Brooke.

To enter Giveaway: Please complete the Rafflecopter form and Post a comment to this Q:

We'd love to know about our readers tattoos! What's your favorite or most meaningful? If you don't have any, are there any you want? Or, for all, what's a tattoo you secretly want but haven't done yet?
Excerpt from Shadows You Left:
River dipped the liner into a vat of ink and nodded toward Erik's hand. "So, is it true?"
"Is what true?" Erik glanced at his bandaged fist.
"Do you bite?" A grin curved River's mouth into a half moon, but his attention was unwaveringly pointed at Erik's tattoo.
It registered like a spark in his chest. Erik's gaze fluttered away, toward the ceiling, the wall, the mirror across from them, anything besides River. He fought the rising burn that spread across his cheeks and steeled his nerves. Because River was flirting with him. Or at least Erik thought he was. He had to be. People didn't say shit like that while wearing a smile like that without meaning to.
"Sometimes," Erik said through a soft laugh. "But that's just half of it." He held up his free hand. The bottom edges of the four letters on his knuckles peeked from underneath the bandage. "The whole thing says, 'wolf bite.'"
"Wolf bite," River repeated. He sat back and lifted his gaze, catching Erik's eye. "Any significance?"
"An old friend used to say that I fight like an animal. He told me I should give people a warning, that a hit from me was as nasty as a bite from a wolf." He cleared his throat and averted his gaze. Memories throbbed restlessly in the back of his mind, a closet filled with skeletons. "The last thing someone sees during a fight is usually my knuckles, so…" He tipped his head one way then the other. "I got them done when I was seventeen. Never thought I'd get paid to fight, but five years later, here I am."
River swiped blood and ink from Erik's hand. "You do competitions or something?"
The needle crossed over a vein. He winced and tried to smother it with a lighthearted smirk. "Or something."
River glanced up at him, then down. Erik thought he saw his lips press tight. Silence spun and spun, a needed thing, a necessary thing, and after a while, a heavy thing. Erik considered what else to say, but nothing came to mind.
"And what about this?" River spoke suddenly. "Do the dragons mean anything?"
Erik sat back when River scooted closer. He held Erik's skin taut and outlined a curve along the dragon's body, up to a short-clawed foot on the knob of his wrist. River's eyes flicked to Erik's, waiting.
"I get them if I win."
"A fight?"
"Yeah, this one is an Imugi, a Korean dragon. Imugis aren't as powerful as they could be, so they create storms and chase after falling stars, hoping to catch one."
River finished outlining the dragon's wicked, narrow eye and its long whiskers. "Falling stars, huh?"
"Yeouiji," Erik said. "Apparently, they'll grant a wish for the dragon that catches them."
"What do the dragons usually wish for?"
Erik took in River's cheekbones, the line of his jaw and length of his throat. His gaze swept from River's hand, wrapped over the tattoo machine, to the tendons shifting beneath his skin, the just-so curl of his fingers, and imagined them elsewhere. "To become something more," Erik said.
River wiped excess ink from Erik's arm and hand then switched to a different machine. "I'm about to start shading. You need a break?"
A sarcastic smile graced Erik's face. Really?He raised his brows and glanced from his wrapped knuckles to the clean black outline. Bruises littered his torso under his shirt. Three days ago, he'd had someone's knee jammed into his rib cage[CE1] . If there was anything he was used to, it was pain.
"Do you need a break?" Erik teased.
"No, but I figured I'd be polite and ask." River shook out his hand. His grin was loose and effortless, the kind of smile that came with comfortability Erik hadn't known for quite some time. "Don't flinch, tough guy."
Phrases built in his mouth, but Erik didn't have the courage to say them.
I'd rather you weren't polite. Call me tough guy again.
Excerpt. © Reprinted by permission. All rights reserved.


Book Info:
ERIK
The white picket fence.
The happily-ever-after.
That life was never meant for him.
For years he's been bouncing from city to city—from one cage fight to another.
That's his outlet. That's pain Erik can control.
But in Seattle, everything changed.
River's an artist.
He's a pretty boy.
He does yoga.
Someone so soft shouldn't be intrigued by Erik's rough edges.
RIVER
His life was quiet. He had a simple routine.
Designing tattoos, avoiding drama. Well, mostly.
Then Erik comes along—scarred and dangerous, shrouded in mystery.
A mystery River can't resist trying to solve.
Maybe a secret as dark as his own.
Neither of them expected a relationship so complicated, so intense.
Neither of them expected…each other.
Erik and River are both trying to escape a shadowed past.
But the thing about shadows is: the faster you run, the faster they chase you.
Book Links: Book Links: Amazon | B&N | iTunes | kobo | Google |


Meet the Author:
Jude: Jude Sierra is a queer, Latinx poet, author, mother and academic. Jude is currently working toward her PhD in Writing and Rhetoric, looking at the intersections of Queer, Feminist and Pop Culture Studies. She also works as an LGBTQAI+ book reviewer for Queer Books Unbound. Her novels include Hush, What it Takes, and Idlewild, a contemporary queer romance set in Detroit's renaissance, which was named a Best Book of 2016 by Kirkus Reviews. Her most recent novel A Tiny Piece of Something Greater was released in May of 2018 and was named a finalist by Foreword INDIES Book of the Year Awards. Shadows You Left, a co-written novel with Taylor Brooke will arriveMay 20th 2019 from Entangled Press.
Website: https://Judesierra.com
Facebook: https://www.facebook.com/JudeMSierra/
Twitter: https://twitter.com/judesierra
Goodreads:https://www.goodreads.com/author/show/10219868.Jude_Sierra
Instagram: https://www.instagram.com/judemsierra/
Newsletter: https://mailchi.mp/f27d1fee01ea/judesierra
Taylor:
Taylor Brooke (she/they) is a traveling story-teller, occult fanatic, and a science fiction junkie. She worked as a special effects makeup artist for many years before she wrote her first book. When she's not writing, she's exploring the Pacific Northwest, backpacking, or reading. She writes #ownvoices Queer books about love, secrets and magic.
Website: https://www.taylorbrookewrites.org/
Twitter: https://twitter.com/taysalion
Instagram: https://www.instagram.com/taysalion/
Goodreads: https://www.goodreads.com/author/show/14777281.Taylor_Brooke
Website | Facebook | Twitter | Instagram | GoodReads |