Sugar & Spice by Christine d'Abo is book two in the Sugar Series, but can definitely be read as a standalone.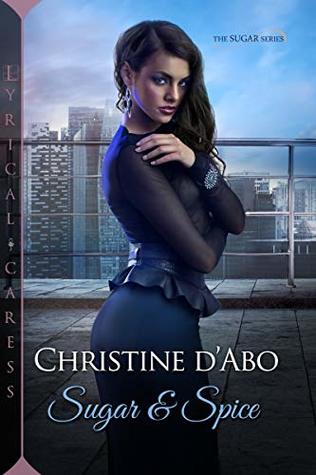 I haven't had the chance to read the first book, but that had no effect on me enjoying Sugar and Spice. I found this book to be well thought out and intriguing.
Kayla is filthy rich thanks to her successful internet business. Because she's young and with loads of money, it makes her vulnerable with men. Never knowing if the men want her, or her money. She now has one divorce under her belt, because of this. When her best friend convinces her to sign up for a sugar daddy website, she reluctantly agrees to think about being a sugar momma. When she receives word that her old high school wants her to attend a ceremony where they will honor her, sugar daddy is the perfect opportunity to arrange a date.
Devon is intelligent, educated, and racking up student loans. While indulging in too much alcohol one night, he signs up for the sugar daddy website. Once he sobers up the next day, he has every intention of deleting his profile, but a notification from Kayla has him reconsidering.
The arrangement between Devon and Kayla is perfect because neither of them have expectations of how this experience will turn out and everyone is upfront about what they want. But what happens when their hearts get involved and Kayla's ex stirs up trouble?
I liked both characters. Devon doesn't know what he wants to do with his life and Kayla is a success. Devon and Kayla come off as opposites, but they somehow click. I haven't come across a book like this before, with a sugar daddy theme, so I enjoyed the uniqueness of the story. I also really enjoyed the role reversal of the characters. The majority of the time, it's the man who is the millionaire, not the heroine. But in Sugar and Spice, the opposite was true. It made for an enjoyable read. Well-written and entertaining, makes Sugar and Spice a solid four star read!
Book Info:

Publication: February 26th 2019 | Lyrical Caress | Sugar #2
People have their reasons for signing up on a sugar daddy website. Maybe it starts with a dare. But if they're lucky, it ends with a bang . . .
Kayla Arnold made her first million at the age of twenty, thanks to her Internet business, Fashion Finds. Young and rich, she became an easy mark for men looking to take advantage. Now ten years older and divorced, Kayla isn't looking for love, she's looking for no-strings-attached sex. Will signing up on a dating site bring her a man who meets her needs?
Devin Ford is smart, highly educated, aimless, and bored. At a party the night after his Ph.D. defense, he takes a bet to sign up on a sugar daddy dating website. With so few sugar mamas, he doesn't expect anything to come of it. So he's shocked when beautiful Kayla contacts him. And they're both surprised when their first meeting leads to a night of mind-blowing sex. But the closer Devin wants to get to Kayla, the more she pushes him away. When he learns of the hell her ex-husband put her through, Devin decides to show her that not every man is out to use her—and that real love is priceless . . .